September 04, 2015
Parents' Perspectives
A New Orientation to CMU
By Abby Simmons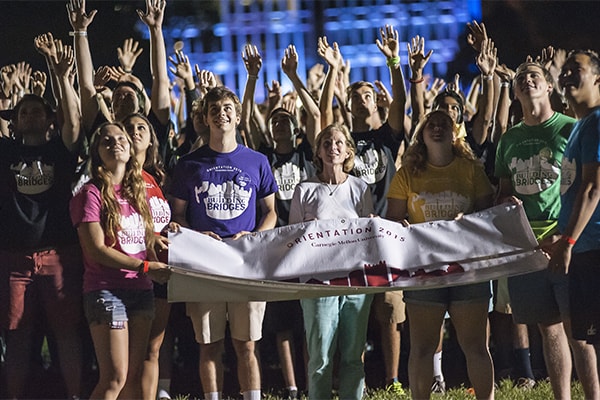 Anne Witchner has been leading CMU's orientation for more than two decades, but this year, she arrived on Move-In Day with a different title: Mom.
Although she could have moved in her son, David, early, Witchner and her husband, Michael Levin, opted to navigate through the frenzied early morning traffic with fellow first-year parents.
Like Witchner, many faculty and staff across the university are seeing CMU through the eyes of parents this fall, some for the first time, and others as veterans. While the tuition benefit is attractive, parents cite numerous other reasons why their children decided to enroll here.
Witchner encouraged her son to explore options beyond CMU, and he applied to three schools.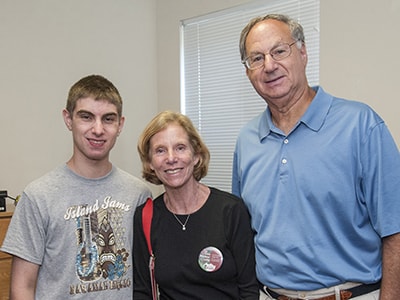 "What sealed the deal was David's experience with the Pre-College Program. He got a sense of what it is like to be here. He studied music but lived in a residence hall with athletes and scientists," Witchner said.      
David, who is pursuing a degree at the Tepper School of Business, grew up attending campus events like Greek Sing and Martin Luther King Jr. Day lectures, and many of his role models have been CMU students.
"I'm interested to see what will surprise him," Witchner said.
The Pre-College experience also was a contributor to first-year Dietrich College student Silvia Giampapa's decision to attend CMU.
"While the challenge seemed daunting at first, Silvia demonstrated to herself that she could work at the level CMU requires. She enjoyed the rapport with the professors and studying and hanging out with smart, motivated and ambitious classmates," said Giampapa's parents, Anna Maria Berta, a project manager at the Software Engineering Institute, and Joseph Giampapa, a senior project scientist at the Robotics Institute.
Although Berta and Giampapa had worked on projects with students and taught courses, interacting with students on a campus tour and attending admission presentations were enlightening.
"We enjoyed their comments and their perspectives and started to appreciate more of the 'CMU experience.' CMU is a rich world that contains many realities," Berta said.
Joe Mertz, a professor at the Dietrich and Heinz colleges, has two kids at CMU now. His daughter, Maggie, is a first-year modern languages major, and his son, Joe, is a junior drama major. He said his children's academic pursuits have inspired him to explore new disciplines.
"My wife and I have enjoyed learning more about drama and have had season subscriptions the past two years. It is especially interesting to see the cutting-edge of how technology can add to theater. I look forward to learning more about modern languages as my daughter begins her study," Mertz said.
Conversations with Mike Steidel, director of admission, also were helpful to students and parents.
Mertz said that Steidel helped his son re-think how he could pursue his interests in video and media design at CMU. The outcome of that conversation set him on a path completely different from what he and his family had anticipated.
Chemistry professors Gloria Silva and Roberto Gil said their son Mauricio, a first-year student, benefited from conversations with Steidel, as well as professors in the Mellon College of Science.
Mauricio and his older brother, Agustin, were attracted to CMU for its interdisciplinary approach to education and multicultural community. Agustin, a junior biological sciences major, plans to apply for a study abroad experience to immerse himself in the Japanese language and culture.
Faculty and staff parents say that setting expectations about how they will interact with their children while they are enrolled at CMU is important. Decisions can be based on a variety of factors — from individual preferences and cultural backgrounds to logistics, such as living on campus versus commuting from home.
"Our experience may be different from that of other families," Silva said, noting that her sons welcome opportunities to interact with their parents while on campus.
While the Gil-Silvas will continue to interact frequently, the Mertz family is taking a different approach.
"We have learned that while I work on campus, and we live within 25 minutes, our children prefer my wife and me to treat it as if they were in college far away. No stalking, no surprise visits, no hovering," Mertz said.
Witchner agrees that an away-from-home college experience while still living "in their families' backyards" may be a desirable option for many students.    
Wearing her Student Affairs hat, she offers parents this advice:
"Encourage your children to stay on campus during the weekends. And make them do their own laundry."
Top photo: Anne Witchner joins the Class of 2019 and orientation counselors on the Cut during Playfair.

Bottom photo: Witchner, her husband, Michael Levin, and their son, David, take a break on Move-In Day.