September 04, 2015
"#OpenCMU" Campaign Launches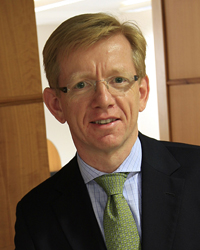 Keith Webster
University Libraries is hoping to engage CMU researchers in practices that will enhance the discovery, use and impact of their work.
With that goal in mind they have launched #OpenCMU, aimed at getting people to "open up" about openness. It's a university-wide campaign emphasizing the many ways in which open access, open data, open licenses and open peer review can benefit them.
"Some people don't have access to expensive books and journals, which hampers research worldwide, impedes the application of research findings and slows the pace of innovation," said Keith Webster, dean of University Libraries. "Making the literature available with open access can turn these tides."
Attempts to replicate research findings often fail, eroding the public's trust. But making research data openly available could facilitate reproducibility, deter research misconduct and accel-erate the pace of scientific discovery. Open licenses granting designated usage rights also could speed things up, as would-be users wouldn't have to seek out copyright owners and ask and wait for permission.
Most importantly, openness is just plain good for researchers.
"More access means more users, more citations, greater impact and enhanced recognition," Webster said.
Throughout the fall semester, #OpenCMU will teach researchers how to increase access to their work as well as how to get credit for their work. Every couple of weeks, the Libraries will tweet and post information on a new topic, describing what it is, why it's important, how it will benefit you, CMU's position on it and what University Libraries is doing about it.
The topics will include discussion of ORCID IDs, CMU's Research Showcase, publishing, copyright, author's rights and licenses, and more.
Followers of the campaign on Twitter and Facebook will find information disseminated in bite-sized bits — quick to consume, and easy to digest.
To schedule a presentation or Q&A for your department or class, contact Denise Troll Covey, Scholarly Communications Librarian, at troll@andrew.cmu.edu or 412-268-8599.