September 04, 2015
Growing Pains
Entrepreneurs' Drone Could Help Struggling Aussie Farmers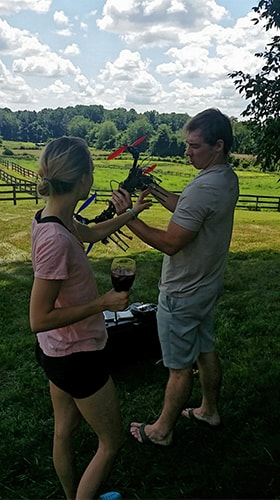 In their never-ending battle with harsh climates, farmers in Australia's Wine Country deploy a variety of technologies, such as automated irrigation systems and soil sensors, to combat the hot and dry summers of the growing seasons.
But without a lot of real-time data tracking on which to base their decision-making, problems often aren't being detected until after the damage has already been done. High costs and low returns have caused some growers to reduce operations, while others have been forced to shut down altogether.
James Laney, Constantin Baumgartner and Daniel Del Duca, former classmates at CMU's Heinz College in Adelaide, just might have the answer for these farmers with their research project that involves an unmanned aerial vehicle (UAV) and Big Data analytics.
"In Australia, the laws allow you to operate a UAV as a service, which is something that you currently can't do in the United States without obtaining the highly sought after FAA 333 exemption," Laney said. "So we were trying to come up with any and every excuse to build a business model around one during our time in Adelaide and while the FAA figured things out in the U.S."
They zeroed in on the agriculture industry, one of the few civilian industries that can really capitalize on the benefits of having autonomous systems, Laney said.
Through their research group, Aero Laboratories, the trio has begun gathering data and input from local Australian grape farmers. Equipped with the VADAR engine they are developing — the acronym stands for Vegetation Analysis and Data Regression — the drone surveys the farmland capturing real-time images, and turning the raw images into digital maps. These maps provide a way of summarizing and approximating crop health and identifying in real-time anomalies within the field.
"The term that gets tossed around is precision agriculture," Laney explained. "It's the ability to take your large farm, segregate it and isolate different areas, and target the specific areas that may be lagging or experiencing crop stress. Then, you can try to fix just those areas versus applying a general treatment to the whole area."
For starters, this could mean less money spent on water and fertilizer.
VADAR also fuses existing infield data into the digital maps and displays the information in a report through an easy-to-use, interactive mobile platform or desktop app.
"VADAR will help farmers analyze how various factors in the field correspond to plant health, and over time, provide predictive modeling that may lead to better crop management strategies," Laney said. "Ultimately, we believe our system will help produce a more intimate growing strategy where crops are monitored on a plant-by-plant basis versus block-by-block or acre-by-acre strategies."    
 Laney says their biggest challenge so far has been the fact that the technology industry grows rapidly, much faster than the agriculture industry — and plants, for that matter.
"It takes a full growing season before the benefit of new agriculture technology like ours can be measured. Many growers and producers already have a difficult time managing their crops and the technology they have already. They are hesitant to commit to a new technology that has yet to prove itself in the industry," Laney said. "It hasn't been easy to break this barrier to entry."
That being said, the months of September and October mark the beginning of the Adelaide's grape growing season, and plans are underway to work alongside Adelaide growers to track the growth from the first bud break to harvest.
"This will allow us to compare our results to the previous harvests and show the benefits that Aero Laboratories can provide," Laney said.
Del Duca finished his Master of Public Policy and Management degree in Australia and is heading up Aero Laboratories' operations there, while Baumgartner and Laney are in Pittsburgh to finish up their coursework.
This fall, the team is hoping to recruit a few of their fellow CMU students to be part of their spring capstone project and soon-to-be business.
Pictured: James Laney tests a drone that he and two of his Heinz College classmates developed to help farmers better manage their crops.