September 04, 2015
Gender Equity
CMU Expands Title IX Efforts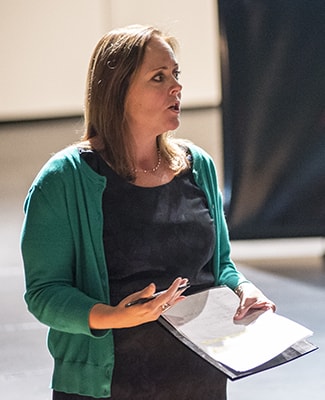 Holly Hippensteel
Reports of sex discrimination, sexual violence and harassment make the headlines nearly every day. But many people affected by misconduct never report it to anyone.
This year, the university has a new office with staff dedicated solely to these areas. Located in West Wing, Suite 102, on the Pittsburgh campus, the Office of Title IX Initiatives is expanding the university's efforts to raise awareness, change mindsets, provide support and effectively resolve issues that are reported.
"At Carnegie Mellon, we have long been committed to providing a safe environment to all community members and a culture that does not tolerate discrimination of any kind," said Holly Hippensteel, who was appointed part-time interim director of Title IX Initiatives and Title IX Coordinator. "That said, there is always more that can be done."
Hippensteel has worked closely with many individuals committed to Title IX and gender equity issues at Carnegie Mellon over the years, and says she was more than happy to take up the charge of building on the strong foundation that already exists.
"I know how passionately folks at Carnegie Mellon are working to raise awareness, and I hope that our new office is able to channel all of the positive initiatives already happening while also taking advantage of the fact that we now have staff members dedicated solely to these areas so that we can build and grow our efforts," Hippensteel said.
In his announcement of the new office to the campus community, Vice President of Campus Affairs Michael Murphy praised Hippensteel for her exceptional contributions as a deputy Title IX coordinator. He described her as being "deeply committed to building a supportive climate in which each of our community members can thrive."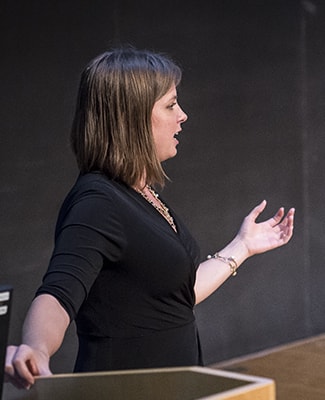 Jamie Edwards
Serving alongside Hippensteel is alumna Jamie Edwards (DC'07), assistant director of Title IX Initiatives. Murphy said Edwards has established herself as "a rising leader in the field, demonstrating an enviable blend of a sharp analytical mind with strong interpersonal skills and a collaborative spirit."
To Edwards, Title IX means ensuring that community members are not being discriminated against, harassed, excluded or otherwise harmed because of their gender.
"I want everyone to feel supported and to know that they have equal access and support," she said.
Edwards is looking forward to implementing impactful prevention programs; connecting individuals with the support and resources they need; and ensuring a fair and just process for handling all claims of misconduct.
"Perhaps somewhat counter-intuitively, I expect that an increase in the number of reports over the next few years will tell us we are doing our job," Edwards said. "If we see an increase in reporting, we will know that more people are aware of the university's efforts in the Title IX space, and that they have faith in the process."
Hippensteel says the office's top priorities include the creation and launch of a comprehensive web-based resource and a focus on high-quality community education. She said Murphy; Gina Casalegno, Lucas Christain and Jess Klein from Student Affairs; Dan Munsch and Jim Mercolini from Legal Affairs; and Everett Tademy and Dan McNulty from Human Resources have been instrumental in helping her and Edwards establish goals for the coming year.
"We are taking lots of input as we update our protocols and determine how our office can best support the work being done by others in units such as University Police, University Health Services, and Counseling and Psychological Services," Hippensteel said.
"Lastly, we are trying to just get the word out about our office so that folks understand who we are, how to contact us (tix@cmu.edu) and when we might be helpful. This is very important work."