September 04, 2015
Be S.A.F.E.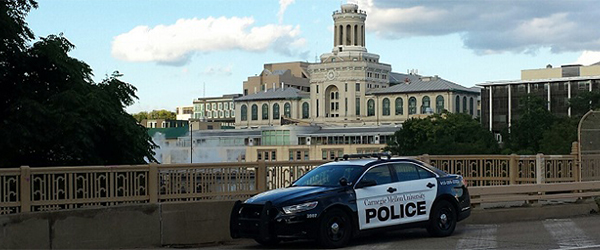 The signs are all over campus: there's a new crime prevention initiative in town.
Campus police are well aware that CMU faculty, staff and students have a lot of demands on their time, but they also want to be sure women are educated about safety.
So starting this fall, they're offering a two-hour safety awareness class, called "S.A.F.E.," as an alternative to their well-attended Rape Aggression Defense (R.A.D.) class, which requires much more of a time commitment. 
The S.A.F.E. program — an acronym for Self-defense Awareness and Familiarization Exchange — is an award-winning awareness and prevention program that provides women with information that may reduce their risk of exposure to violence and introduce them to the physical aspects of self-defense. 
The program's purpose is two-fold: to prevent crimes of sexual violence in the community through education and training, and to educate women about realistic options that will help them avoid, escape and survive assaults if they do occur. 
"The advantage of this class over R.A.D. is that R.A.D. is a 12-hour class," said Lieutenant Joseph Meyers. "Although R.A.D. is a popular choice for many on campus, we feel that a two-hour class would be more attractive for a good portion of our students, faculty and staff, and we want to reach as many people as we can with this important safety information to educate them."
The S.A.F.E. class essentially focuses on three components: avoidance, escape and survival of physical attacks, particularly those of a sexual nature. Participants of S.A.F.E. can expect:
• a dynamic, super-graphic 13-piece full color folio packed with safety information every woman should know;
• a 17-minute motivational video shown as part of every program, narrated by Emmy Award-winning actress Sharon Gless, who starred in "Cagney & Lacey" and "Burn Notice"; and
• a 1-1/2 hour familiarization with physical self-defense.
Meyers says this particular program has been very successful at other universities.
"In just two short hours, the S.A.F.E. class provides women with solid, public safety awareness information they can incorporate into their everyday lives," Meyers said. "It's based on the premise that 90 percent of self-defense is awareness, risk reduction and avoiding confrontation. Only 10 percent of self-defense is physical. The focus of the class is on ensuring that people are both mentally and physically prepared."
Security Officer Mikki Williams is one of three CMU police officers who have been certified as S.A.F.E. instructors. 
"There are a number of reasons why I am glad I am able to take part in the S.A.F.E. course," Williams said. "The main reason that I believe the course is so important is that it empowers women to take a stand for themselves."
Williams said women are often viewed as the weaker sex in any culture, and therefore are preyed upon more than men. 
"The S.A.F.E. course arms women with some of the necessary tools to avoid harm and protect themselves in many different situations."  
Police Officer Stacey Griffin and Security Officer Jim Moran also are certified to teach the class. Police officers Don Campbell and Leah Boehler and Security Officer Erick Canizales will assist the instructors 
in their presentations.
If you would like to schedule a S.A.F.E. class for your campus group or department, contact the CMU Police Department at
campuspd@cmu.edu
.