October 09, 2015
First Fall Town Hall
By Bruce Gerson / bgerson@cmu.edu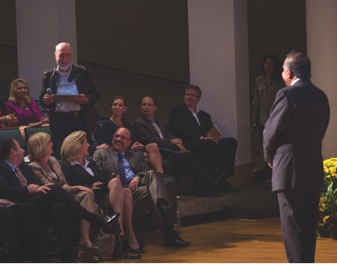 Carnegie Mellon President Subra Suresh hosted his first fall town hall meeting on Sept. 30 with members of the university community in Pittsburgh, while the global CMU family watched via webcast.
Suresh said he would be holding these meetings annually to provide students, faculty and staff with the opportunity to provide him with ideas and suggestions as well as to ask questions and raise issues and concerns of importance to the university.
"It's a chance to have a dialogue," he said. "These [meetings] are very important for me to hear what's on your minds and for you to hear what's on mine."
During the meeting in McConomy Auditorium, Suresh answered questions from individuals representing the student body, faculty and staff. He also fielded several that were submitted previously online.
Questions covered many topics, including: how staff can engage and support the new strategic plan that is nearing completion; industry-university partnerships; student engagement with global locations; sexual assault on campus; innovation and creativity; technology-enhanced learning; diversity; and the challenges international graduate students face.
Shernell Smith of Student Affairs asked how CMU staff can become involved and engaged with transforming the CMU experience, one of the overarching areas of the university's strategic plan.
Suresh acknowledged the "unprecedented" support by staff in the strategic planning process, thanking hundreds for their participation in the various working groups and town hall discussions.
He said the plan will have a dynamic presentation on the Web, will be updated periodically and progress toward goals will be recorded.
He encouraged staff to become engaged by reading the plan and becoming involved in the progress.
A student in the School of Computer Science asked if a partnership with one company would prevent a company's competitor from doing business with CMU.
"What CMU has today other universities want to emulate," Suresh said, pointing to university relationships with competitors, such as Microsoft, Yahoo and Google.
He also noted the recent partnership with Tata Consultancy Services, a competitor of Cognizant, whose CEO is
a member of CMU's Board of Trustees.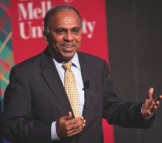 "CMU pushes the boundaries of human intelligence. We don't take sides," he said.
Responding to a question by Student Government representative Michael Gormley about student interaction with university locations abroad, President Suresh noted that often students from global locations, such as Qatar and Rwanda, visit the Pittsburgh campus and mentioned the IMPAQT program, which sponsors student trips between Pittsburgh and Doha.
He said technology is another way in which students from around the world can connect.
A question about sexual assault on campus came from the live audience.
In response, Suresh spoke about the recent survey that was conducted on campus and among AAU institutions.
"The upshot is that CMU is in line with the national average. And that's nothing to cheer about," he said, reaffirming the university's commitment to keep students safe.
He talked about the efforts made by Dean of Student Affairs Gina Casalegno and her staff to meet with student leaders and the broader student population, and the creation of the new Office of Title IX Initiatives. He said Student Affairs would be holding additional town hall meetings to discuss the role we can all play.
Architecture Professor Omer Akin posed a question in which he spoke about CMU's history of creativity and suggested that the Forbes Avenue corridor between Craig Street and Morewood Avenue be called the "Innovation and Creativity Corridor."
Suresh said the "Innovation Corridor" came about organically from the many companies that have established offices near campus to work with faculty and students.
"The activities of our faculty led to more than 125 companies coming to campus, bringing about $500 million in external funding," Suresh said. "What is so unique about Forbes is that east of Silicon Valley, it is the place with the highest capacity to create enterprise."
Suresh asked how we could make Forbes a distinctive place between the arts meccas of New York and Los Angeles.
"We need to do the legwork to have all the ingredients in place," he said.
Graduate student Ankita Sharma inquired about CMU's support of graduate students regarding funding and visa issues.
Suresh said it's a priority of his to create and implement a mechanism to financially help to support students so CMU can attract the best, brightest and most diverse student body.
He pointed to the establishment of the Presidential Fellowships and Scholarships program, but said much more needs to be done. He said student support would be one of the top priorities in the next capital campaign.
Regarding student visas, Suresh said CMU is participating in the national conversation along with other AAU institutions regarding reform.
Suresh said he would be continuing the conversation with the university community with periodic informal meetings with small groups of students, faculty and staff.
He will give his second annual university update this spring.