October 09, 2015
Emotional Experience
Alumnus Carves Crucifix for Papal Visit
By Kelly Saavedra / ksaavedra@cmu.edu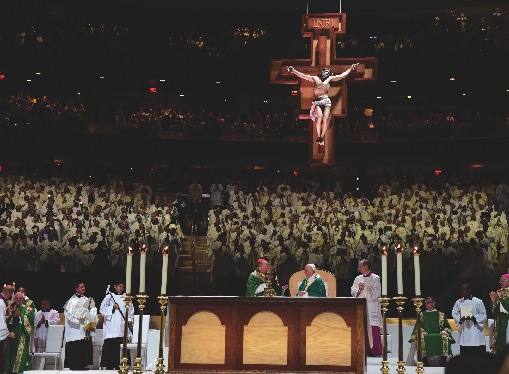 Pope Francis was recently in a "New York State of Mind," prompting legendary singer and songwriter Billy Joel to respond with one of his familiar refrains: "I'm movin' out."
The piano man suspended his regular gig in Madison Square Garden for a day in late September to make room for a rare and wildly anticipated papal visit.
Tait Towers — a company that's been providing staging, lighting and scenic design since 1978 for such stars as Billy Joel, Madonna, U2, Elton John and Lady Gaga  — built the "simple and serene" stage from which Pope Francis celebrated Mass. The company, whose chief creative officer is CMU alumnus Adam Davis, also was responsible for other details, including sculpting a 12-foot-tall crucifix suspended above the altar.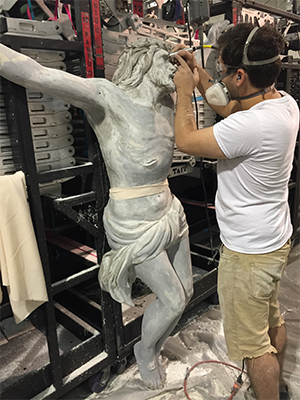 David Lasky, Tait's lead sculptor and a 2009 graduate of Carnegie Mellon's Bachelor of Humanities and Arts program, had the task of carving Jesus.
"It was one of the most mind-blowing experiences I've had," he said. "Sculpting the crucifix was such an honor. It's such a rare occasion that I would have the opportunity to present my work before the Pope, and I wanted to make sure that Jesus was expressing the emotion, the meaning of his life."
Lasky completed his divine assignment in seven days, although he said he wishes he'd had more time.
"As artists, we agonize over our work. And this time was no different," he said.
Lasky did not get to see the final product installed at the world-famous venue, as he had already begun work on another assignment. But he did admit to his emotions almost getting the best of him toward the project's end.
"While sculpting, the life and death of Jesus really began ruminating with me," he said, "and on the last day, before we had to send the crucifix to Madison Square Garden, I was almost in tears with all of the emotion."
Lasky said he felt like he was given the opportunity not just to do something cool, but also to witness something special.
"Good and capable people came together to give love to each part of the crucifix as a whole. It really was humbling to see the thing assembled, with cross and color, humming with the collective care of the people who made it."