October 09, 2015
Hittin' a High Note
Andy Winners Strike a Chord With CMU Community
By Kelly Saavedra /
ksaavedra@cmu.edu

Whether it's leading the Kiltie Band, helping students navigate through college finances, keeping campus safe, improving the research administrative process or improving the HR function for employees, the 2015 Andy Award winners all work diligently to make Carnegie Mellon a better place.
And they've succeeded.
Honored for their excellence at the 21st annual Andy Awards ceremony were:
Paul Gerlach for Outstanding Spirit; 
Don Campbell for Commitment to Excellence; 
Brian Fernandes for Commitment to Students; 
Rhonda Kloss for Innovative and Creative Contributions; and 
The CMU Works Project Team for Outstanding Teamwork and Collaboration.
SPIRIT — Paul Gerlach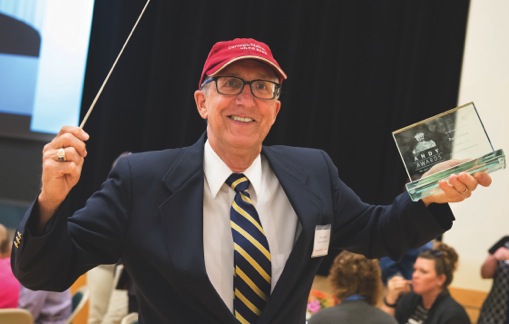 Under Paul Gerlach's leadership, the university's Kiltie Band is the epitome of CMU's Tartan spirit and one of the university's great treasures, according to Josh Centor, director of Athletics, who co-nominated him for the award.
"Paul influences the students' educational experience in a profound way. He teaches them about music, but moreover, he teaches them to have a passion for this university and community," Centor said.
While Gina Casalegno, vice president for Student Affairs, believes Gerlach's commitment has been demonstrated over the tenure of his career, she noted this year his dedication to Carnegie Mellon was on display under the most heartbreaking of circumstances.
This past November, Gerlach's wife, Myra, passed away after a short battle with cancer.
"Throughout Myra's illness, Paul maintained his commitment to the band while ensuring he was there for Myra every step of the way," said Casalegno, who co-authored the nomination with Centor.
Just a couple short weeks after her passing, Gerlach took the director's stand and delivered a moving and beautiful holiday concert in Kirr Commons.
"I was struck by his poise in the face of such loss and realized he was right where he wanted to be," Casalegno said, "in the comfort of his CMU family where he has dedicated a lifetime of contributions to directly impact the lives of hundreds of students who played for him and thousands more who have enjoyed the celebrative environment brought to campus by the band all these years."
Carl Glazer, a recent cheermaster and president of the Kiltie Band who worked closely with Gerlach, said Gerlach's dedication extends far beyond the kilts and the instruments.
"The Kiltie Band serves as one of the first exposures to upperclassmen for many of the first-years, and the atmosphere of acceptance allows them to form bonds that are used for academic help, social guidance or simple lasting friendship," Glazer said.
From early Saturday morning pre-game rehearsals to Friday night pep band doubleheaders, Glazer said Gerlach's commitment goes far beyond the standard 9 to 5.
"He never fails to be meticulously organized and prepared, spending countless additional hours outside of rehearsals and performances to ensure the students are not hampered in their ability to enjoy making music," Glazer said. "Paul Gerlach serves as a living representation of the spirit that makes our campus and community so unique and special."
COMMITMENT TO EXCELLENCE — Don Campbell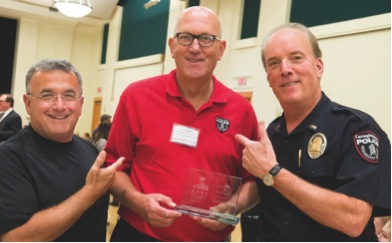 When Tom Ogden was interviewing for the chief of police position at CMU, Bill Elliott, then vice president of Enrollment, pointed to Officer Don Campbell sitting on the steps talking to a student.
Elliott said, "If all police officers were like that one, your job would be a lot easier. Look at him with that student. He really cares and they know it."
Ogden was hired for the position, and it didn't take long for him to recognize what Elliott meant.
"Don is one of the most dedicated and caring people that I have ever met," Ogden said. "The university and its students, staff and faculty mean everything to him."
In his nomination letter, Ogden said Campbell takes time out of every day to speak with members of the campus community and to assist them in hundreds of different ways. He watches out for the students, giving advice, help and support during many difficult times in their lives.
"On those occasions when I need to call upon University Police to assist with a serious or emergency situation, I find myself 100 percent more calm and assured just by the mere sight of Officer Campbell arriving on the scene," said John Hannon, associate dean of Student Affairs.
"Don is a multifaceted problem-solver and a phenomenal collaborator. He ensures that response is thorough and complete by raising gentle questions about things that may have been forgotten or missed, without ever making anyone foolish for overlooking them," Hannon added. "He is incredibly decisive, and on more than one occasion, his swift actions have literally saved the life of one or more of our community members."
In 1989, Campbell rescued a six-year-old girl from serious injury. In 1992, 2007 and 2014, he was recognized for saving the lives of students in three separate incidents. Ogden added that Campbell has made several high profile arrests of individuals victimizing members of the CMU community, and his file is full of countless letters and accolades recognizing his service and compassion.
Lieutenant Joseph Meyers offered Campbell as a role model in a time when police are coming under intense scrutiny.
"Law enforcement in parts of America has come under intense criticism for its lack of connectivity with and failure to support and engage with those communities that they are expected to protect and serve. That degradation occurred over an extended period of time and for a variety of complicated and intertwined reasons," Meyers said.
"I hold Officer Campbell up to the law enforcement profession as a model of professionalism, respect, caring and genuineness that should be emulated by all police officers if they are to start rebuilding a relationship of trust and support with their communities," Meyers said. "He is truly what every police officer should be."
Honored with the Andy for Commitment to Excellence was Officer Don Campbell (above, center) a role model for his colleagues Lt. Joseph Meyers (right) and Lt. Gary Scheimer.
OUTSTANDING TEAMWORK AND COLLABORATION – CMUWorks Project Team
On Dec. 29, 2014, Workday launched at Carnegie Mellon. It was no easy feat.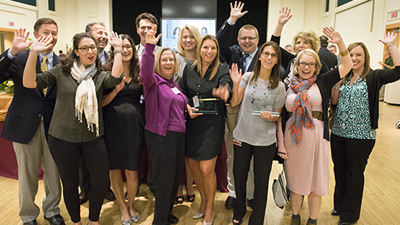 Implementing this multi-year cross-organizational initiative to evaluate, streamline and enhance the delivery of human resources, payroll, and benefits services for faculty, staff, and students across CMU's campuses was a Herculean task.
The CMUWorks Project Team — Kim Abel, Karen Eck, Jeff Houser, Bob Riddle, Linda Schmidt and Deanne Weaver — brought the project to fruition.
Cheryl Wehrer, associate director for Finance and Administration, was so impressed, she nominated the team for an Andy Award for their dedication, commitment, coordination and successful completion of the project.
"After four long and arduous years, they came together for an amazing finish to deliver a smooth implementation of Workday — arguably the largest and most complex system, process and reorganization project in recent CMU history," Wehrer said.
In order to deliver this important project to campus, the project leaders brought together a number of key departments across the university, such as Finance, Computing Services and Human Resources.
"They managed a large cross-functional team of external consultants and campus representatives whose efforts focused in human capital management, conversion, payroll, reporting, security, absence and time tracking, technical issues, testing, change management and implementation of the CMUWorks Service Center," said Liz Milavec, associate vice president for Finance, who also wrote a nomination letter for the team.
"They fostered collaborative relationships across groups and considered multiple perspectives to define and solve problems, reach agreements and ensure that campus users were well informed, educated, and ready to use Workday and the CMUWorks Service center," Wehrer added.
The task was not without its challenges, including leadership changes and an aggressive implementation timeline, but the team persisted to ensure the right people were doing the right jobs and that everyone stayed on track toward the path of successful implementation.
"This team enabled a positive and recognizable difference in the university community that will impact current and future employees for years to come," Milavec said. "The delivery of the CMUWorks project improved organizational efficiency and productivity at the university by eliminating manual, standalone and paper processes, realized cost savings by consolidating multiple systems and providing a lower total cost of ownership, and positioned the university to be agile in meeting changing business and compliance needs."
Milavec said feedback from the campus and university leadership has been overwhelmingly positive regarding this project, and it is viewed as a vast improvement to the previous systems and processes.
Representing the CMUWorks Project Team are: front row (above, left to right) Christa Cardone, Efthia Barron, Linda Schmidt, Deanne Weaver, Karen Eck and Shannon Konek; second row (left to right) Jeff Houser, Amir Rahnamay-Azar, Dan McNulty, Liz Milavec, Bob Riddle, Kim Abel and Amanda Perkins.
INNOVATIVE AND CREATIVE CONTRIBUTIONS – Rhonda Kloss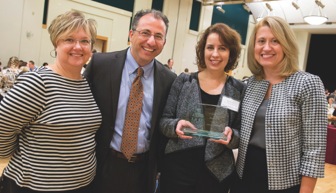 Rhonda Kloss has always been a proponent of training in research administration for her staff and for campus. She participates regularly in Research Administration Council meetings and has presented in workshops and classes.
At conferences, she has networked with peers to learn about training initiatives implemented at their campuses.
"Obviously CMU has other valuable research training opportunities through the Research Administrators Council, but Rhonda often talked about other ways to broaden the knowledge and experience of CMU's research administration professionals," said Anne Marie Bosnyak, senior director of Sponsored Projects and Cost Analysis. "Her goal was to reinvent or reimagine the delivery of training. She also wanted to build a research administration community."
Kloss finally saw her dreams come true in fiscal year 2015, when the Research Administration Training Series launched its inaugural year.
"What sets the Research Administration Training Series apart is the delivery of the materials," Bosnyak said. "The series, which begins its second year this September, is a cohort style training program led by Carnegie Mellon's own subject matter experts.  The cohort training brought together 15 CMU employees from different departments and with different skill levels for a year-long training program. The program was focused primarily around the life cycle of an award — from proposal to closeout."
Of course, the talent of the presenters played a role in the success of the program's first year, however the program existed because of Kloss's vision, contributions and follow through.
"Rhonda managed the entire project, from soliciting help from CMU's subject matter experts to do the training — she was also a trainer for several sessions — and coordinating the topics to moderating each session," Bosnyak said.
The  new educational training series Kloss designed filled a gap in educational programming for staff and afforded all CMU employees the opportunity to get a 360-degree view of aspects of research administration in general, as well as the processes and procedures that are unique to the university.
"She likely spent considerable time building the comprehensive curriculum and identifying two to three appropriate subject matter experts for each of the 16 sessions," said Colleen Mantini, ICES program manager, in her nomination letter. "Thanks to her taking on this challenge and organizing this series, 15 CMU staffers across campus — CIT, Tepper, Heinz, Deitrich, MCS, and Central Aministration — completed this series and gained valuable insights into research administration."
Mantini said the gains were most likely greatest for staffers new to research administration or new to Carnegie Mellon research policies and procedures.
"However, staffers with 20-plus years' experience in research admin at CMU also enhanced their knowledge of some administrative issues and/or processes of which they were previously unaware," she said.
"Overall, all participants are carrying out their work activities with a greater knowledge base. We are able to spot issues that merit further attention and know whom to contact to resolve those issues," Mantini said.
Rhonda Kloss (above, second from right) revamped research administrative training to focus on delivery, earning her an Andy for Innovative and Creative Contributions. She's pictured with (Left to right) Anne Marie Bosnyak, Amir Rahnamay-Azar and Liz Milavec.
COMMITMENT TO STUDENTS – Brian Fernandes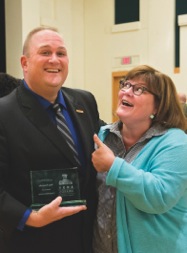 Shernell Smith, associate director for the Dean of Student Affairs, says one of the stressful concerns for our student population is financial affordability during unexpected emergency situations.
"When I am faced with complex student situations that require a magical touch, I pick up the phone to call Brian Fernandes in Enrollment Services," Smith said.
"I always know that Brian is going to work tirelessly to ensure that we are able to find a solution that meets the unique needs of the student."
Smith called Fernandes a "consummate professional" who meaningfully engages with students and their families.
"One of Maya Angelou's most empowering quotes is, 'I've learned that people will forget what you said, people will forget what you did, but people will never forget how you made them feel.' Brian Fernandes is an inspiring role model for our campus community who sincerely cares about the well-being of our students," Smith said.
Smith recalled a complicated situation that featured a student who was academically soaring, but whose family was engaged in a number of financial setbacks.
"Through Brian's guidance, the student and her family were able to work through their financial situation. That student is now a proud Loyal Scot, and someone who truly gives back to CMU because someone like Brian Fernandes was there when she needed support the most," Smith said.
Fernandes has not only dedicated himself to meeting the critical challenges that sometimes surround Enrollment Services, but also to advancing new methods that meet the needs of students.
"Brian has done so in a way that highlights the values of leadership, integrity, professionalism, diversity and advocacy while respecting the core pillars of our university mission and fostering an environment for meaningful engagement with our students."
Helen Wang, director of First-Year Student Life, said Fernandes has the ability to see work as a bevy of opportunities and welcomes challenges, rather than hurdles, barriers and impossibilities.
"That is a quality that makes someone not just good at their work, but exemplary. Brian is such a person," Wang said. "I have never heard a negative comment come from him, despite the many challenges that are present in his work. Rather, he gathers the right information, seeks the right colleagues and makes good things happen where others might resign to the challenges. He is a bridge builder, often finding ways to collaborate when it would be easier not to."
Renee Camerlengo, assistant dean of Student Affairs, recognizes that working with students in the intimate space of their financial circumstances requires artful navigation.
"Brian is a steadfast partner working with students facing significant physical and mental health needs, family dysfunction, employment interruption and tragedy. His empathy, compassion and can-do attitude bring a tremendous sense of relief to often overwhelming situations for our students," Camerlengo said.
"I am deeply grateful to have such a talented colleague doing the work he does with and for our community."
Pictured above: Brian Fernandes, known as a "go-to guy" for students facing financial challenges, won the Andy for Commitment to Students. Congratulating Brian is Renee Camerlengo.