October 09, 2015
Eureka!
New Seminar Preps First-Year Scientists for Success
By Jocelyn Duffy / jmduffy@andrew.cmu.edu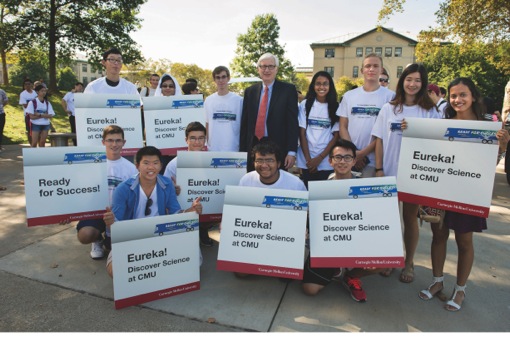 Soon after arriving on campus, first-year students in the Mellon College of Science (MCS) found something new in their schedule. Every Monday evening the entire class gathers for a first-year seminar called "EUREKA! Discovery and Its Impact."
The class draws on the expertise of many faculty and staff across campus to help prepare students for their future as a scientist and for life as a CMU student.
"It's a different approach a traditional first-year seminar since it is not subject based. The goal is to set students up to be successful," said Maggie Braun, Director of Core Education in MCS.  "We hope that it will get them excited about becoming scientists and mathematicians. It's about their career paths, work-life balance, team work, community engagement. We want them to think about things that will be helpful while they're in school and after."
The seminar will also introduce the students to MCS's new Core Education, which made its debut this fall. The Core is the result of more than 8 years of discussion, research and planning by MCS faculty and staff, and consultation with campus partners including the University's Eberly Center for Teaching Excellence and Educational Innovation and Student Affairs. The Core prepares students for their future as 21st century scientists by encouraging each student to grow as a scholar, person, professional and citizen through engagement not only in their classwork and research, but also in teamwork, personal wellness, the arts and community service.
"We wanted to come up with something that would set the stage for students as they begin their college career," said John Hannon, Associate Dean for Student Affairs and the new MCS Director of Integrative Learning. "We looked at what our most successful students did and let that guide us as we developed the new core curriculum."
As part of the seminar, a number of faculty and staff will introduce students to individual components of the new curriculum and give them tools to help them succeed.
Angie Lusk, assistant director of Student Life, will help students conduct a wellness assessment.
Lucas Christain, director of Community Standards and Integrity, will present case studies to help the students learn about ethics.
The Career Center's Katie Cassarly and Kevin Collins will teach the students about teamwork using Strengths Quest.
Elizabeth Vaughan, director of Student Activities, will talk to the students about service opportunities.
Joanna Wolfe from the Global Communication Center will teach the students presentation skills.
In the course of the seminar the students will learn about planning a research project and accountability from current faculty; hear about life as a scientist from a panel of recent MCS graduates; learn about work-life balance; and participate in small group discussions with upper-class mentors from MCS.
Taking advantage of CMU's expertise in the science of learning, and through the support of the Simon Initiative, students will be taught skills to optimize their education by using the principles of metacognition by the Eberly Center's Marsha Lovett, Chad Hershock and Emily Weiss. This will help students to gain awareness of their strengths and weaknesses in learning and provide them with skills that will allow them to maximize their education.
The class culminates in a group project where the students will devise a presentation to teach high-school students about an interdisciplinary science-related concept.
"MCS students come in excited about science. We're going to give them the tools to build on that enthusiasm from the get-go and open their minds to new possibilities," said Eric Grotzinger, Associate Dean for Undergraduate Affairs.
Pictured: First-year students in the Mellon College of Science and Dean Fred Gilman (above, center) greeted Secretary of Education Arne Duncan and his Ready for Success bus tour last month.