December 01, 2015
Record Breaker
Running Back's Grit, Smarts Put Tartans in Business
By Chuck Finder / cfinder@andrew.cmu.edu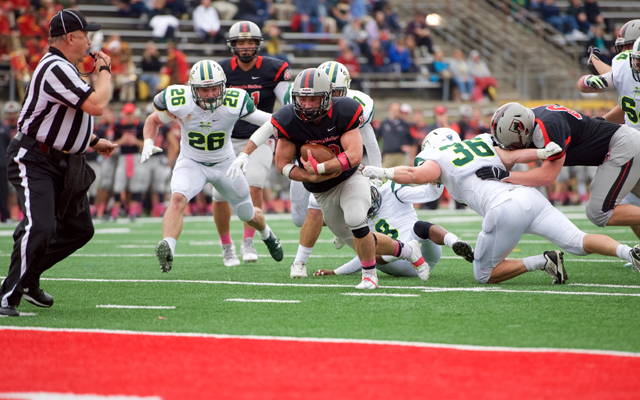 Sam Benger scored a school-record 22 touchdowns this season.
Carnegie Mellon's newly named Academic All-American and the second-leading rusher in all of NCAA football is the nondescript student sitting in the third row of Oliver Hahl's Organizational Behavior class. Clad in T-shirt, jeans and wire-rimmed glasses, this sophomore running back and Tepper School of Business student is taking notes — with a pen on paper, old school.

Sam Benger, pronounced like venture, listens intently as Hahl, an assistant professor of organizational theory and strategy, mentions "rivalry force," "motivation and complexity," "capability-based advantages" and "replication."
Each has a double meaning that helps to describe how a 5-foot-8, 185-pound fellow from suburban Boston ran for a record 2,092 yards and 22 touchdowns this past season on his way to winning Offensive Player of the Year in two separate conferences, the University Athletic Association and Presidents' Athletic Conference.
Hahl then unveils the four tests for assessing value in strategic resources, and it sounds as if he's talking about Benger's business.
Test No. 1: Own or control the asset in question, to determine if you have an advantage.
College-football recruiters shied away from the running back and punter from Hingham, Mass., along Boston's South Shore, because of his diminutive size.
"That was their mistake," said Carnegie Mellon Head Coach Rich Lackner just before breaking into a hearty laugh. Benger decided to leave New England for Carnegie Mellon and its internationally recognized business school. "We were fortunate," Lackner said.

Benger rushed for a school-record 303 yards vs. W&J.
Benger arrived on campus at the same time as new Tartans Offensive Coordinator Andy Helms, a 1983 CMU alumnus, who just so happens to be a Tepper School graduate in industrial management.
The new-look Tartans opened 2014 with a 2-3 record and with Benger mostly contributing as a kick returner.
"We knew Sam was good and got him some carries early on. But I'll just say, we finally got smarter when we made him our starting running back," Lackner recalled.
Benger made his first start against Grove City College midway through the 2014 campaign. He rushed for 139 yards and compiled 202 all-purpose yards (rushing, receiving and returning). Carnegie Mellon won, and an asset was in control: Benger finished those final five games with 493 yards rushing and 993 all-purpose yards.
He continued that momentum to start the 2015 season with 204 yards against Washington University of St. Louis and a school-record 303 against then-No. 14 Washington and Jefferson College, with his dad, Stu, in attendance.
"Quantitatively, it is my best game," Benger said, like a good Tepper School quant should. "But I don't regard that as one of my best performances."
After 194 yards the next week at Geneva College, Benger wound up leading all NCAA rushers — encompassing some 590 member institutions — with 701 yards rushing and 233.6 yards per game. Friends wanted him to send tweets to the major-college rushers he was eclipsing at that point, but Benger demurred. "I didn't think I'd hear back from (LSU's Leonard) Fournette. Or Derrick Henry (of Alabama)," he said.
Test No. 2: Does it differentiate you from the competition?
Benger fell off that torrid pace a mite after he was limited to 83 yards in the rain and chill at Westminster College, with his father and mother, Beth, present. From there, though, both the fleet running back and the Tartans took off together, running off seven consecutive victories by an average score of 55-18 and Benger romping for 1,308 yards and 16 touchdowns. The final two regular-season games were especially telling.
He entered the University of Chicago contest expecting an "absolute battle . . . decided by an inch." Benger wound up averaging 324 inches (9 yards) per rush, but it was a pass play that remains his biggest contribution. He took quarterback Andrew Hearon's swing pass, faked a Chicago cornerback so badly that the cornerback fell flat on his facemask, and skittered to a touchdown that ignited a 52-7 Tartans triumph.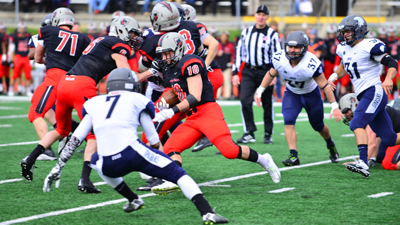 Benger scored CMU's final TD against Case Western to secure the victory
and a berth in the Legacy Bowl.
Next, Benger enabled the Tartans to secure a bowl bid and endure rival Case Western Reserve University in a 52-42 slugfest. Benger scored Carnegie Mellon's final touchdown.
"He broke three tackles and ran over two people into the end zone," Lackner said of the fourth-quarter score. "The offensive coordinator was on the headset, he said, 'Of all Sammy's runs that might have been the finest run of the year right there.' And it was only 5 yards.
"That gives you an idea of the determination. And toughness. And balance," Lackner said.
Test No. 3: Can it be sustained?
Benger competes daily against Type 1 diabetes, meaning he may well be America's top football student-athlete with an insulin dependency and a constant glucose monitor in efforts to maintain healthy blood sugar levels.
"It's a testament that diabetes doesn't have to be a limiting factor for athletes young and old," Benger said. He has been taking medications and checking his blood sugar since being diagnosed at age 5.
"A back only has so many carries in him in a season, too," said Lackner, whose team handed the ball to Benger more than 30 times in a game only three times, including 34 carries, 195 yards and four touchdowns in the Legacy Bowl defeat of Bridgewater State University. "The legs get beat up. Exhaustion. You run the risk of injury. You want to be smart with him, and I think we were. "
And speaking of smart . . .
"He pretty much epitomizes the term 'student-athlete,' what you look for in a young man in your program," Lackner continued. "Just a very humble young man. He has been a blessing, in every way."
Benger carries a 3.7 grade-point average that earned him the prestigious distinction of second team Academic All-America for Division III from the College Sports Information Directors of America.
"You come back from practice, 'Wow, I have three or four hours of work I have to do,' " Benger said. "Coach Lackner reminds us, 'The reason you came to this school is you wanted a challenge.' This school has a great support system for students as far as academic development. Especially with the football team, I'm around a lot of like-minded guys. I mean, the school has a reputation for being challenging academically, and it certainly earns it."
Test No. 4: Does it contribute to satisfying customer's needs?
Alumni and fans approach Lackner with regularity about the running back who symbolizes their school: small, yet mighty.
"People say, 'Oh, you are going to miss him.' I say, 'Why, where's he going? He's a sophomore,'" Lackner said. "And they say, 'He's a sophomore?!'"
Benger By The Numbers
2nd in rushing in all of NCAA football with 190.2 yards per game
2 Offensive Player of the Year honors: Presidents' Athletic Conference and University Athletic Association
22 touchdowns this season was a school record
303 yards rushing vs. W&J was a school record
2,092 yards rushing this season was a school record
21st player in Division III history to rush for 2,000-plus yards, and first in CMU football history
10-6: Tartans' record since Benger became a starter
8 of 11 games this season he rushed for 189 yards or more
5 200-yard rushing games this season