November 17, 2015
"The Rambling Irishman"
John Carson Releases CD of Songs From His Homeland
By Kelly Saavedra / ksaavedra@cmu.edu
When John Carson was introduced as the new head of the School of Art at his welcome reception in 2006, instead of making a few remarks, he sang a song.
He sang "The Rambling Irishman," whose lyrics tell a hopeful story about an Irishman like himself, emigrating to America in search of a better life.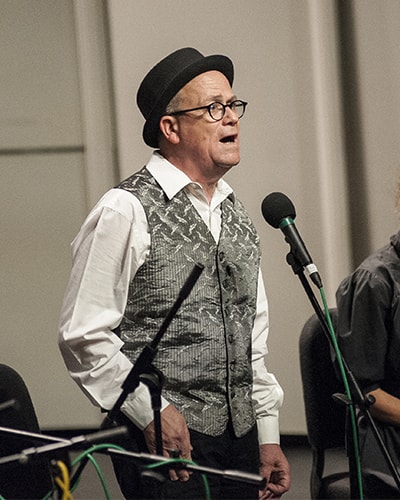 "I just felt at that point in time that it conveyed my feelings better than any speech I might give," Carson said. "In conjunction with the narrative, the tune has an optimistic and uplifting feel to it."  
Riccardo Schulz, a teaching professor in the School of Music, was in the crowd that evening, listening intently. Schulz has been recording opera singers for decades and knew immediately that he wanted to record Carson singing.
"Although John is not formally trained, his voice has an exceptionally good quality and carries well for the same reasons that trained opera singers' voices carry, so I was impressed with that," Schulz said. "But I was even more impressed with the fact that he could introduce himself with song — that's quite unconventional!"
He invited Carson to be a guest artist in his Sound Recording class, which Schulz conducts in the Vlahakis Recording Studio in the basement of the College of Fine Arts.
Carson accepted.
Their first session took place in late November 2006. Carson recorded 20 songs during the three-hour class, mostly from his vast treasure trove of traditional Irish songs.
"All unaccompanied — no instruments, just voice," Schulz said. "And most were recorded with just one take, straight through, one after the other."
Afterward, Carson came out of the studio and joined Schulz and his class in the control room, where students were brimming with questions.
Schulz had a few questions, himself.
"Why were so many of them sad songs?" Schulz wanted to know. "Love, lost or forbidden. Going off to war. Longing for the homeland. Songs of celebration and revelry. They were popular songs, parlor songs, pub songs, and John knew the history and provenance of every one of them," Schulz said.
"Even the titles are fascinating: 'Mary and the Soldier;' 'Ae Fond Kiss;' 'True Love Knows No Season.' Then you have 'The Banks of Sicily,' 'The Lakes of Pontchartrain.' What was an Irishman doing on the banks of Sicily? or the lakes of Pontchartrain?" Schulz wondered.
Carson entertained them with stories about his life and the importance of music in Irish culture. The root of his attachment to Irish and Scottish music lies in having grown up on the northeast coast of Ireland in Carrickfergus, 22 miles across the water from Scotland.
"Across those 22 miles is a shared Scots and Irish culture," Carson said. "At one point in time, the two regions were ruled as one kingdom, named Dalriada.
During his childhood, Carson said, there was always singing in the house.
"And there would frequently be get-togethers with relatives, friends and neighbors, where everybody would have to sing a song, play a tune or tell a story," he said. "It didn't matter whether you were any good or not. Everybody had to take a turn. From an early age you had to start building a repertoire, as children were expected to have a 'party piece.'"
While admittedly fond of "The Rambling Irishman," Carson says he couldn't single out just one song as his favorite because he likes different songs for different reasons.
He likes to sing "Kishmul's Galley" because it's a "rousing tune that always lifts the spirits."
For "Freedom Come All Ye," the Scottish poet Hamish Henderson put words to an old bagpipe tune. Written in Scottish dialect on the topic of racial equality, Carson calls it a joy to sing.
"Even if people do not understand the dialect, the spirit of the song comes through," he said.
Carson returned to the Vlahakis Recording Studio eight more times, and the numbers grew. In February 2008, he recorded 30 songs during one session. The total number of tracks he's recorded stands at 172 — mostly traditional Irish songs, but some popular American songs as well.
"It became clear," Schulz said, "that over and above any individual song, it's really the growing collection that is astonishing as an important archive of Irish folk music, happening here in Pittsburgh, at Carnegie Mellon."
After some persuading, and plenty of time spent listening to the recordings, the modest head of the School of Art agreed to choose an hour's worth of the songs and put them on a CD. The collection, "Traditional Songs Across the Water," is now available through the University Store.
Carson has done only a few public performances in Pittsburgh.
"More usually, I perform at home, as I have happily continued the party tradition known as a 'come all ye,' which I grew up with, by inviting people round for an improvised musical evening," he said. "I make sure I have a core of local musician friends to guarantee a good evening, but I like to invite new people each time to add an element of unpredictability."
Schulz said he enjoyed every session and looked forward to the treasures Carson would bring with him to the studio.
"John enriched my life and the lives of more than a hundred students," Schulz said. "They thought they would be learning about recording equipment, but instead went way beyond the technical aspects of recording, as they met and worked with a true artist."
Above, John Carson performs songs from his first CD, "Traditional Songs Across the Water."