November 20, 2015
Rebuilding Communities, Restoring Lives
"Project RE_" Opens at Construction Junction
By Kelly Saavedra / ksaavedra@cmu.edu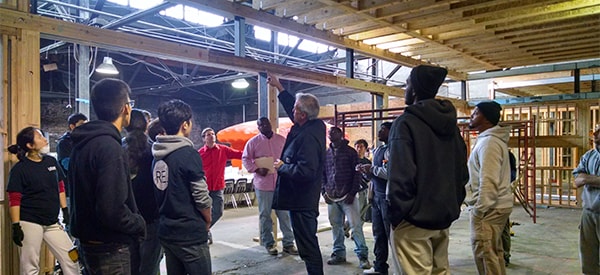 A new workspace at Construction Junction in Pittsburgh's East End is giving materials — and people — a second chance.
The 10,000 square-foot area, which features a design studio, fabrication lab and workshops for wood, metal and masonry, is now home to "Project RE_," a collaboration between three local nonprofits leveraging their assets to rebuild communities and restore lives.
Project RE_ got its start at the Urban Design Build Studio (UDBS) in CMU's School of Architecture. UDBS students utilize materials from deconstruction projects completed by Construction Junction and, through design and prototyping, re-imagine ways they can be reused.
Once a plan is in place, the construction is carried out in collaboration with Trade Institute of Pittsburgh (TIP) apprentices, who are benefitting from skilled trade education as a means to re-enter society.
"It's about using materials that are already available and diverting them from landfills. For both undergraduate and graduate students in the UDBS, it's about preserving the environment by retraining people to think about repurposing vs. wasting precious resources," said John Folan, professor of architecture.
It's also about seeing urban communities overcome challenges through empowerment and helping by earning a living wage.
"This is a rare opportunity," said Jermaine Gadsden, a TIP masonry instructor. "Unless you work your way up in the ranks, you really don't get to communicate and have relationships with architects."
Chantz Thomas, a TIP laborer, agreed.
"A lot of people that I'm around don't go to college, don't even get to communicate with a lot of people that go to college," Thomas said. "It's really great for me getting the work experience from people who are going to be bosses one day in my field."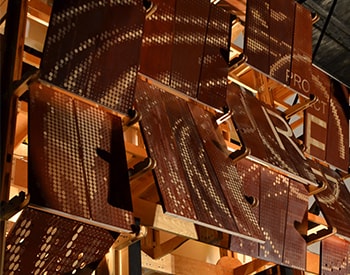 Folan had been involved in a similar effort years ago while running a design-build program at the University of Arizona. His undergraduate students worked side-by-side with teens emerging from a juvenile discipline program. Through day-to-day contact, working side by side with university students, the teens began to understand that they had opportunities available to them and that circumstance had been the only thing separating them from their ability to succeed. The undergraduate students also gained a greater understanding of the social context in which they were working.
"They accomplished things that were perceived as unattainable to them in the past," Folan said. "And we're seeing similar results through Project RE_ and the collaboration with TIP."
One of the collaboration's recent projects is a wall made of repurposed church pews that lines one section of the Project RE_ workspace. Church pews are the most common building components handled by Construction Junction. They called on the UDBS to explore new uses for the pews and the students worked with CJ and TIP to develop a method to process the material and integrate it into the project.
The result is as beautiful as it is functional.
Jay Gilbert, a TIP counselor and case manager, likes seeing the students from TIP and the students from UDBS all working together toward a common goal.
"It's not even just the project itself. I think it's neat to see two walks of life coming together, collaborating, and seeing the fun that they have," Gilbert said.
And while they're building walls, they are breaking walls down at the same time, according to Gadsden.
"Coming from a city that's really segregated as Pittsburgh is, I think that we gain a lot of understanding. A lot of beliefs that are stereotypical are dispelled when we work together on a project that we both believe in," he said. "And every individual that walks away can walk away and say, 'We did that.'"
On hand at the November dedication ceremony to give Project RE_ their blessings were Pittsburgh Mayor Bill Peduto; Allegheny County Executive Rich Fitzgerald; CMU Provost Farnam Jahanian; Head of the School of Architecture Steve Lee; and several other officials who played a role in the project.
Top photo: John Folan (center) discusses progress and next steps with students from CMU's Urban Build Design Studio and laborers from the Trade Institute of Pittsburgh.
Bottom photo: The Project RE_ entry features CNC-etched panels made of hollow-core doors diverted from a landfill.