November 12, 2015
News Briefs
CMU-Q, AlFaisal Without Borders Launch Entrepreneurship Center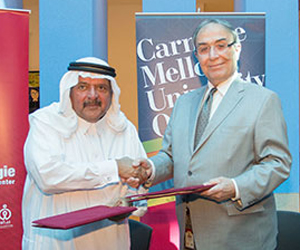 Carnegie Mellon in Qatar and the AlFaisal Without Borders Foundation have partnered to launch the AlFaisal – Carnegie Mellon Innovation Entrepreneurship Center to foster an entrepreneurial environment among Qatar's university students.
Through development and implementation of various mentorship programs, the center will equip students with entrepreneurial skills while inspiring innovation. The center will support an incubation phase for graduates, which will function as crucial early-stage support for startups.
"Through the AlFaisal-Carnegie Mellon Innovation Entrepreneurship Center, we will provide students with the opportunities, support, mentorship and resources that they need to realize their ambitions," said CMU-Q Dean Ilker Baybars.
"Through our longstanding partnership with the AlFaisal Without Borders Foundation, we hope to instill the entrepreneurial spirit in future innovators and business owners. Carnegie Mellon Qatar is uniquely positioned to bring this initiative to life for all university students in Qatar," Baybars said.
A nonprofit organization, the AlFaisal Without Borders Foundation invests in the development of the Qatari society, specifically in human and social aspects.
Pictured above is CMU-Q Dean Ilker Baybars (right) and His Excellency Sheikh Faisal bin Qassim Al Thani, chairman of the AlFaisal Without Borders Foundation.
What's Your Financial IQ? Take the TIAA-CREF Challenge
Test your financial knowledge and be entered for a chance to win one of three iPads. Each day through Dec. 4, five new questions are added to the What's Your Financial IQ Challenge.
Toys for Tots Campaign Begins Nov. 16
The College of Engineering's First-Year Advisory Board and the Carnegie Mellon Police Department are celebrating the 11th Anniversary of their Toys for Tots Campaign. The program is modeled after the national U.S. Marine Corps program that has been collecting toys for needy children since the early 1950s. This year's campaign will run from Nov. 16 through Dec. 8. Donated toys must be new and unwrapped.

Here are the drop-off locations:
Carnegie Mellon University Police, 300 South Craig Street, Main lobby;
Software Engineering Institute, Main Lobby;
Mellon Institute, 3rd floor Security Desk;
UTDC, Main Lobby;
Morewood Gardens, Student Life Office;
Warner Hall, Enrollment Services;
Cohon University Center, Student Activities Office;
College of Fine Arts, Room 104;
Pittsburgh Technology Center, Technology Drive, Main Lobby;
NREC, 40th Street, Main Lobby;
Hunt Library, 1st Floor Lobby;
Tepper School of Business, 1st Floor Main Lobby;
Scaife Hall, Room 110;
Wean Hall 5121; and
FMS Service Response Desk.
If anyone has toys that need to be picked up, has questions or would like to participate further, contact CMU Police Officer Donald Campbell at dktb@andrew.cmu.edu.
Entries for MLK Writing Awards Due Nov. 20
Entries for CMU's annual Martin Luther King Jr. Writing Awards are due Friday, Nov. 20. The program encourages high school and college students throughout the Pittsburgh area to write about their personal experiences with discrimination, racial and cultural differences or reflections of Dr. King's legacy through poetry and prose.
Interested students are encouraged to submit their entries online as separate Microsoft Word attachments (.docx preferred). Entries also can be mailed to: MLK Writing Contest, Department of English, Baker Hall 259, CMU, 5000 Forbes Ave., Pittsburgh, PA 15213. Email questions to: rpurcell@andrew.cmu.edu.
Winning entries will be published and students will be invited to read their work on campus on Martin Luther King, Jr. Day (Monday, Jan. 18, 2016). Cash prizes also will be awarded.
Support CMU's Children's School
Shop at Ten Thousand Villages from 6-8 p.m., Nov. 19 and a percentage of your purchase will be donated to the CMU's Children's School. Ten Thousand Villages is a 5824 Forbes Avenue in Squirrel Hill.

The Children's School is an early childhood laboratory school at CMU that offers morning or afternoon pre-school and full-day kindergarten programs for children between the ages of 3 and 6.
Children's School Open House, Dec. 7
Are you or a family member seeking a unique and rewarding pre-school or kindergarten experience for your child? The Children's School offers ½ day programs for 3-year-olds and 4-year olds and a full day program for 5-year-olds. The school will be holding an informational Open House for CMU staff members from noon to 2 p.m., Monday, Dec. 7. This is a chance to explore the laboratory pre-school and to learn about scholarship opportunities.
If you are interested in attending or would like more information about our programs, please contact Maggie Rosenblum at 412-268-2199 or rosenblu@andrew.cmu.edu.
Purchase Discounted Tickets To See the Harlem Globetrotters
Staff Council is pleased to offer discounted tickets to see the world-famous Harlem Globetrotters at the CONSOL Energy Center at 1 and 6 p.m., Saturday, Dec. 26. CMU students, employees, familes and friends can take advantage of an exclusive discount offer and save up to $8.50 off each ticket!
To take advantage of the discount or if you have any questions, contact Derek Gensburg at 602-707-7037 or Gensburg@harlemglobetrotters.com. You can also use the code 'MOREFUN' on Ticketmaster.com (additional fees may apply). Tickets are limited based on availability, so please order early while tickets are available.
If you have any questions, please contact Sharon Cavlovich at sharonw@cmu.edu.
New e-Book Infusion: Safari Books Online
CMU Libraries now has a site license for Safari Books Online from O'Reilly Media and The Pearson Technology Group. It provides over 32,000 titles worth of the latest content in technology, programming, design, digital media, entrepreneurship, and personal and professional development — books, videos, exercises, even code snippets — from trusted authors and publishers in those fields. Get to it from the library website's "research databases" link.
Note: Access is limited to nine simultaneous users, so be sure to logoff when you are finished. If you are prompted for a Safari password, all slots are in use; try again in a few minutes. Contact your subject librarian if you have questions.
Food Drive Continues Through Nov. 16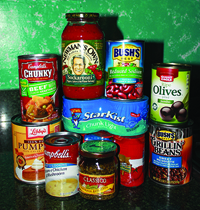 Carnegie Mellon's 22nd annual Food Drive, sponsored by Staff Council to benefit the Greater Pittsburgh Community Food Bank, runs through Monday, Nov. 16. Collection containers have been placed in many university buildings, including the Cohon University Center.
Mark your calendars for these important Food Drive events:
Nov. 12 - Snack Bags for Kids
Help pack the snack bags from 11:30 a.m. - 1 p.m. in Gates 7101.
Nov. 16 - Cans Across the Cut
Bring donations to the Cut from 9 a.m. - 4 p.m. to help make a line that will reach across campus. A trophy will be awarded to the group that brings the most donations.
Make Your Benefit Elections for 2016 

Open Enrollment for 2016 benefits is underway. You must make your elections through Workday by 5 p.m. ET, Monday, Nov. 16. Open Enrollment is employees' annual opportunity to review benefit coverage options and make choices for the upcoming calendar year.
There are no changes to plans or providers for 2016, with many plan rates remaining consistent with 2015 rates. Moderate rate increases will apply to a few plan options. In addition, the Health Care Flexible Spending Account limit is increasing to $2,550.
For more information about 2016 benefits, visit the 2016 Open Enrollment site.
Student Projects Selected for CMU Crowdfunding
Five student projects have been selected to kick off CMU Crowdfunding for the 2015-16 school year.
Sponsored by University Advancement through the Office of Alumni Relations & Annual Giving, CMU Crowdfunding is open to students, faculty and staff who have projects that directly impact and benefit CMU students and have funding goals between $2,000 and $10,000.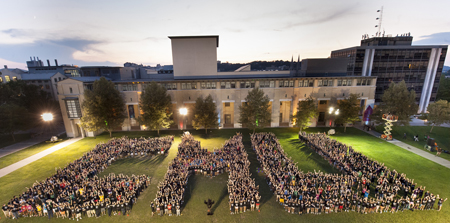 Projects are live on crowdfunding.cmu.edu for approximately 30 days each, when individuals can make gifts directly to the project of their choice via credit card. Payments are processed through CyberSource, a secure payment processing system used by Carnegie Mellon.
Current projects are:
Future Ten: Future Ten is Future Tenant's annual 10-minute play festival. This year, the production is being taken in-house for the first time. Funds will help with compensation for local artists, lights, props, stage settings and production.
CMU Global Medical Brigades: Carnegie Mellon Brigadiers are setting up a free medical clinic in Panama this spring break. All funds go directly to purchasing medications to stock their clinic.
CMU Figure Skating Club: The CMU Figure Skating Club is headed to Cornell for its first competition on its way to becoming a collegiate figure skating team. Funds will help cover hotel costs, transportation, registration fees and ice time expenses.
CMU Formula SAE Racing: Carnegie Mellon Racing competes in Formula SAE Racing, a collegiate competition in which students design, build, test and race Formula 1 style racecars. Funds will be used to purchase raw materials for mechanical parts and other electronic components for the car.
Heritage Scholarship Campaign: The Heritage Scholarship Campaign is a student-run effort to endow a substantial undergraduate merit scholarship in the School of Music.
All gifts to CMU Crowdfunding projects also are gifts to CMU, are eligible for a tax deduction and count toward eligibility in CMU donor recognition societies, such as the Andrew Carnegie Society and Order of the May.
Learn more, submit a project application, and/or support a project today at https://crowdfunding.cmu.edu.
PSO Offers Discounts for CMU Community
The Pittsburgh Symphony Orchestra is offering discounts to CMU students, faculty and staff for their upcoming shows at Heinz Hall. Students can purchase tickets for $15, and faculty and staff tickets are available for $20.
At 8 p.m., Friday, Nov. 13 and 2:30 p.m., Sunday, Nov. 15, the Pittsburgh Symphony plays Má Vlast in its entirety – the first time since 1976. Comprised of six poems, Má Vlast journeys through imagery from composer Smetana's homeland and fittingly will be conducted by the Czech Republic's most recognized conductor today, Jiří Bělohlávek. This symphonic poem paints a musical picture, evoking imagery of landscapes, a wedding party, a hunt and even water nymphs.
While downtown enjoying the Light Up Night festivities on Friday, Nov. 20, make plans to join the Pittsburgh Symphony for a free RAD community concert at Heinz Hall starting at 7 p.m. Assistant conductor Andrés Franco leads the symphony in popular work by Strauss, Tchaikovsky and more. Duquesne University's Young Artist National Concerto Competition winner, violinist Nathan Meltzer, will be featured on Saint Saens' Introduction and Rondo capriccioso. Vocalists Claudia Rosenthal and Brian Vu from the Pittsburgh Opera Resident Artist program will perform pieces from popular operas.
Bring the whole family at 8 p.m., Friday, Nov. 27 and 2:30 p.m., Sunday, Nov. 29 for Manfred Honeck's Thanksgiving weekend tradition – waltzes and polkas by the Strauss family! The Pittsburgh Symphony's principal clarinetist Michael Rusinek will perform Rossini's sparkling Theme and Variations for Clarinet and Orchestra and Weber's catchy Clarinet Concerto No. 1. This concerto is one of the cornerstones of the clarinet repertoire and shows the instrument's unique range of tone and dynamics.