December 08, 2015
Inside the Lines
Illustrator Draws on Nostalgia To Create Pittsburgh Coloring Book
By Kelly Saavedra / ksaavedra@cmu.edu
Keeping the pace in today's modern tech world has left many longing for a simpler time, or at the very least, a "time out." To unplug and recharge, an increasing number of adults are reaching for coloring books.
Pittsburgh Magazine's top picks for holiday gift buying this year include a new Pittsburgh-themed coloring book illustrated by Rick Antolic, a 1993 graduate of Carnegie Mellon's School of Art.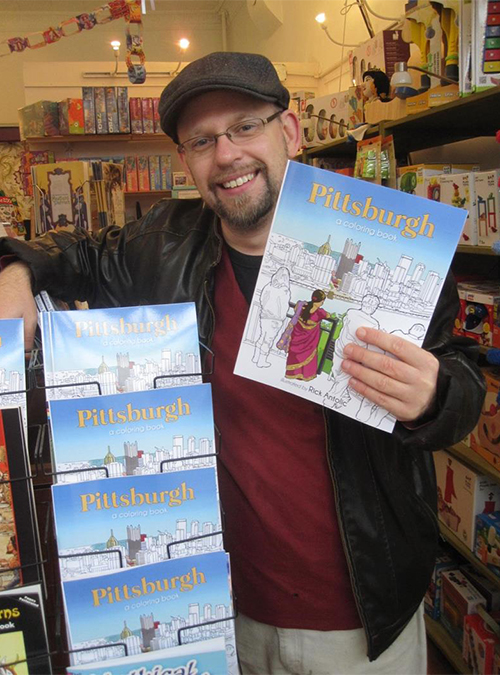 It features many of the city's local charms — such as the Gateway Clipper, the Farmer's Market, Kennywood, even Carnegie Mellon's Hunt Institute — and local businesses are lining up to get it in stock.
"Originally, I wanted to do a Carnegie Mellon University coloring book," Antolic said. "I was very involved with the Thistle yearbook as a student when someone pointed out to me that Crayola had a lavender crayon called 'Thistle.'"
Antolic proposed to create a 10-12 page coloring book of Carnegie Mellon scenes, give the yearbook staff a booth at Spring Carnival, and ask Crayola to donate a bunch of Thistle crayons. 
"But this was in 1991, before on-demand printing — even before the Internet — and it was incredibly expensive to have anything printed then," Antolic said.
A recent rise in the popularity of coloring books for adults spurred Antolic to revisit the idea. This time he decided to broaden his scope, choosing to fill its pages with many of the treasured hometown memories that fill his head.
Gracing the book's cover is his partially colored line drawing of the city from the overlook on Mt. Washington, a view Antolic says he never gets tired of seeing.
"I loved it when our family would have visitors from out of town, and we'd take them to the overlook. Taking visitors to the top of Mt. Washington is still one of my favorite things to do in Pittsburgh. It's always nice to witness the reaction of someone who is experiencing it for the first time," he said.
Inside the book, drawings of neighborhoods that reflect the local flavor, such as Polish Hill and Deutschtown, are nestled between mouth-watering memories like Dave and Andy's Ice Cream on Atwood St., and a popular pizza shop in Ambridge, Pa., where Antolic grew up. The Original Italian Style Pizza place, better known throughout Beaver County as Police Station Pizza, was established in the early 1950s and is still going strong.
"They only sell pizza — and only one kind of pizza — and they continue to thrive after 60+ years. No white pizza, no hoagies. Salads? Are you kidding me? You go to the counter and it's 'how many slices?' There are no seats or tables, so people sit and eat their pizza on the steps of the old police station next door, hence the name," Antolic said.
Another page-worthy memory he shares is strolling around downtown Pittsburgh as a kid right before Christmas with his parents and two siblings, looking at all the holiday scenes in the storefront windows. 
"The highlight was always Kaufmann's windows," Antolic said of the former department store. "What Kaufmann's did with their Christmas window displays was a dying art. I'm glad I got to experience Kaufmann's windows into adulthood, where I could really appreciate them as an artist."
Nancy Reynolds, manager of VisitPittsburgh's Welcome Center at Fifth Avenue Place, likes that Antolic included the city's neighborhoods, identifiable landmarks and lots of details in each scene's background.
"I chose to sell it at the Welcome Center because it will make a great souvenir for folks to take home and show off some of the places they visited while they were here, and to remember the flavor of Pittsburgh," Reynolds said. "Locals also will find it entertaining, coloring their favorite neighborhood landmarks."
Some locals who have been away from the 'Burgh for many years have scooped up multiple copies of the book for friends and family, remembering, as Dorothy did in "The Wizard of Oz," there's no place like home.
"I lived in Pittsburgh for 21 years," wrote Amy Price Lee, who moved to Florida in the mid 1990s. "I love this book because Rick captured the heart of Pittsburgh, and pieces of Ambridge where I grew up, too. I still visit my hometown every year with my daughter. She is 15 and loves the coloring book. There are lots of memories for her in it as well."
Lee added, "We're never to old to color. It is soothing, and you can nurture your creative side."
As an illustrator, Antolic has done a lot of art for products and advertisements for other people's businesses. The coloring book marks the first time that the actual product is his, something that he hadn't considered until the end of the project, but once he realized it, felt remarkably satisfying. 
"We love our smartphones and tablets and video games on our 52-inch flat screen high-definition TVs, but there is a trend now to reach back to simpler times," he said. "We miss the 'old stuff' — things that don't rely on batteries or need to be plugged in or charged."
He noted that despite the popularity of iTunes, music downloads and streaming services, vinyl records also are making a comeback.
"So, I think the current coloring book trend is really just a part of a larger picture, one where we see adults taking a break from our modern tech world in favor of something more sentimental. And I think it's really quite nice," he said.
"They're not dismissing all the cool technology today; they're just saying it's nice to take a break from it now and then."
The coloring book is available at a number of locations throughout Pittsburgh and online through Amazon.com.