November 17, 2015
City's Counting on CMU
Study To Measure Bike Lane Usage in Pittsburgh
By Bruce Gerson / bgerson@cmu.edu
With more dedicated bicycle lanes and its new Healthy Ride bicycle-sharing program in place, Pittsburgh has become much more bike-friendly. But are bike enthusiasts really using the new resources?
Pittsburgh wants to know. So, city leaders have come to Carnegie Mellon to help them find out.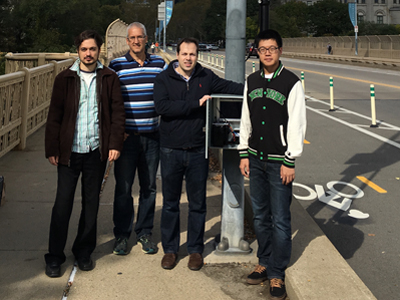 The Technologies for Safe and Efficient Transportation group in the University Transportation Center — a partnership between CMU and the University of Pennsylvania — and CMU's Traffic21 have put Bernardo Pires on the job.
Pires, a project scientist in the Robotics Institute, and his team have been working to collect data on how much the bike lanes are actually being used with a portable, computer-vision device they've built that records and counts individual users. They're also tracking pedestrian behavior in relation to the bike lanes.
"The city made a big investment into bike lanes. We want to make sure the effort put into this has a proportionate benefit," said Pires, who earned his Ph.D. in electrical and computer engineering at CMU. "The city has done some manual counting but we wanted to go the extra step and do video-based counting."
The video-recording device made of off-the-shelf parts sits in a metal weatherproof box linked to a 28-foot tall pole. Inside the box is a camera connected to a Panasonic Toughpad computer, a converter for video and a battery that can last for 10 hours. The sturdy, "military-grade pole" is strapped to a street light post.
Pires and his team — postdoctoral fellow Mehmet Kocamaz, electrical engineer John Kozar, and electrical and computer engineering master's degree student Jian Gong — have collected 50 hours of data thus far monitoring the bike lane at the intersection of Frew Street and Schenley Drive in front of Phipps Conservatory.
Pires explained that it's not as simple as just recording video. He said the video must be labeled, a labor-intensive manual process to differentiate between bicyclists and pedestrians, so the computer algorithm learns how to count correctly. He said of the 50 hours, 10 hours have been labeled. In that time period 541 pedestrians and 111 cyclists were counted.
"Sometimes people look at it, but most of the time they don't even notice it, which is exactly what we want," Pires said. "It seems like everyone is behaving pretty well. It can be a dangerous intersection because cars can turn in while a bike is driving by."
Pires and his team will soon be moving their operation to other locations, including the bike lane on Penn Avenue downtown, which has generated some opposition from automobile drivers.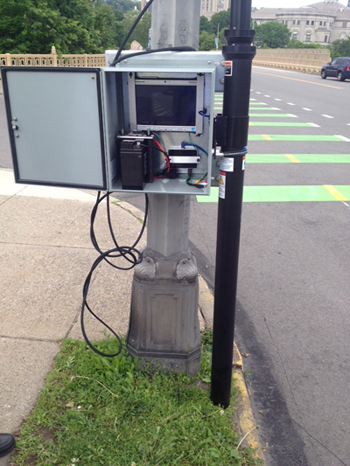 "Downtown will be most relevant for the city," he said. "There's a lot of contention there. The city has installed counters, but they are not vision based. There's a lot more information you can glean from visual data rather than just counters."
Demographics — whether the person is biking to work or riding for recreation — is information video can gather. Whether or not the bicycle is a Healthy Ride bike is another data point.
Pires said the city has asked his team about tracking the use of Healthy Ride bikes. He said he believes they would be able to do so because of the bike's white color and other unique markings.
Kristin Saunders, Pittsburgh's Bicycle and Pedestrian Coordinator, is looking forward to the results of the project.
"We hope to use this kind of technology to better understand where people are currently walking and biking in Pittsburgh in order to plan future routes and bikeshare stations," Saunders said. "With data from Bernardo's project, we can also watch pedestrian patterns to be better informed and to improve safety conditions."
While the project will be beneficial for Pittsburgh city planners, Pires hopes that in the future it will have implications worldwide. He aims to expand his project to track automobiles and trucks in relation to bike lanes.
"A lot of bike advocates argue that if you have a bike lane, cars actually go slower, so it's safer all around. When we track cars we'll be able to tell. That information could be useful for policymakers," he said.
Pires also is looking to implement his prototype to collect pedestrian data in relation to the "smart" traffic signals that have been deployed in East Liberty to assist with traffic flow.
"The smart signals only see cars, but with this device they're looking at what affect they have on pedestrians. We hope to give some input to their smart algorithms to decide when the green light goes on and off. This could help with pedestrian wait times," he explained.
Top Photo: Study team members are (l-r) Postdoctoral Fellow Mehmet Kocamaz, Electrical Engineer John Kozar, Robotics Institute Project Scientist Bernardo Pires, and Jian Gong, a master's degree student in electrical and computer engineering. 
Photo Above: The video-recording device made of off-the-shelf parts sits in a metal weatherproof box linked to a 28-foot tall pole. Inside the box is a camera connected to a Panasonic Toughpad computer, a converter for video and a battery that can last for 10 hours