May 01, 2015
On the Clock
Ph.D. Students Embrace 3-Minute Thesis Challenge
By Cindy Carroll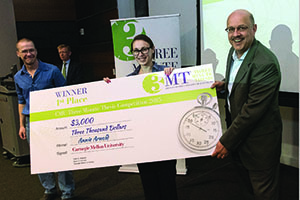 Summarizing your research and "selling" its importance to a general audience in as little as three minutes can be a tall order for any scientist.
That's the challenge of the 3-Minute Thesis (3MT) competition for Ph.D. students, which began in 2008 at the University of Queensland and quickly expanded to hundreds of universities in 18 countries.
Keith Webster, dean of University Libraries at CMU, was working at the University of Queensland at the time, and he saw firsthand the value in the competition as well as its impact.
"It was an opportunity for students to strengthen their communication skills and a vehicle to showcase the depth and breadth of talent amongst early career researchers," Webster said. "With CMU's incredibly talented Ph.D. pool, it was a logical match."
Webster introduced the competition to CMU in 2014, and students, faculty and staff have embraced it.
He says the entire competition, from qualifying rounds through the final championship, demonstrates the exceptional caliber of CMU's research students and gives them the opportunity to share their work with an audience outside their disciplines.
"To engage a non-specialist audience, students must convey the big picture of their research, a skill they will depend on to gain support for their work throughout their careers," he said.
Contestants are allowed just one static slide to accompany their presentation. A panel of judges selected first, second and third place while the audience selected a People's Choice winner. All winners received cash prizes up to $3,000 supporting research or travel.
This year's first-place winner was Annie Arnold, a first-year doctoral candidate in chemistry who is working to develop a biodegradable bone implant that will promote the natural growth of bone tissue to mend injuries.
"3MT gave me the opportunity not only to share how exciting my research is, but also to convey that chemistry is fun and has the capability to really help people," Arnold said.
Michael Craig, a first-year student in engineering and public policy who is researching the impact of climate change on electrical power generation, won second place in the competition.
"Condensing everything to three minutes is tough, but it's even harder to find the right balance between complexity and simplicity," he said. "I didn't want to talk down to the audience, but I knew if I assumed knowledge of my discipline, or used too much lingo from the power sector, I would lose them."
Sam Ventura, a fifth-year candidate in statistics took third place. Vincent DeGeorge, who studies materials science and engineering, won over the audience to take the People's Choice title.
Craig encourages other doctoral students to accept the challenge for the benefits it brings.
"Stop hesitating and do it. It's great presentation practice and there are solid rewards to be had," he said.
"Everyone should have the type of narrative that's required in 3MT. If you don't, it's going to be much harder to write future grant or fellowship applications," Craig said.

Vice President of Research and Provost-Designate Farnam Jahanian (right) presents Annie Arnold (center) with the first-place prize for the 3-Minute Thesis competition, as last year's winner David Rollinson (left) and Dean of Libraries Keith Webster look on. Photo by Don Wright