May 01, 2015
Oscar Winner Returns To Share Virtues of CMU Drama Education
By Erin Keane Scott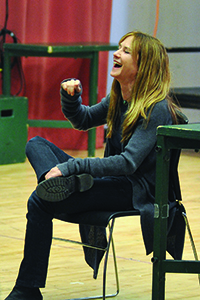 Academy Award-winning actress Holly Hunter (A'80) returned to the School of Drama the first week of April to talk with students about the craft of acting and her own career trajectory.
The actress is known for such diverse roles as Ed in "Raising Arizona" and the voice of Elastigirl in "The Incredibles." She is the only CMU graduate to have won an Academy Award for acting; she won for her role as a mute woman named Ada in "The Piano."
Hunter got her start as an actress in high school plays in her hometown in Georgia. When she traveled to upstate New York for summer stock, the older, professional actors told her that Carnegie Mellon was the place to become a trained actress. She recalls her audition to the School of Drama as a two-day process, taking place in the Kresge Theater and Margaret Morrison Hall.
"Going to school at Carnegie [Mellon] gave me incredible confidence and a sense of entitlement to act, which was a total advantage when I went to New York to start my career," Hunter said in a southern accent punctuated by several decades of life in the Big Apple. "You leave here knowing how to work. You're confident; training here gives you an orientation to yourself — almost like seeing yourself as an instrument that you learn to play."
Though some of Hunter's most visible work has been in film, she's also an accomplished thespian. She recently closed an off-Broadway revival of the 1971 play "Sticks and Bones" by David Rabe, co-starring Bill Pullman. 
She still employs techniques she learned as a CMU student when she plays a role — notably, vocal warmups.
"There are things I do every day when I'm performing that I learned at Carnegie. Sometimes you're the only one doing it and it feels lonely," she said. "But then you start to feel that it's something that makes you special."
When answering a student's question about the transition between theater and film she had great experiences to share.
"When I do a movie or TV, I memorize the whole script," she said. "It's a takeaway from Carnegie. That way when the weather's bad and we have to shoot another scene indoors, I'm ready."
She also recounted an experience on the set of 1988's "Broadcast News" in which lead actor William Hurt took her hand and told her he could tell she was afraid of the camera, but that it was okay, because he was, too.
"He told me, 'It's okay to be afraid because it means that something is at stake for you,'" she said. "I've learned to make friends with my fear and use it for the character."
Not everyone will experience the same fear or the same career path, and she said she's careful not to give advice to students. Rather, she prefers to tell them, "This is what I did. It worked for me. You have to travel your own path, because everyone is different."
Hunter plays the role of a U.S. senator in the 3-D movie "Batman v Superman: Dawn of Justice," starring Ben Affleck and scheduled for release in 2016.

Academy Award-winning actress and School of Drama alumna Holly Hunter (above) returned to the Pittsburgh campus to discuss her craft, her CMU training and her career trajectory with drama students. Photo by Louis Stein