May 01, 2015
Building Blocks
Mondor Is Putting Sustainability into Practice for Pittsburgh
By Bruce Gerson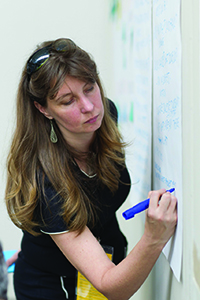 Involved to evolve.
In a nutshell that's the role Christine Mondor is taking — threefold — to help continue to improve Pittsburgh and its surrounding communities.
An architecture professor at CMU for the last 15 years, she teaches her students the principles of sustainability and design, and engages them in projects to improve the design of communities, helping people and organizations envision new futures.
As principal of her own firm, appropriately titled "evolve environment: architecture," Mondor focuses on bringing sustainability to practice. She's worked on the Center for Sustainable Landscapes for the Phipps Conservatory and Botanical Gardens, and collaborated on a two-year environmental performance study for the David L. Lawrence Convention Center.
evolveEA works with communities in the region and across the country to creatively connect high performing places with the culture of the community. She was instrumental in starting Pittsburgh's first two ecodistrict planning efforts and chairs a national committee developing standards for the EcoDistricts Protocol.
And as chair of the Pittsburgh Planning Commission for the past year, she's working to support a larger agenda.
"I think I speak broadly for the design community when I say it's great to have a mayor who sees sustainability and design as key strategies to improving our communities and quality of life," said Mondor, a 1993 graduate of the School of Architecture. "It is a remarkable time to be a designer, or a design student, in the City of Pittsburgh."
Steve Lee, professor and head of the School of Architecture, said he was genuinely pleased when Mondor was named to the Planning Commission.
"She was a great student, her firm is transforming Pittsburgh, students love her, and she's smart and wonderful in every way," said Lee, who taught Mondor in the early 1990s and employed her for five years as an intern at his firm, TAI+LEE Architects. "She's making a real impact in our Advanced Options studios."
Appointed to the position about a year ago by Mayor Bill Peduto, Mondor, a native of the city's South Hills, heads the eight-member commission. The group, which includes CMU alumna Jennifer Askey of Perkins Eastman, is charged with guiding land use and development in the city, making recommendations to City Council concerning zoning ordinances and zoning maps, and reviewing major development proposals and redevelopment plans.
One such redevelopment plan is the Lower Hill District project, which aims to transform the former Mellon Arena site into 28 acres of residential and commercial space. Designs for the initial structure on the site, a new office building that will serve as headquarters for U.S. Steel, recently came under scrutiny.
Mondor said one of the discussion points focused on the scale of the building and the fact that the Preliminary Land Development Plan (PLDP) called for multiple buildings in this specific space. The PLDP was authored by the Pittsburgh Penguins, the Sports & Exhibition Authority and the Urban Redevelopment Authority of Pittsburgh.
"There's a scale to downtown. When you have a large area of vacant land, there's no sense of scale. What you build first creates a sense of scale for the next project. If this was to be a single building, we at least wanted the scale to honor the site master plan, knowing that it will influence the next block," she explained.
The Planning Commission also asked for more developed landscape planning in the rear of the facility.
"You see projects that are very well developed and finished even before they come to us, and this one had some parts that needed more work," said Mondor, who expects that the revised design will begin construction by the end of the year.
"I think it's wonderful that something is happening on the site quickly because the PLDP was just approved a few months ago. I look forward to seeing future excellence on this site," she said.
Mondor is one of many from CMU who are joining forces with city and county government agencies to improve Pittsburgh in many aspects. She's among CMU leaders like Lee, University Professor Vivian Loftness, and Don Carter and Steve Quick of the Remaking Cities Institute. 
"CMU's knowledge and resources contribute to the larger conversation, and whether it's through individuals or projects, or through long-term strategy, CMU is a powerful asset.
"When I travel to other places, people always comment on how lucky Pittsburgh is to have Carnegie Mellon. My goal is to make sure our students and city make the most of that relationship," she said.

CMU Architecture Professor Christine Mondor (above) was appointed chair of Pittsburgh's Planning Commission by Mayor Bill Peduto. Photo by Josh Franzos