May 01, 2015
Artfully Done
Alumna Paints Broad Impact on Cultural Scene
By Kelly Saavedra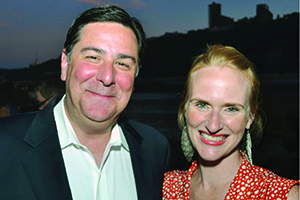 When you're a kid growing up abroad, moving from country to country, the arts can come in handy.
Music, dancing, visual arts — even culinary arts — were universal languages that helped Kathryn Heidemann acclimate to every new culture she lived in, from Venezuela to Germany to the Land Down Under.
"There were times when I was uprooted right in the middle of a school year. Sometimes I had to learn to speak a whole new language. The arts were my means of universal communication and social survival," said Heidemann, director of the Heinz College's Master of Arts Management (MAM) program.
They also were the foundation for a career that enables her to support the arts in ways that help ensure their survival.
Heidemann studied dance and arts management in Chicago and enjoyed working at various arts organizations there and in New York City and Detroit, but something was missing.
"As a creative person I was really looking for a rigorous academic program that would unify my right and left brain, while giving my left brain a 'boost' of sorts with quantitative management skills. I had worked in the field for a number of years and I wanted to be pushed to a whole new level with regard to data-driven management within the arts," she said.
That's when she decided to move to Pittsburgh and enroll in Heinz College's MAM program. The Pittsburgh Cultural Trust hired her when she graduated, and for eight years her list of professional successes grew by leaps and bounds.
She founded and managed 200 arts master's degree programs in conjunction with the Dance Council, PNC Broadway Across America and TrustPresents series. She produced 30 of the city's popular Gallery Crawls, which are quarterly showcases of arts entertainment. And she oversaw three First Night Pittsburgh festivals, the region's largest single night arts festival that takes place on New Year's Eve, breaking attendance records and reaching millions of students, teachers and community members during her tenure.
During that time, she also took two working sabbaticals to assume leadership roles abroad and domestically as a venue manager for the Edinburgh Festival Fringe, the world's largest arts festival, and as an operations manager for Jacob's Pillow Dance Festival in the Berkshires.
Consider Mayor Bill Peduto among the people on whom she left a lasting impression. He recently appointed her to the City of Pittsburgh's Art Commission, which works to improve the aesthetic quality of the city's public spaces.
"Mayor Peduto is, was and always will be a very strong advocate for the arts. I am honored and humbled to have been chosen as an art commissioner under his leadership, and hope that my background in arts management, understanding of arts policy issues, and passion for the arts and our communities will help me be the best servant to this city that I can be," she said.
Heidemann feels the arts can play a big role in fostering innovation and creativity, both within ourselves and within the community.
"There are ways you can do that which don't necessarily mean you have to be an artist for a living. The arts are a right, not a privilege. If we all tap into out inner artist, we can learn to better engage in creative problem-solving and contribute better to what we're doing in our own respective fields — science, technology, business and other areas."
As director of the MAM program, Heidemann says she has been able to stay more connected, especially at the global level, to the arts than she has in any other job.
She has worked at international festivals before, but her affiliation with CMU has enabled her to work on international partnerships. She leads the dual degree partnership with the University of Bologna's GIOCA (Graduate Degree in Innovation and Organization of Culture and the Arts) program in Italy. She enjoys working with international students and arts performers, attends many international performances and speaks at arts administration conferences around the globe.
"Due to the nature of my job and the diversity of my students' interests, I have to have my finger on the pulse of every facet of the arts industry — what's happening in the museum, gallery, symphony, opera, theater and dance company worlds. Certainly my favorite part about the job is not just about breadth of access to the arts, but also about the people. The students and the alumni are such a rich part of what I do and make me love coming to work every day."
While other universities have master of arts management programs, Heidemann says CMU's program is in a class all its own.
"What impresses me most about CMU is the students. Many of them come from arts backgrounds but learn to 'speak data' very quickly. They quickly adapt to new ways of thinking, new ways of seeing the world and new ways of solving problems," she said. "Many of them have specific goals in mind when they arrive here, but may quickly find a whole new course to chart and a whole new part of themselves that they didn't know was there. I love to see what they do, where they end up. They just continue to surprise me."
And sometimes, she surprises her students. Heidemann has often been found playing bass guitar in local and national rock, punk and classic country bands.
An active member of her community, Heidemann was recently named by Pittsburgh Magazine as one of the city's "40 Under 40" honorees for her passion, commitment and overall impact on the Pittsburgh region.
"Certainly, it's a labor of love," she said. "It's so wonderful to find myself in this cycle where I was a student of this program that I am now managing. The passion for what I did informs my new passion, which is really helping the next generation discover this exciting field of arts management and make a difference in the arts in a different kind of way."
Pittsburgh Mayor Bill Peduto (above, left) has named CMU's Kathryn Heidemann (above, right) to the city's Art Commission, which works to improve the aesthetic quality of the city's public spaces. Photo by Matte Braidic.