May 01, 2015
Abel Development
CMU Recognized for Helping People Thrive
By Bruce Gerson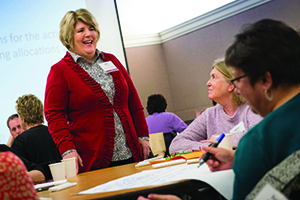 Professional Development Services has undergone some professional development of its own.
Since taking the helm of the program two years ago, Kim Abel has transformed staff development at CMU into a model program for human resources. It was recently honored as one of 10 finalists for "The People Do Matter Awards," presented by the Pittsburgh Human Resources Association. CMU was recognized in the Helping People Thrive category.
The turnaround began with reflection and a very thorough nine-month assessment process.
"We worked with Institutional Research and Analysis to develop a survey and provided all staff with an opportunity to participate. We looked at what staff would be interested in and what they thought they needed to be
successful at CMU," Abel explained.
Feedback from 1,150 survey responses and 124 one-on-one interviews gave Abel the information she needed to move forward effectively.
"We listened to folks," she said.
What she heard were topics of interest and ways in which staff wanted to receive enrichment opportunities. The most popular subject areas among staff were competency skills, such as how to supervise, communicate, resolve conflict, conduct business effectively and work with others. The preferred method for learning was "getting out of their own context and sharing with others," Abel said.
With feedback in hand, the Professional Development Services staff designed appropriate courses and a framework for each workshop to provide consistency. Her staff includes instructional technology specialists Mike Bernesser and Adam Marks, staff development specialist Jason Schneider, program coordinator Autumn Secrest and information specialist Heather Wainer.
"We take a practitioner's perspective. Our goal is to have folks come into the session, spend focused time on the topic and then have the ability to immediately apply what they've learned to their work. It's not just about theory. We want you to leave with a new tool in your toolbox," she said.
Each session also includes a reflection period and provides participants with additional resources on the topic, such as reading materials, online courses or practice exercises.
"Reflection is a significant part of professional development. We're moving so fast that we often don't stop, analyze and spend the time to think through what's been successful, how I can improve and how I can validate what I've learned," Abel said.
The new program has been a smashing success. Participation has increased from 153 staff in fiscal year 2013, to 2,075 in FY 2014, and to 5,034 in FY 2015 as of early April. Abel said some of that increase is a result of workshops associated with the implementation of Workday, the new HR, benefits and payroll management system.
"Each member of our staff contributes to our success and really understands the importance of the work we do. We are also fortunate to have the support of Dan McNulty, associate vice president for Human Resources, and Mary Jo Dively, vice president and general counsel," Abel said.
Pattye Stragar, fitness operations manager and current chair of Staff Council, has taken several classes, including Conflict Resolution, Get Up and Go: Self-Motivation, Efficiency Matters: Administrative Strategies that Work, and Enhancing Your Decision-Making Habits.
"What I enjoy most is the way Professional Development has made the workshops so interactive," Stragar said. "I think it is important to be green and growing — always trying to have an open mind and learn new ways to approach things.
"The collaboration with peers in the workshop has been extremely beneficial. I enjoy being able to listen and comment on the different ways to approach a situation. It is nice to hear that others might be experiencing the same issues," she said.
Sylvia Smith, manager of business services for computing facilities in the School of Computer Science (SCS), has taken workshops in Providing Great Customer Service, Performance Review Guide, Supervision: Optimal Performance, Supervision: It's a Group Thing, and Leading Change: What's a Leader To Do?
"Kim [Abel] is phenomenal! She has a handle on training in a way that has one feeling as though they can do anything when they walk out of the training session," Smith said. "She answers the hard questions when the answer is sometimes not what one may want to hear. I love her honesty!"
In addition to providing a curri-culum of staff development courses in competency skills, Professional Development creates customized content for groups. Some of the custom clients have included Campus Affairs, Enrollment Services and SCS Computing Facilities.
Strength Through Change was a tailor-made program attended by about 35 members of Enrollment Services. Brian Fernandes said the session was one of the most well-received programs they have hosted.
"Kim's delivery of the program and the way she engaged and interacted with the participants were what made the presentation so successful. We will absolutely be bringing Kim's group back to present on other areas of interest to our division," said Fernandes, associate director of Enrollment Services.
Making the Most of Your Performance Review was a session developed specifically for the SCS Computing Facilities group of nearly 50 employees, who had recently collaborated to implement a new performance review process. Department Director Tom Cullen said the workshop provided a guide for both staff and managers on how to participate effectively.
Abel also periodically brings together nearly 50 colleagues from across campus who have staff development responsibilities in their own departments or divisions. Called Learning Partners, the group meets four times a year to share best practices.
As a former women's soccer coach, physical education instructor, child care center director, director of housing and dining, and now as a professional development director, Abel's desire has remained constant.
"My purpose has been to build community, to help create a sense of place where everyone has a sense of belonging, and challenge people to be their best. That's been the core of who I am," she said.

To register for upcoming programs, visit www.cmu.edu/hr/professional-development.

Kim Abel (above) leads CMU's professional development workshops. Photo by Tim Kaulen