May 01, 2015
40,000 and Counting
Steidel Marks Enrollment Milestone
By Mike Yeomans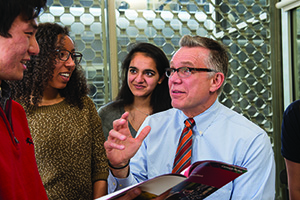 March was fading fast. Only a week remained before the eagerly awaited "Fat Letters" were to be mailed to the select high school students from around the world vying for admission to Carnegie Mellon, from a record 20,560 applications.
Two staff burst through Director of Admission Mike Steidel's doorway and began peppering him with details of three applicants on the fence. Seven-teen full-time admission staff and 23 part-time readers had been poring over applications without a day off since the beginning of January. They had painstakingly shaped the acceptance lists for each of the university's six undergraduate schools and colleges, and were down to the final few spots.
A weary tension was written on the staffers' faces as they awaited Steidel's feedback: thumbs up for two, thumbs down for one.
"This is the hardest thing for us. You hate to turn down good kids," Steidel said.
As many times as he's had to say no, Steidel has had plenty of opportunities to say yes.
Sometime before the May 1 deadline for enrollment, one of the 4,863 prospective Tartans offered admission this year became the 40,000th student to enroll at CMU during Steidel's 29-year tenure as admission director.
"That's hard to comprehend. It really hasn't felt that long," he said.
Steidel has been extolling the virtues of CMU since he arrived as a freshman in 1974, a mere seven years after the merger of Carnegie Tech and Mellon Institute that established Carnegie Mellon as a full-fledged university.
Steidel said he had never heard of CMU growing up in Allentown, Pa.  As the first generation of his family to attend college, his boyhood universe was limited to a narrow triangle between Philadelphia, New York and Harrisburg. His high school guidance counselor knew the CMU admission director at the time, Bill Elliott, and recommended that Steidel apply, saying it would be a good fit based on his interests in science and engineering.
"It's good I applied back then, because I would probably be inadmissible today," he joked.
So he packed his bags and crossed the Allegheny Mountains, arriving in a city full of belching smokestacks not unlike his hometown. He had to pay his own way through college, so Steidel took a job working for Elliott as one of four freshman tour guides, a job he found thoroughly enjoyable.
Upon graduating in 1978 with a degree in chemistry and administration management science, Elliott offered him a full-time job in the admission office.
"I thought that would be a good thing to do for a few years to get some experience," Steidel said.
But by the 1980s, CMU was in his blood. When Elliott and then CMU President Richard Cyert learned he'd received an offer to leave the university, they promoted him to director of admission. He was 28 years old.
In the nearly 30 years since, CMU and Pittsburgh have transformed themselves and Steidel.
"CMU has sent me around the world two dozen times," he said. "It has changed my life. I love how this place through all its changes remains committed to being the best it can be."
Steidel's staff say his willingness to share his experience makes him a popular draw for the road.
"Mike Steidel and Carnegie Mellon are synonymous," said Greg Edleman, associate director of admission. "Whenever I travel with him to professional conferences, there are always two lines: one to talk about Carnegie Mellon and one to talk to Mike.  Frankly, I'm not sure which line is usually longer."
One of the biggest changes he has presided over is the number of international students admitted, which has held steady at 15 percent of applicants this year over last but was only a few percent in his early years in the job.
Once the admission letters go out, prospective students are invited to campus for April visits, which gives his office one last chance to sell the CMU experience, although meeting enrollment goals is not a concern.
"We could admit an entire class from our waiting list and in most cases not see a significant decrease in the quality of students," he said.
After the new class is enrolled, there is no downtime. Steidel's focus turns to financial aid, which his office also handles. This is where he comes up against his biggest challenge: competing for top students from diverse backgrounds against other elite institutions that have formidable endowments.
Looking ahead, Steidel said he is encouraged by President Subra Suresh's presidential scholarship fundraising initiative, which aims to level the playing field for CMU.