March 20, 2015
CMU at Heart of Texas Festival
by Kelly Saavedra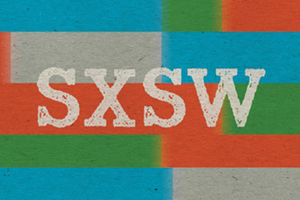 Thousands descended on Austin, Texas earlier this month for the 22nd annual South By Southwest (SXSW) Festival, and Carnegie Mellon was at the heart of it.
Known worldwide for showcasing the hottest trends in music, film and emerging technology, SXSW carved out a prime spot for CMU in the festival's Education Startup Village based on the university's impressive record of innovations in health care, Big Data, new creative industries and more.
Much of CMU's focus centered on integrated intelligence, a phrase used to describe the coming together of people, technology and machines to improve humankind. More than two dozen faculty, students and alumni presented their work and collaborated with other thought leaders from around the globe to foster the next big breakthrough.
Electrical and Computer Engineering Professor Priya Narasimhan was on hand to demonstrate her team's YinzCam app, already deployed in sports venues worldwide to bring fans closer to the game, including the Super Bowl. Robotics Professor Illah Nourbakhsh discussed Airviz, his startup dedicated to empowering citizens to improve personal air quality.
Tepper alumnus Alberto Gandini (TPR'09) fielded questions about his startup Accel Diagnostics, which is making preventative health care affordable and accessible through its mobile blood diagnostic tests that enable monitoring and diagnosis of life-threatening medical conditions anytime, anywhere.
Astro Teller (CS'98), a CMU Ph.D. recipient in artificial intelligence, Google X visionary and SXSW keynote speaker, shared never-before-heard stories and hard-learned lessons from his experiences as a scientist, inventor and entrepreneur.
Heinz College, which has been 
represented at SXSW for many years, 
was once again in attendance as professors Ari Lightman and Vibhanshu 
Abhishek entertained crowds with 
"My Data is Bigger Than Your Data," a lively panel discussion on Big Data, social media and marketing.
This marked the fifth year that students from the Heinz College Master of Entertainment Industry Management (MEIM) program traveled to the festival to attend SXSW workshops, presentations and alumni discussions.
"As CMU students continue to marry the creative arts with technology, attendance at a festival like SXSW offers a unique, first-hand opportunity to experience the very best of interactive, music and film together in one amazing week," said Dan Green (A'94) MEIM director.
Festival planners did not overlook outstanding student creativity. They selected Marioneta, a project by students 
at CMU's Entertainment Technology Center, as one of the featured installations. Marioneta allows guests to inhabit a collection of antique puppets in a virtual environment.
"Much of the innovation we showcased at SXSW grew out of integrated work across disciplines," said Thanassis Rikakis, vice provost for design, arts and technology at CMU.
Rikakis was a featured panelist at "Shaping Technology for Improved 
Future Human Life," where he joined 
colleagues Manuela Veloso (CS'89, '92) and Ken Goldberg (CS'88, '90) to discuss the integration of technological advances with humans and nature, and how merging the two will better our world.