March 20, 2015
"Steubenville"
Director Engages 'Self' in Timely, Moving Documentary
by Amy Gijsbers van Wijk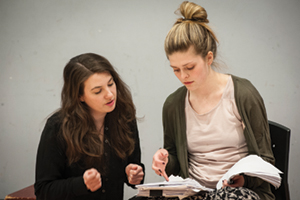 Eleanor Bishop used her theater skills to bring real life drama to the studio stage in the Purnell Center for Performing Arts.
As a John Wells Directing Fellow in the School of Drama, the New Zealand native and her collaborators created a documentary-style play called "Steubenville," centered on the highly publicized 2012 rape of a high school girl by members of the football team in Steubenville, Ohio.
While many directors work with plays that have pre-existing texts and performance histories, Bishop chose a different path. Her style involved incorporating both acting and personal moments in which the actors are themselves, part of a process that Bishop considers largely documentary.
"My process is a lot about documenting the world and then documenting the self," Bishop said. "So [the team] did a lot of talking together about our own experiences with sex, romance, growing up and trying to investigate ourselves, how we fit into the culture and how this culture affects us."
Her decision to create the work was influenced by recent national events.        
"I wanted to do this play now because we're at a moment in American culture where the country is discussing rape and what rape culture is," she said. "There have been so many cases that have come to light recently, and people are shocked. There is energy and a momentum to talk about it, particularly in the environment that we are a part of, a college campus."
Creating a theatrical work based on real, living people dealt its own set of challenges, Bishop said, and one issue she ran into involved representation.
"How do you represent Jane Doe, this woman who has never spoken to the media and who does not want to speak? It is important in this piece that we can't speak for her," Bishop said. "And any attempts to imagine what she might be like or what she's thinking seemed futile, or dishonest."
The Wells program taught her the techniques of live camera, live camera acting, blue/green screen and composited backgrounds, all of which made their way into "Steubenville."
Overall, a lot of her classes focus on the student articulating his or her unique artistic vision, she said, and having identified herself as a feminist artist, "Steubenville" was a large step toward realizing her own artistic vision.
Her collaborators included CMU actors, designers and playwrights, all of whom welcomed the chance to personally impact the university and Drama School through their work.
"It's hard to find a complex sexuality for women, especially in film and television, and usually those roles are based around men," Bishop said. "The business is so much about how you look. 'Are you or are you not sexy.' It allows people to be categorized and put into boxes and that can be very damaging."
Molly Griggs, a junior at CMU and one of the "Steubenville" actors, said it wasn't a typical acting experience.
"The fact that this piece was so personal made it harder sometimes. It required a particular kind of bravery," Griggs said. "There was much more of Molly, the person, in 'Steubenville.' 
As an actor, it was the hardest thing 
I've ever done."

"Steubenville" director Eleanor Bishop (above, left) works with actress Molly Griggs (A'16) as she rehearses her lines for the play.