March 20, 2015
Sharks Bite
Investors Vie for Alum's Company
by Kelly Saavedra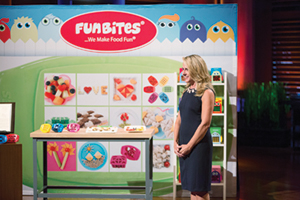 Being surrounded by hungry sharks can be a good thing.
It was for entrepreneur Bobbie Rhoads, a Tepper School alumna who waded into ABC's "Shark Tank" and came out a winner.
The long-running reality TV show features a panel of potential investors called "sharks," who consider pitches from contestants seeking an investment in their business or product.    
Rhoads pitched them her "FunBites" product, food cutters that slice sandwiches, fruit, veggies and more into fun shapes in a single step. The idea behind FunBites is to make healthy meals appeal to even the pickiest of eaters — kids.  
Rhoads has been selling FunBites on her own for three years, and has done nearly $500,000 in sales. Now, she's eyeing the big-box stores.
"I've taken this company as far as I can go as one person," she told the shark panel. "I need help opening doors."
During her presentation, she served up food shaped into triangles, hearts and squares and showed how easy the shapes were to make with her cutters. When she finally made the ask — $75,000 in return for 20 percent equity — it created a feeding frenzy.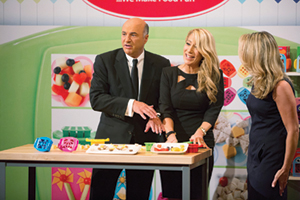 Three sharks offered her deals. Among them was Pittsburgh native Mark Cuban, a businessman, investor and owner of the NBA's Dallas Mavericks, Landmark Theaters and Magnolia Pictures.
The most enticing offer came from Lori Greiner, the "Queen of QVC"  
responsible for launching over 400 
products. Greiner offered Rhoads $75,000 for 25 percent equity, and she accepted.
"I must say Bobbie is a great role model for our CMU entrepreneurs," said Dave Mawhinney, co-founder and director of CMU's Center for Innovation and Entrepreneurship. "Her perseverance in getting onto the show and her pursuit of the American Dream with FunBites is an inspiring story."
For Rhoads, the best part about being an entrepreneur is the freedom to have her ideas come to life the way she wants them to.
"This is also the worst thing, in a way, in that you don't have anyone checking your work!" she said. "You have to trust your knowledge and your gut instinct."
As a mother of two young daughters, Rhoads is happy juggling work and family and has some advice for other moms who want to follow their dreams.
"Believe that you can do it, and you can. It's just a juggle. Plus, the more you involve your kids in the business, whether helping or sharing the successes, the more they will cheer you on and want to give you time to make it a success," she said.
Her husband, Ed, who earned a bachelor's degree from the College of Engineering and a master's degree from the Tepper School, manages background operations and IT for the company.
Working on campus at the Center for Technology Transfer and Enterprise Creation gave him exposure to the patenting process, which he said he found helpful when he applied to get a patent for FunBites.
And while some people steer clear of mixing business with family, the Rhoads family appears to thrive on it.
"In our case, it's pretty simple because FunBites is Bobbie's company," Ed said. "She's the boss. I do my best to support the team in areas where Bobbie and others should focus elsewhere."
He added, "Communication is key. And a little wine at the end of the day doesn't hurt. It's important to try not to lose perspective; it's a long journey but worth it in the end."

CMU alumna Bobbie Rhoads (top photo) presents her product on ABC's "Shark Tank." Sharks Kevin O'Leary and Lori Greiner (bottom photo) go onstage to try the product.