March 20, 2015
Pickin' and Grinnin'
Statistics Professor Takes Time for Banjo
by Kelly Saavedra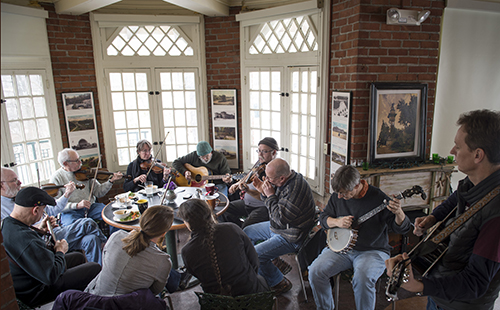 Oh, play me some mountain music, like grandma and grandpa used to play.
Maybe you know that line from Alabama's number one hit "Mountain Music." What you may not know is Brian Junker, associate dean of CMU's Dietrich College, has been granting that request weekly at the Schenley Park Visitor's Center.
Junker, who has played guitar off and on since he was a teenager, took up the banjo eight years ago after becoming perplexed during a performance by local songwriter Emily Pinkerton.
"I couldn't figure out how the motions that her hand was making corresponded to the number of notes coming out of the instrument," he said.
He later learned it's a banjo-playing style known as clawhammer, in which the hand assumes a claw-like shape and the thumb and middle or index finger strum the strings downward with the back of the fingernail.
Pinkerton let him borrow her banjo for a few weeks to give it a try. He enjoyed playing it so much that he bought one for himself.
Known to bring square dancers and cloggers to their feet for some pretty quick stepping, "old-time" or "mountain" music has a distinct and rhythmic sound that developed as European immigrants played their fiddles and mandolins 
alongside banjos brought from Africa.
The movie soundtrack from "Oh Brother Where Art Thou?" starring George Clooney led a fresh wave of 
interest in this kind of music around 
2000, paving the way for crowd-pleasers like Mumford & Sons, the Avett Brothers 
and Allison Kraus' collaboration with Robert Plant.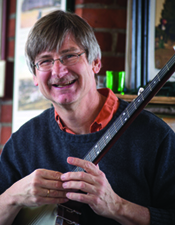 Junker's weekly jam session fuses together similar sounds. On any given Thursday from noon to 1 p.m., five to 10 musicians — including an engineering manager from Apple's CMU offices, a paleobotanist and educator at the Carnegie Museum of Natural History and a visual artist from the South Hills — can be found circled around the back corner table of the Schenley Park Visitor's Center wielding a variety of stringed instruments.
The group provides lively background music for the lunch crowd, breaking only for a sip of coffee, bite 
of sandwich or spoonful of soup.
"Sometimes people will clap, and we'll embarrassedly acknowledge that they clapped, but we're not playing for the other people in the room," Junker said. "We're playing for each other."
That reality has not deterred the occasional parent in the crowd seeking entertainment for a son or daughter's upcoming graduation party.
"They'll ask us, 'could you guys come and do the same thing you're doing here? You don't have to perform, but we'll set aside a table for you. And you just play that stuff, and we'll party.' We've done that, and it's worked out really great," he said.
You can listen to Junker and other members of the Thursday group play their music Saturday, March 28 on WRCT radio during a morning family entertainment show called the "Saturday Light Brigade."
Junker also helps organize "SongSpace," a small concert series in Pittsburgh that brings high-quality singer-songwriters to perform at the First Unitarian Church on Morewood Avenue. He says the performers enjoy the connection with the audience in such an intimate setting, and the audience gets a lot out of listening to them.
Professionally, Junker has been teaching statistics at CMU since 1990. Two years ago, he was appointed as an associate dean of the Dietrich College. Most of his work involves the application of statistics to psychological measurement, social science and education research.
He is on the design and analysis committee for the National Assessment of Educational Progress, which evaluates what America's students know and can do in various subject areas and is a major source of data for national policy, as in the impact of the "No Child Left Behind" law on student achievement.
Junker also studies social networks among teachers and students, runs 
a postdoctoral training program in 
statistics funded by the U.S. Department of Education and has consulted on a variety of other problems, from the patterns, causes and effects of Alzheimer's disease to the perception of "popular sound" in music.
Junker believes that creating some contrast in your life, both in how you go through life physically as well as mentally, is extremely important, whether it's through playing banjo, exercising, reading novels or some other interest.
"I absolutely love statistics. But when that is the only thing I do, my thinking gets brittle. It's not as creative, it's not as flexible as it should be," he said.
"In the daytime, I'm charging strong like any CMU person would do. If I take out the banjo or a guitar after dinner in the evening, and I sit and play, it's a completely different mental exercise. It really clears my mind out for the next day, so I can be fresh and ready to go."
Statistics Professor Brian Junker (pictured second from right in top photo) joins friends for lunch and a friendly jam session on Thursdays at the Schenley Park Visitor's Center.