March 20, 2015
One-Way Trip To Mars
Alum Reaches Round Three In Selection Process
by Kelly Saavedra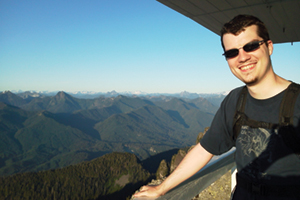 It's an idea that's out of this world.
A non-profit in Denmark plans to land the first humans on Mars in 2025 — without a return flight home — and Carl LeCompte, an alumnus of the School of Computer Science, is on the short list.
More than 200,000 aspiring astronauts threw their space helmets into the ring to participate in the Mars One mission. Round three in the selection process has whittled that initial group down to 100, and LeCompte is still in the running.
"The idea of not just trying to survive but thrive in an alien environment has always held a strange sort of fascination for me. I feel it's the next big step in human evolution, and I want to be a part of that," he said.
Mark Stehlik, a professor of computer science at CMU, finds the notion of the Mars One project fascinating — 
a logical next step in our evolution as a space-exploring species. He also noted it takes a special kind of person to decide to participate in such a historic mission, one that has the opportunity to significantly enhance the human race.
He remembers LeCompte as a first-year student in 2004.
"In many ways, I am not surprised about Carl's interest in the Mars One program, nor am I surprised about his advancing as far as he has in the selection process," Stehlik said. "Carl was always smiling, very pleasant, a very smart student. And, if I recall correctly, he had a strong interest in physics. The combination of his intellect, affability, scientific interests and innate curiosity seem like an ideal mix for a candidate for this mission."
Round one of the selection process required LeCompte to submit a one-minute video explaining why he should be among the first humans who set foot on Mars.
"I'm a quick learner, and I'm good at adapting the tools I have at hand. But most importantly, I'm at my best when I'm building a home for myself and those around me," he said. "And, all gimmicks aside, I feel that's why we're going to Mars. As much as we're going there to explore and learn, we're going there to live."
LeCompte reserves a profound admiration for space pioneers Yuri Gagarin, Alan Shepard, Buzz Aldrin and Neil Armstrong, to name a few — the first ones willing to go where no one had gone before, pushing the boundaries of human achievement.
"I believe part of what makes us special as humans is the desire and ability to become more than what we are," LeCompte said. "It's time to not just visit a new world but to settle down there, and take a step on the road to becoming an interplanetary species."
Some are begging LeCompte not to go — technology doesn't exist for a return flight to Earth — but he says he is riveted by the sheer difficulty involved in figuring out how to live in such a hostile environment, not to mention enamored by the magnitude of the camaraderie he expects the team will enjoy as their efforts progress and succeed.
James Kuffner, a visiting robotics professor, saw LeCompte's team spirit in action in 2006, when LeCompte helped contribute to a research project in Kuffner's lab that explored new technologies for building smarter and safer automobiles. LeCompte helped build a multiscreen driving simulator so that others could test ideas for smart, 
multi-car motion control.
"He was one of the best students I taught that year," Kuffner said. "He was very bright, motivated and inquisitive. It is wonderful to hear about this potential opportunity for Carl. If selected, I am sure he will make our country, CMU and me, personally, very proud."
Stehlik echoed that sentiment.
"I am proud to know someone personally in the late-stage candidate pool of Mars One," Stehlik said.
"And I am happy that there is an opportunity to add some Tartan plaid 
to the Red Planet."

Carl LeCompte (pictured), an alumnus of the School of Computer Science, is still in the running for the Mars One mission.