March 19, 2015
Personal Mention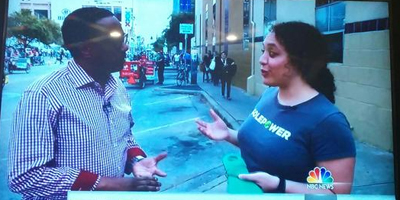 Mechanical Engineering alumni Hahna Alexander (E'12) and Matt Stanton (E'12), founders of SolePower, were finalists in last weekend's SXSW Accelerator Competition in the Wearable Technology category. Alexander also presented at a SXSW session called Maker Trailblazers: Making for Social Good. Their company, SolePower, which manufactures insoles that charge your battery phone while you walk, started as an idea for their senior design capstone project. Pictured is Alexander being interviewed on NBC's Today Show by Mario Armstrong.
Computer Science Professor Christos Faloutsos recently delivered a tutorial on machine learning at CMU-Q. Faloutsos was in Doha to speak at the annual Machine Learning and Data Analytics Symposium, which was organized by Boeing and Qatar Computing Research Institute, a member of Qatar Foundation. Also among the invited speakers were CMU alumni Polo Chau, assistant professor at the Georgia Institute of Technology, and Rich Caruana, senior researcher at Microsoft Research.
Senior Thomas Vandenberg finished fifth in two events, garnering All-America honors in both races, during the finals of the 2015 NCAA Indoor Division III Track and Field Championships, March 14 at Roanoke College in Winston-Salem, N.C.  Vandenberg posted a time of 49.13 in the 400-meter dash. His time in the 800-meter run was 1:54.98.  His two All-America indoor track citations were Vandenberg's second and third of his collegiate career.