March 20, 2015
Pittsburgh's LED Project
Second Phase Shines Light on Neighborhoods
by Bruce Gerson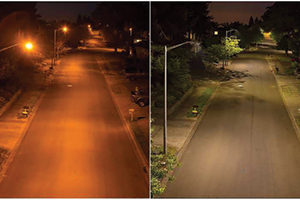 Carnegie Mellon's Remaking Cities Institute (RCI) is literally casting a new light on Pittsburgh.
The institute led the effort to relight more than 30 business districts, replacing 3,300 sodium and mercury vapor streetlights with long-lasting, energy-efficient, light-emitting diode (LED) bulbs. And now it has its sights set on Pittsburgh's 90 residential neighborhoods.
With backing from the city and funding from the Heinz Endowments and CMU's Metro 21 Initiative, the RCI will use this second phase of the project to develop and propose recommendations and technical specifications for replacing more than 37,000 neighborhood streetlights with LEDs.
A portion of this phase will include measuring the impact of the LED work completed in the business districts in 2012.  
RCI Director Don Carter, the study's principal investigator, wants to know, "Was it worth it? Did it impact your business, did you feel safer, did it affect crime and traffic accidents? We're going to go back and interview people from the Public Works and Public Safety departments and the businesses to find out."
While LED lamps are more expensive than sodium vapor bulbs, Carter believes the research will confirm that the first phase of the project has been a good economic investment.
"LEDs last seven to 10 years as opposed to two to three years for sodium vapors, and they use about one-seventh of the energy," he said. "You get your money back pretty quickly."
Carter noted that the Clinton Climate Initiative estimates that conversion of streetlights to LED technology can reduce annual energy costs up to 70 percent.
In addition to cost and energy savings, he pointed to some other benefits of LEDs. Not only are they brighter, they are directional, meaning they can be pointed downward toward the street and sidewalk to reduce light spill.
They also can be equipped with technology to improve energy efficiency, maintenance and safety.
"The new technology is so advanced, not only in the light source, but you can add controls and sensors so every single light can have its own IP address," Carter said. "So, in a central control room, you'll be able to see if a light on Beeler Street has gone out, or is about to go out.
"You can add controls to flash the lights in case of an emergency. You could also begin to monitor air pollution, sound — you can hear if a gunshot was fired," he added. "We're looking at how we can turn these streetlights into sensing computers."
Carter said the city did not install control and sensing technology in the business district streetlights due to the cost, but sensors could be easily added. He said the new proposal would recommend that the technology be included for the neighborhoods.  
Project manager Steve Quick, an RCI research associate and adjunct professor, noted that a big advantage of the technology would be the ability to adjust the intensity of the lights at different times, similar to motion sensors.
"The sensors could increase the brightness when needed, such as when pedestrians or cars are approaching or for an event like a block party. This dimming capability is important for energy savings, particularly in areas where bright lighting is not needed all the time," Quick said.
Quick and the project team are meeting with Debra Lam, Pittsburgh's chief innovation and performance 
officer, to discuss all of the advantages the LED sensing capabilities would bring to the city. Managing the large amount of data that this neighborhood-watch-like technology would be able 
to gather, such as maintenance, noise and safety issues, also is being discussed.
"You need to collect it [data]. You need to analyze it. And you need to distribute it to decision-makers," Carter said.
In addition to Carter and Quick, the RCI interdisciplinary team includes Professor of Lighting Cindy Limauro; Assistant Computer Science Professor Kayvon Fatahalian; RCI researchers Zharfa Ranjbar and Olivia Wells; and Computer Science Ph.D. student Evan Shimizu.
Limauro, a professor in the schools of Drama and Architecture, is a principal of C&C Lighting, LLC, a Pittsburgh-based consulting firm with extensive expertise in LED technology. She played a major role in the Pausch Bridge and Hunt Library lighting projects at CMU, and in the lighted weather beacon atop the Gulf Tower downtown.
The RCI is part of Metro21, a multidisciplinary research and educational initiative housed in the Heinz College that aims to design, develop, deploy and evaluate solutions to the challenges affecting the economy and quality of life in metro areas. Rick Stafford, distinguished service professor of public policy, directs Metro21.
"CMU and Metro21 are about R, D and D — research, development and deployment. We do the basic research, we develop the product and we get it deployed. Carter said. "The goal is to get it into the hands of people that can make things happen."
In addition to its connection to the Metro21 initiative, the project supports Carnegie Mellon's overall commitment to the environment and sustainability, and complements the work of the Wilton E. Scott Institute for Energy Innovation. The Scott Institute is focused on improving energy efficiency and developing new, clean, affordable and sustainable energy sources.

Before and After: The image on the left (above) shows a neighborhood street 
lit with sodium vapor streetlights. On the right is the same street under LED lighting.