March 20, 2015
Integrated Intelligence
San Francisco and Beyond
by Greg Faist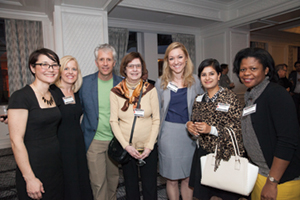 On an evening befitting its "integrated" theme, Carnegie Mellon brought together more than 400 alumni, trustees, faculty, students, parents and friends for an energy-filled celebration of CMU's leadership at the boundaries of human and machine intelligence.
The event also raised funds for Presidential Fellowships and Scholarships, which provide direct financial support to graduate and undergraduate students.
Among the speakers and presenters were President Subra Suresh; trustees Ray Lane, Manu Narayan (A'96), James Rohr and David Tepper (TPR'82); CMU Professor and CEO of Duolingo Luis von Ahn (CS'03, '05); co-founder and CTO of SolePower Hahna Alexander (E'12); Student Body President Ian Glasner (E'15); and President of the Graduate Student Assembly Carolyn Commer (DC'08, '15).
Their remarks and expert insights were paired with uplifting musical performances by students Joanna M. Latini (A'15) and Daniel Arnaldos Navarro (A'15), and vocal coach and chamber music coordinator Karen R. Verm, which brought the event's theme, Integrated Intelligence, fully to life.
Several highlights from the event's featured speakers included:
Suresh outlining CMU's leadership bridging 
people and technology;
Glasner and Commer reflecting on their student experiences;
von Ahn discussing the widespread impact and proven effectiveness of the learning platform his company, Duolingo, has created;
Rohr and Tepper exploring the global outlook 
for financial markets, as well as the importance 
of giving back to CMU; and
Alexander providing the inside story of how 
her startup, SolePower, developed its wearable energy-harvesting technology.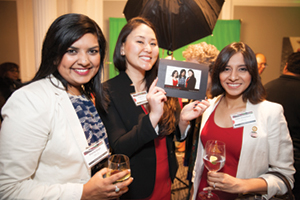 "I've had the honor of serving as Carnegie 
Mellon's chairman of the Board of Trustees for six years, and I've never been prouder than I am tonight," Lane said. "This is an amazing evening. It's allowed 
us to bask in the glory of what is Carnegie Mellon, 
and brings to your heart and your mind exactly what this university is all about."
The event was a first of its kind for CMU with net proceeds from sponsorships and ticket sales benefiting undergraduate scholarships and graduate fellowships. Sponsors included Shutterfly Inc., Salesforce, James Rohr and 24 other corporations and individuals. Among the many high-profile attendees were trustees Jeffrey T. Housenbold (TPR'91), president and CEO of Shutterfly Inc., and Keith Block (DC'84, HNZ'84), president and vice chairman of Salesforce, as well as one of CMU's newest strategic partners, Travis Kalanick, co-founder and CEO of Uber.
More than 400 from CMU attended the Integrated Intelligence event in San Francisco. Pictured in the top photo are (l-r): Nancy Merritt, Executive Director, Alumni Relations & Annual Giving; Trustee Rebecca Allison (BHA'96, HNZ'01); Arnold Blinn (S'87); Barbara Bessey (TPR'71,'75); Renee Atwood; Sheetal Bagde; Merline Saintil (CS'05). (Bottom photo) Prerna Singh (TPR'12), Angie Im (HNZ'13) and Tanvi Srivastava (TPR'12) show off the group photo they had taken at the event.
Three Gifts = $17 Million
During the event, CMU announced three gifts totaling $17 million to support the David A. Tepper Quadrangle and the Presidential Fellowships and Scholarships initiative.
Gifts from James and Sharon Rohr, as well as 
Legendary Entertainment, whose founder and chairman, Thomas Tull, is a trustee, will support the Tepper Quad. A gift from Wallace Sadauskas (TPR'43) and 
the estate of his late partner, Patricia Chotiner Traylor, will support Presidential Fellowships and Scholarships.
"The university is committed to attracting and supporting outstanding students from around the world, and offering them an innovative education that takes advantage of CMU's path-breaking research and practice across disciplines. These gifts help fulfill this fundamental vision," Suresh said.
Tepper Quad To Become CMU's North Star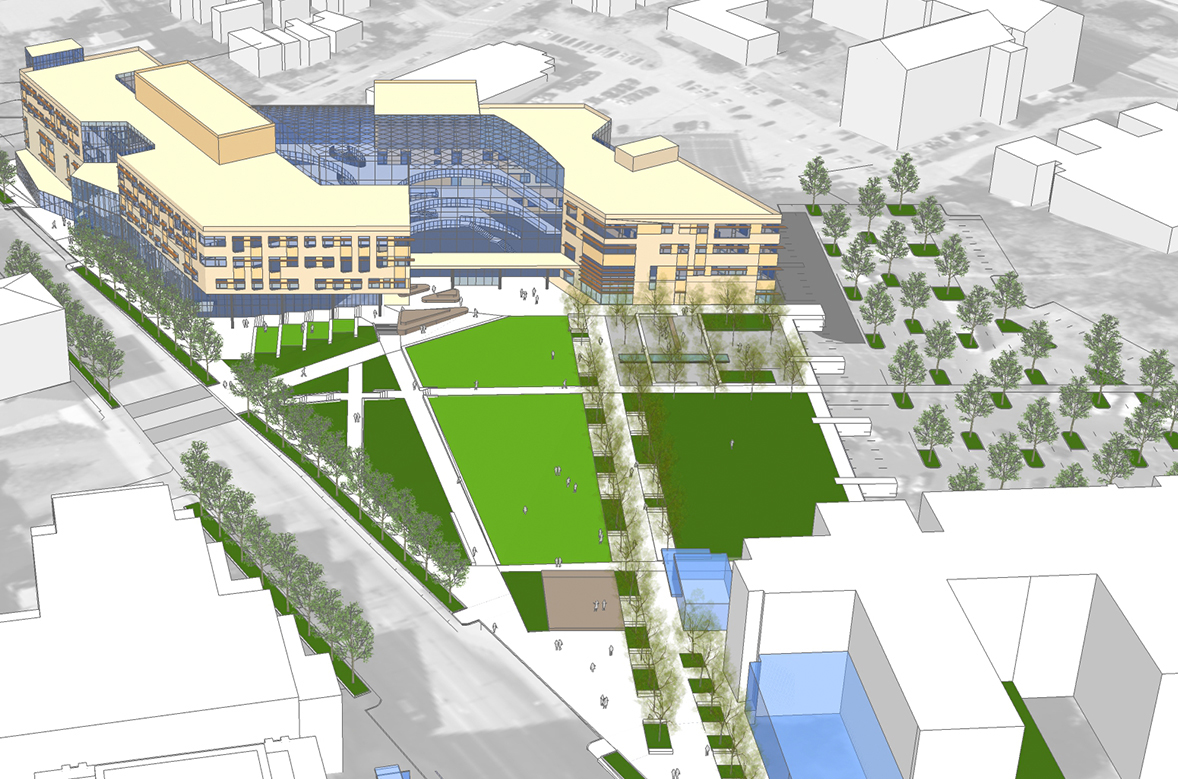 The lot at the corner of Morewood and Forbes avenues will soon undergo 
a transformation to become the centerpiece of Carnegie Mellon's new north campus.
The first phase of the Tepper Quad will:
introduce a new hub for technology-enhanced learning initiatives, including Carnegie Mellon's Simon Initiative, leadership in the Global Learning Council and expansion of successful online degree programs including the Tepper School's Online Hybrid MBA format;
capitalize on Carnegie Mellon's campus-wide culture of innovation and entrepreneurship by facilitating and uniting activities in collaborative spaces that are vital for new venture creation and innovation, including curricula, research, mentoring and partnerships with alumni and stakeholders that support venture capital and seed funding;
create a 21st century research and learning environment that features new 
flexible, collaborative spaces for learning alongside world-class amenities that benefit the entire campus community;
build upon the strengths of the undergraduate business program to expand 
enrollment by 40 percent and broaden business education offerings for all 
students across the Carnegie Mellon campus; and
increase the total master's degree student population at the Tepper School by 
50 percent, which includes the Tepper MBA program and new specialized 
master's degree programs. 
The creation of the Tepper Quad was made possible by a lead gift of $67 million from the charitable foundation of alumnus and investor David Tepper (TPR'82). For regular updates throughout the planning and construction process, visit 
The Tepper Quad website at http://tepper.cmu.edu/who-we-are/tepper-quad.
The above rendering is an overview of the planned Tepper Quad.
More on Integrated Intelligence
The theme of the San Francisco event — Integrated Intelligence — reflects how CMU refers to the increasing interconnections of people and machines. CMU understands that technological advancement by itself is not enough.
The real opportunity is to benefit people around the world by designing and integrating smart, seamless technologies that assist humans with solving major societal challenges.
To learn more, visit www.cmu.edu/integrated-intelligence.