March 20, 2015
Mural, Mural on the Wall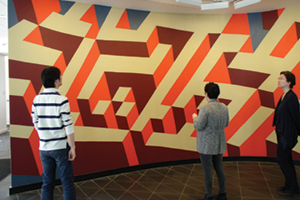 "Third Dimensional Cellular Automaton" 
is the title of the new mural in the Gates and Hillman centers, painted by Brian 
Holderman.
This piece was commissioned by the building's art committee on the suggestion of former Dean of the School of Computer 
Science Randy Bryant. The committee is 
made up of both faculty and staff, and 
chaired by Charlotte Yano (A'96, HNZ'05).
Spanning nearly two years of planning, submissions were solicited from several artists. Holderman was ultimately selected based on the quality of his other work around Pittsburgh and Wilkinsburg, and 
his willingness to collaborate with the 
committee on design ideas.
The design went through several revisions. The final work was inspired by the architectural elements of the building and a scientific phenomenon known as "cellular automata."  
From some spots the bent wall appears to flatten out, and from others the curve is accentuated. Abstract, mid-century, post-modern and bold, whichever spot you view
it from, it gets your attention.