March 20, 2015
Data Doctors
Mining Big Data for Your Health
by Ken Walters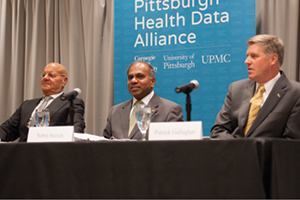 An app that would allow doctors to quickly compare charts of patients suffering from the same illness is an example 
of how health care can be revolutionized by leveraging the massive amount of health care data that exists today.
Transforming this explosion of 
health-related "big data" into technologies, products and services that will improve health care is the goal of the 
new Pittsburgh Health Data Alliance, 
a joint effort between Carnegie Mellon, Pitt and UPMC.
Using health care data to its full potential will require close collaboration among the leading health sciences research at Pitt, world-class computer science and machine learning at CMU, and the clinical care, extensive patient data and commercialization expertise at UPMC.
"I think this is a watershed moment for data science and health care, and how all these areas will intersect so that we can make new discoveries addressed to the needs of patients, citizens and doctors in ways in which we can only imagine today," said CMU President Subra Suresh.
"There are very few places in the world where institutions with this kind of capacity can come together to work together on a problem that benefits not only the region but the region's economy."
Initially, the alliance will include two research and development centers: the Center for Machine Learning and Health (CMLH), led by founding director Eric Xing, a CMU professor in the Department of Machine Learning; and the Center for Commercial Applications of Healthcare Data, spearheaded by Dr. Michael Becich, chair of the Department of Biomedical Informatics at Pitt.
Scientists from all three institutions will participate in the work of each center.
The CMLH will work on challenging problems at the intersections of health care and machine learning. Data from sources as varied as electronic medical records, genomic sequencing, insurance records and wearable sensors will be used to directly improve health care.
For example, imagine a smartphone app that suggests the single dietary change that will most improve your health, based on your genetic makeup and medical history. Or suppose a physician receives an automatic alert when a patient enters the earliest stages of transplant rejection.
The CMLH will focus on five areas: big health care data analytics; personalized medicine and disease modeling; issues of privacy, security and compliance in the context of big data; data-driven patient and provider education and training; and a new general framework for big data in health care.
"We envision data-driven medicine based on the experience of many thousands of actual patients that will produce targeted, not generic, assessments of an individual's disease risk and make personalized recommendations for treatment," said Xing, who was awarded an IBM Open Collaboration Research Award in 2012 to develop novel ways to use big data to search for associations between genetic variations and their links to outcomes such as major diseases.
Xing said a near-term project he envisions is the development of an automated patient diagnosis system. A doctor could query this system to determine possible diagnoses for a set of symptoms and lab findings. The system would search medical literature and analyze collections of patient data to provide possible diagnoses.
"Eric is the perfect person to direct this center. He is a world leader in the field of machine learning and an expert in computational biology and chemistry," said Andrew Moore, dean of the School of Computer Science.
Pittsburgh Mayor Bill Peduto praised the partnership and emphasis on big data, calling it "ed-meds on steroids."
He said his brother, who was diagnosed with cancer last year, is now doing well because his treatment was influenced by data acquired from similar patients worldwide. He said the new alliance would make data work for patients around the world.

UPMC CEO Jeffrey Romoff, CMU President Subra Suresh and Pitt Chancellor Patrick Gallagher (above, l-r) announced the formation of the Pittsburgh Health Data Alliance at a press event at UPMC's Hillman Cancer Center in Shadyside on March 16.