March 20, 2015
Bravo! Bravo!
Nominees Are Pouring In for Inaugural Tony for Theatre Educators
by Pam Wigley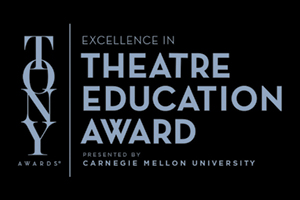 The mission isn't accomplished quite yet, but it's well on its way.
When Carnegie Mellon became the first higher education partner of the Tony Awards last spring, one of the primary missions of the relationship was to recognize theatre educators who inspire K-12 students. Today, about 250 teachers have been nominated and 2,000 more nominations are in progress for the inaugural Tony Award for Excellence in Theatre Education.
"We wanted to recognize teachers who have a positive effect on students in their elementary and high school years because that's where a foundation of expression is built," said Peter Cooke, head of the School of Drama.
"These individuals help to provide a creative outlet for students, who find value in the arts at a time in their lives when they need to be part of something beyond a general classroom experience."
Dan Martin, dean of the College of Fine Arts, said there also are instances in which theatre educators pave a path for a student's broader talents and increased self-esteem. As a result, students across a broad spectrum of studies have 
benefited from their arts education.
"Carnegie Mellon's involvement in this program shows that our entire global university recognizes and values the contributions of K-12 educators," Martin said.
The award, which CMU will present during the 69th Annual Tony Awards telecast June 7, will honor a current K-12 theatre educator at an accredited institution or recognized community theatre organization in the U.S., who has had great impact on the lives of students and who embodies the highest standards of the profession.
Cooke, Light Named to Judges Panel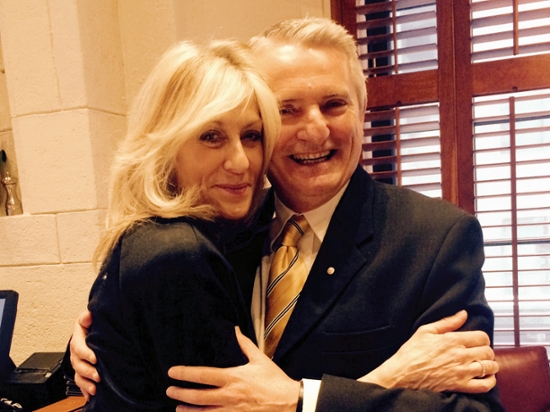 A panel of judges, representing the American Theatre Wing, The Broadway League and Carnegie Mellon, will select the award finalists and winner.
Cooke and alumna Judith Light (pictured rt.) are the judges representing CMU. Cooke is an internationally recognized performing arts educationalist, administrator, researcher and theatre practitioner. He has designed some 150 productions across the disciplines of drama, opera, dance, puppetry, music theatre, television, casinos and large-scale events.
Light won back-to-back Tonys for Best Performance by an Actress in a Play for her performances in "Other Desert Cities" (2012) and "The Assembled Parties" (2013). She also won back-to-back Drama Desk Awards for those performances.
"This award is about being able to start a national conversation about how important education is and particularly education in the arts," Light said.
"When you keep arts at the forefront of our educational system you are helping people to relate to the world differently, to be able to relate to themselves differently, and to take that education and lift the culture, because it is only through the arts that we can actually really do that."

Joining Cooke and Light as judges are:
Sue Frost, founding member of 
Junkyard Dog Productions and 
current executive committee 
member of The Broadway League;
Nina Lannan, founder of Bespoke Theatricals and former chair of The Broadway League;
Lawrence Otis Graham, New York Times best-selling author and 
American Theatre Wing trustee; and
Thomas Schumacher, producer and president of Disney Theatrical 
Group, American Theatre Wing 
Advisory Committee executive 
committee member of The Broadway League.
Nominations are being accepted online through March 31. To nominate 
a deserving teacher, go to 
www.tonyawards.com.
The Tony Effect
Carnegie Mellon's partnership with the Tony Awards has greatly increased visibility for not only the School of Drama, but for the entire university.  

Consider:
CMU's first prime-time television commercial during the Tony Awards telecast, which was seen by more than 7 million viewers around the world, aired twice during the broadcast. The animated spot, narrated by alumnus Billy Porter (A'91), highlighted CMU's success in the arts, business, science and technology;
Alumni Matt Bomer (A'01) and Zachary Quinto (A'99) announced the partnership during the live CBS broadcast as the Carnegie Mellon University banner hung as a backdrop;
The partnership generated more than 1,000 print, online and broadcast stories in the international and national media;
News placements include more than 100 million CMU branded impressions, according to PRtrak, a media analytics consulting firm; and
Coverage of the partnership reached more than 9.3 million followers on Twitter.
According to PRtrak, the above was worth more than $5 million of advertising.