June 19, 2015
CMU Stars on Broadway's Biggest Night
By
Pam Wigley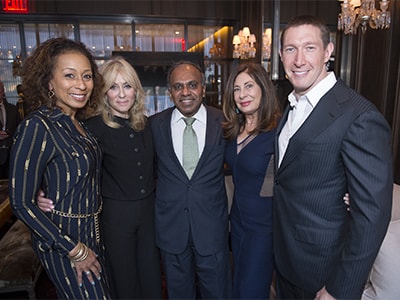 The stars came out on Broadway for the 69th Annual Tony Awards, but none shined as brightly as Carnegie Mellon.
From the red carpet strolled by President and Mrs. Suresh, the CBS telecast viewed by millions, to events throughout the weekend, university leaders and high-powered alumni represented CMU well as the first exclusive higher education partner of the Tony Awards.
One such high-powered alum, Joe Manganiello (A'04), recognized the winner of the first Excellence in Theatre Education Award — created by CMU and the Tonys. Corey Mitchell, a theater arts teacher from Charlotte, N.C., was chosen from more than 4,000 nominees.
While introducing Mitchell, the Carnegie Mellon University wordmark flashed on the television screen as Manganiello made his way to Mitchell in the audience. Along the way he stopped and introduced CMU alumna Sutton Foster (A'92,'93), one of the award presenters during the show, to ask who inspired her theater career. It was her teacher, Rick Bodick.
"We never forget the names of people who are there to give us inspiration and guide us," Manganiello said.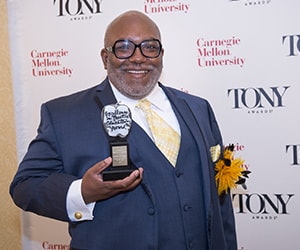 Prior to the telecast, in the Creative Arts portion of the awards ceremony, President Suresh, Peter Cooke, head of the School of Drama, and Judith Light (A'70) presented the award to Mitchell.
"I don't accept this just for me. I accept this on behalf of every theater teacher and every young student out there who aspires to this stage and to Broadway," Mitchell said. "I am overwhelmed and so appreciative. Thank you for legitimizing us. Theater education matters and art matters, and we thank you."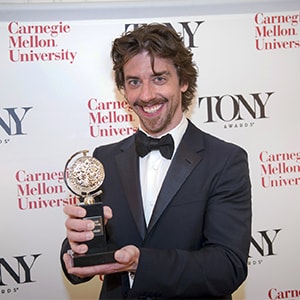 Two alumni took home awards. Christian Borle (A'95) earned the Tony for Best Performance by a Featured Actor in a Musical for his role in "Something Rotten!" raising the number of Tony Award-winning alumni to 41.
"This is terrific recognition for Christian's hard work and dedication to his role in 'Something Rotten!' It is just one of his many truly transformational and remarkable performances in film, television and on stage," Martin said. "We are very proud of Christian as a CMU alumnus. He is an exemplary graduate and deserves this recognition."
Stephen Schwartz (A'68) won the Isabelle Stevenson Award for his work with the American Society of Composers, Authors and Publishers and the Dramatists Guild.
Alumni Corey Cott (A'12) and Michelle Veintimilla (A'14) starred in the show's performances of "Gigi" and "The Visit," respectively. CMU's commercial, "Ideas That Shape The World Start Here," narrated by Josh Gad (A'03), aired twice. And commercial breaks were hosted by Patina Miller (A'06).
Behind the scenes, approximately 15 alumni, including David Tepper (TPR'82), joined the Sureshes, Martin, Cooke and other university leaders, including Pam Eager (E'87, TPR'95), interim vice president for University Advancement, for VIP alumni events held throughout the weekend.
These events included a talkback hosted by Borle at St. James Theatre after his Saturday afternoon performance; a dinner hosted by Light and CMU Trustee Paula Wagner (A'69) at the Baccarat Hotel with special guest Tamara Tunie (A'81); a lunch hosted by Holly Hunter (A'80) at the Redeye Grill; and a pre-performance reception hosted by Billy Porter (A'91) and David Steiner (E'51, H'11) in the Roxy Suite at Radio City Music Hall.  
High-powered alumni gather for a group photo with President Suresh (above, center) in the Baccarat Hotel during Tonys Weekend. Pictured with Suresh are (l. to rt.) Tamara Tunie, Judith Light, Paula Wagner and Glen de Vries. Corey Mitchell (middle photo) was the recipient of the inaugural Excellence in Theatre Education Award. Alumnus Christian Borle (bottom photo) won the Tony Award for Best Performance by a Featured Actor in a Musical.
The Tony Effect
What does the partnership with the Tony Awards mean for CMU? And how did the Tony Awards impact the university?
Answer: Global visibility.
Consider:
More than 7 million viewers watched the 69th Annual Tony Awards telecast on Sunday, June 7, as the spotlight shined brightly on CMU and its role in theater education.
The number of views of CMU's commercial on YouTube and Facebook reached 21,669, up from 7,400 last year.
Twitter impressions reached 19.9 million, up from 9.3 million last year. Sofia Vergara re-tweeted Joe Manganiello's tweet about representing his alma mater to her more than 8 million followers.
Alumnus Kai-Fu Lee's plaid pride showed in a tweet to his 1.38 million followers about his alma mater being not only a top tech school but also a Tony Awards partner.
Josh Groban retweeted CMU's tweet that the university was cheering him on.
More than 325 news outlets mentioned CMU's work with the Tony Awards, including The Associated Press, The New York Times, The Washington Post and ABCNews.
 Bravo!