June 19, 2015
Mother and Daughter To Embark on Haiti Adventure
By Kelly Saavedra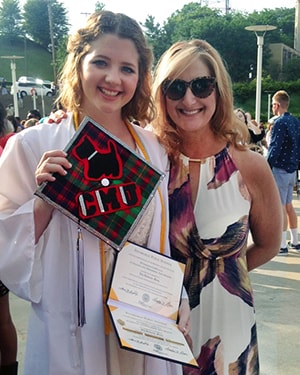 When Lily Marty decided to accept admission to CMU for this fall, her mother wanted to celebrate in a memorable way. So, they're taking a trip to Haiti.
"I'm so excited for all that awaits her during this next phase of her life, but I will miss her terribly when she goes to college — even though it's only about a mile from my house," said Cari Marty, Lily's mother and director of finance at the university's Entertainment Technology Center.
The two had talked of traveling to Haiti for a few years, and this year plans are falling into place for them to embark on a tour of the Artibonite region of the country, led by Edward Rawson, a Pittsburgher and grandchild of Larry and Gwen Mellon who opened Hôpital Albert Schweitzer in Haiti in 1956.
The trip, scheduled for June 26 through July 3, is centered on the two-millionth tree that will be planted through a program organized by Haiti Friends. Rawson is executive director of the local nonprofit, which has an art gallery in the Point Breeze area of Pittsburgh.
"The planting of trees retains soil and promotes the growth of food crops and agriculture in the mountain areas of the country," said Bee Schindler, deputy director of Haiti Friends. "The economic impact of the tree-planting program on Haitian families has been life-changing."   
Mother and daughter will partake in the two-millionth tree planting ceremony as well as go on an art-buying adventure in Petite Riviere, where they will seek out opportunities to connect Pittsburgh to Haiti.
The Martys have been following the humanitarian efforts of Haiti Friends on social media for years.
"I have always felt very impas-sioned about the plight of humans and societies all over the world that aren't as privileged as we are in America," Cari Marty said. "If you asked my kids, they would tell you I've said many times that I would love to become a missionary in another country after they have all grown."
She added, "The more I have read and learned about Haiti through Haiti Friends, and particularly since the earthquake, I have come to understand how much in need of humanitarian assistance this impoverished country is, while I also feel a sense of awe at the spirit and resilience of the Haitian people. I feel very fortunate to have the opportunity to see and experience this firsthand, especially with my daughter."
They plan to use what they learn on their summer adventure to further their involvement with Haiti Friends and expand awareness of the Haitian people's plight.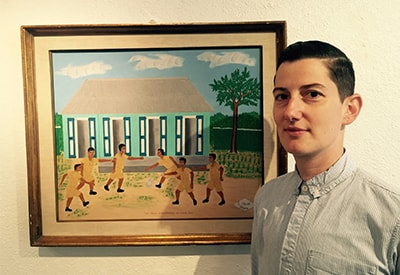 "This trip is particularly special to me as Lily embarks on her college career because I kind of look at this as both a graduation present and perhaps a last mother-daughter trip for a while, as her next few summers will likely fill up with travel, internships, working and so on.
"I am looking forward to exploring something together that's completely new to both of us, that I know will be extremely meaningful and — I anticipate — life-changing for both of us on a shared and deeply personal level," Marty said. 
Since it's founding in 1985, Haiti Friends has amassed a diverse and vibrant collection of Haitian artwork. Working directly with Haitian artists, the program supports the creative economy of Haiti, especially in the Artibonite Valley, offering support for Artibonite artists and initiating community arts initiatives in Haiti.
In the U.S., the Haiti Friends art collection is made available for sale and is available for traveling educational exhibitions.
"Art is a means of bringing Haiti to the rest of the world, sharing Haiti's energy and creativity, while also the complex problems of a troubled country," Schindler said. "Through art and education, we hope to build understanding and support."
The gallery is open from 9 a.m. to 5 p.m., Monday through Friday, and on Saturday by appointment.
Incoming freshman Lily Marty and her mother, Cary (top photo, l. to rt.), who works at the ETC, will be traveling to Haiti, where they will participate in the one-millionth tree being planted through a program organized by the local nonprofit Haiti Friends. Bee Schindler (bottom photo) is deputy director of Haiti Friends, which has a Haitian art gallery in Pittsburgh.