June 19, 2015
Entrepreneurs R Us
LaunchCMU Returns to Silicon Valley
By Piper Staff
For three consecutive years, venture capitalists, angel investors and Carnegie Mellon alumni entrepreneurs have assembled at LaunchCMU, a showcase for technology startups, innovations and trailblazing research. The program returned to Silicon Valley in May, with the theme "The Business of Learning."
"The Business of Learning" showcased transformative efforts in improving education, including initiatives in technology-enhanced learning. Events included demonstrations of new products and services at the Demo & Poster Session and showcased talks by founders of successful startup companies and Carnegie Mellon faculty members.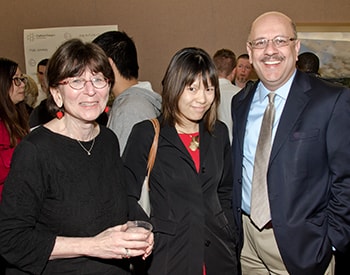 "LaunchCMU provides an exclusive opportunity for the startup companies from Carnegie Mellon to connect with investors and entrepreneurs in our innovation ecosystem," said Provost Farnam Jahanian. "These connections represent potential funding paths and access to customers, suppliers and mentors."
Founders and leaders of featured technology startup companies, including Acrobatiq, Digital Dream Labs and Simcoach Games, pitched their companies, demonstrating problem-solving and value creation for customers.
Simcoach Games, for example, have enabled users to achieve sustainable behavior change in industries from health care to manufacturing to retail, while Acrobatiq is made up of educators, engineers, scientists and entrepreneurs focused on improving learning outcomes by converging learning science, data and technology.
Digital Dream Labs mixes nostalgia with the technology children love. The company's philosophy starts with fun first and enriches logic, sequencing and fine-motor skills through physical interaction and gameplay.
These and other startups were joined by CMU faculty members Emma Brunskill, assistant professor of computer science, and Vincent Aleven, associate professor at the Human-Computer Interaction Institute, who revealed some of their groundbreaking research on intelligent tutoring systems.
"This event is a celebration of CMU's leadership position in the startup world. We are reaching out to our colleagues in Silicon Valley to share the great innovations that are emerging from CMU," said Dave Mawhinney, co-director of the Center for Innovation and Entrepreneurship (CIE).
The applications of these discoveries in many key market sectors were displayed by more than two dozen startups at the Demo & Poster Session, companies that have emerged out of programs such as Project Olympus, the James R. Swartz Entrepreneurial Fellows Program, the NSF I-Corps Site program, the Open Field Entrepreneurs Fund, Traffic 21/UTC, Quality of Life Technology Center, the Disruptive Health Technology Institute and Innovation Works.
LaunchCMU is organized biannually by the CIE, which was created in 2012 to strengthen and serve the entrepreneurial ecosystem at Carnegie Mellon, and to accelerate the commercialization of university research and ideas.
Provost Farnam Jahanian and Project Olympus Founder Lenore Blum (above) visit with Pittsburgh's Chief Innovation Officer Debra Lam, who spoke at the 19th Show and Tell.
Project Olympus Presents 19th Show & Tell
In Pittsburgh, CMU's innovation, creativity and entrepreneurial spirit was on display for the 19th time, in Project Olympus' vastly popular "Show & Tell."
Founded by Lenore Blum and part of the Center for Innovation and Entrepreneurship, Project Olympus has been highly successful in helping students and faculty turn their research into commercial enterprises. It was the first incubator in the region to focus on student initiatives.
This Show & Tell featured research by Physics Professor Shirley Ho, who spoke on "How Far Can We See in the Dark," and Marlene Behrmann, psychology professor and CMU director of the Center for the Neural Basis of Cognition, discussed "How We See What We See."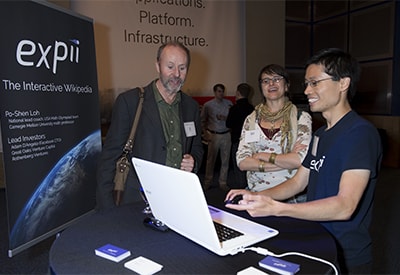 A focus on startups and spinoffs highlighted Mathematical Sciences Professor Po-Shen Loh and his startup expii.com, a website that leverages crowdsourcing to develop interactive experiences to teach math and science. Biology and Chemistry Professor Marcel Bruchez discussed his spinoff "Sharp Edge Labs."
"This forum shows off the incredible interdisciplinary collaborations between our students and faculty," said Mawhinney. "Designers, engineers and business people come together to innovate and create new value in the form of products and companies."
Several students and recent alumni discussed their startups before special guest Debra Lam, chief innovation officer for Pittsburgh, spoke on "The Pittsburgh Innovation Roadmap."
"I am so impressed with the caliber of the professors and student entrepreneurs here," Lam said. "It reminds me from a city perspective how lucky we are to have CMU right in our backyard. There are wonderful activities going on. It's a tremendous asset."
Project Olympus has nurtured 161 PROBEs (Problem-Oriented Business Explorations) through which teams of faculty and students have explored the commercial potential of their research and ideas.  Also through Project Olympus, 122 companies have been formed —84 of them student-based and 38 of them faculty or Innovation Fellow (IF)-based.
Over $166 million in funding has been awarded to 63 student and 31 faculty/IF PROBEs, and PROBEs have won 42 awards and prizes worth over $3.2 million from competitions.
At the 19th Show and Tell, Mathematical Sciences Professor Po-Shen Loh (above) demoed his startup expii.com, a website that leverages crowdsourcing to develop interactive experiences to teach math and science.