June 19, 2015
"Mr. Everything," Dick Tucker, Retires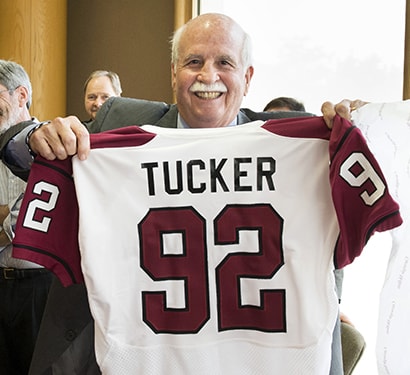 By Christine Hucko
It's no wonder he's been called "Mr. Everything."
Since arriving at Carnegie Mellon in 1992, Richard "Dick" Tucker has served as head of the Department of Modern Languages, interim dean of Student Affairs, associate vice provost for education for CMU-Q, interim dean of CMU-Q and Title IX coordinator.
This spring, following a glittering career that has taken the beloved and respected Tucker to numerous countries around the world, he announced his retirement to begin the next phase of his colorful life journey.
For the past 23 years, Tucker, the Paul Mellon University Professor of Applied Linguistics, has been a member of the Dietrich College of Humanities and Social Sciences' Modern Languages Department, where his sunny office was decorated with a McGill University football jersey.
While Tucker was admitted to graduate programs at schools including Yale and Michigan, he decided to attend McGill because "I could play intercollegiate football there," he said with a laugh.
That, and he could study bilingualism and psycholinguistics at McGill, subjects he became interested in after rooming with a fellow from Hong Kong at Williams College, where he earned his undergraduate degree before studying abroad in that very city.
By the time Tucker moved to Pittsburgh to join CMU's faculty, he had, among other things, participated in a longitudinal study that resulted in the availability of language immersion education in all Canadian provinces and in much of the United States. While serving as president of the Center for Applied Linguistics (CAL) in Washington, D.C., he increased the organization's annual budget, nearly tripled its staff and oversaw the opening of CAL field offices in the U.S. and overseas.
A proven leader, Tucker took the helm of the Modern Languages Department after only three years on the faculty and led it for a dozen more. During his successful tenure, Tucker gave shape to the department's educational mission, scholarship and culture, and was instrumental in establishing its Ph.D. program in second language acquisition.
Not surprisingly, when he stepped down as department head, he was immediately tapped to serve in a variety of top administrative roles.
"I cannot think of anyone at CMU in the last two decades who has had such a varied and important set of institution-building roles as Dick," said Mark Kamlet, University Professor of Economics and Public Policy and provost emeritus. "In these roles he accomplished such a great deal and always did so in a contagiously enthusiastic and constructive fashion."
Colleagues including Susan Polansky, who succeeded Tucker as department head in 2007, attribute Tucker's success in large part to his communal approach.
"Everywhere Dick has contributed, he has been a vital force promoting positive growth and a strong sense of community," Polansky said.
John Lehoczky, former Dietrich College dean, called Tucker's retirement "bittersweet," saying he is "an all around great guy from all corners of campus." He said Tucker was a "great, outstanding department head."
Richard Scheines, current dean of the Dietrich College, called Tucker the whole package, saying he is made up of "all of the attributes that we need to make a university great," and it is extremely rare to h9ave that "rolled up in one person."
Indira Nair, University Professor of Engineering and Public Policy, and vice provost emeritus, echoed the sentiment.
"[Dick has] respect and love for diverse voices and opinions," Nair said. "I realized that this is the foundation of the great, welcoming atmosphere of the Department of Modern Languages that continues under Susan Polansky."
Nair called Tucker "one of her heroes of leadership," a "world citizen and renowned scholar" and "a dear friend and mentor," whom she often turned to for advice.
Polansky added that Tucker is a "role model" and a "statesman with a huge, generous heart."
"There are many words, and still they are inadequate, to describe Dick and the extraordinary impact he has had on the Department of Modern Languages, the Dietrich College, and this entire university. We will miss him," Polansky said.
At a reception held in his honor, Dick Tucker (pictured above) was presented with a #92 CMU football jersey in recognition of his arrival at the university in 1992.