June 19, 2015
'Decisions That Matter' Aims To Provoke Moral Reflection
By Shilo Rea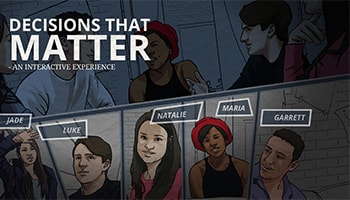 There is no question that sexual assault is a huge problem in American society and on college campuses. While there recently have been some ideas to try and prevent assaults from happening, none have seemed to work.
That may just change with "Decisions That Matter: An Interactive Experience," a new game created by students in a unique class offered by CMU's Dietrich College of Humanities and Social Sciences and the Entertainment Technology Center (ETC).
"Morality Play: Laboratory for Interactive Media and Values Education" allows students from different majors and backgrounds to collaborate and solve a real-world problem, all in just 15 weeks.
"We did two classes like this before — one on income inequality and another on privacy and government surveillance — both very large and broad subjects. What was different this time is we focused on a specific issue and worked closely with an actual client," said Ralph Vituccio, the ETC professor who co-taught the course with the Philosophy Department's Andy Norman. Chris Klug, assistant teaching professor at the ETC, also worked with the students.
"Carnegie Mellon — and many other colleges and universities — have a real need for an educational piece for freshmen that deals with date rape," Vituccio added.
Fifteen students, both undergraduate and graduate, spent the semester developing a concept, creating the interactive graphic novel and testing and retesting it to ensure the game's scenarios came across as genuine. The ETC students served as artists, sound engineers, programmers and producers, while the others did background research, led user testing and gave feedback on everything from the script to the game's look and feel.
"A challenge was coming up with a realistic but morally ambiguous storyline that creates a powerful emotional message," Norman said. "To combat sexual assault, you need to change attitudes, and this requires an experience that not only provokes moral reflection but also evokes deep emotion. 'Decisions That Matter' is a marvelous example of creative problem-solving by some hard-working students committed to making a difference."
The game includes five characters plus the game player. In roughly 10 minutes, the player makes decisions throughout a typical college day with friends. The player's decisions ultimately lead to a character being assaulted or not. At the end, College of Fine Arts actors bring the characters to life and explain their emotional responses to the outcome.
Jess Klein, coordinator of gender programs and sexual violence prevention at CMU, absolutely loves the game and believes it is a tool that they will want to use in the future.
"When Andy and Ralph came to me, the first thing I thought was, 'Not another app!' Sexual violence 'prevention' apps just do not work," Klein said. "Many 'rape prevention' products on the market put the onus of defending oneself on the survivor. One important component of primary prevention is effective bystander intervention. 'Decisions That Matter' addresses this head-on and allows users to really think about what they would do if they were in a situation where they had to intervene."
For the students, creating the game was about more than just completing coursework.
"I care about the issue because I know people who have been affected. I'm interested in intervention methods that could make a difference," said Anna Malone, a human-computer interaction graduate student. "As we tested, we could see people were affected by it — it was making them think about sexual assault."
Following a simulation presentation to the CMU community, Dean of Student Affairs Gina Casalegno had high praise for the students' work.
"This is incredible," Casalegno said. "I have done this work for over two decades, and it is hard to get this content right."
Vituccio strongly believes that the potential to extend these types of interactive awareness experiences to addressing other forms of sexual violence, online sexual harassment, hate crimes and LGBT violence is huge.
"If these experiences can get people to reflect on their actions, to become more introspective, that is the beginning of change," he said.
The Morality Play courses were part of a three-year pilot program supported by CMU Trustee Lowell Steinbrenner. They are examples of how CMU harnesses a cross-disciplinary ecosystem of learning science, a hallmark of the university's Simon Initiative. Named for Herbert Simon, the late CMU Nobel laureate, professor and co-founder of artificial intelligence, the Simon Initiative's goal is to measurably improve student learning outcomes.
Mobile App Educates Teens On Risky Sexual Behavior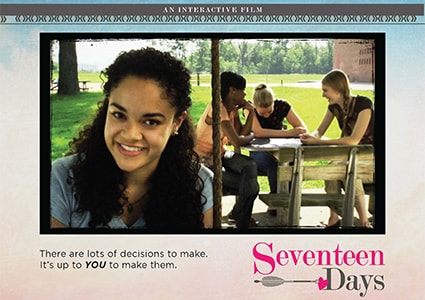 Teenagers, parents, educators and clinicians have a new tool to help adolescents make more informed decisions about their sexual behavior.
"Seventeen Days," a mobile app based on the interactive movie of the same name, is available at no cost on iPhone, iPad and Android devices.
"Our goal is to create and make readily available a tool that will help teenagers make better decisions for themselves," said Julie Downs, associate research professor of social and decision sciences, who studies how social influences affect decision making and how people can make better decisions by understanding these influences.
"For the most part, adolescents don't want to get pregnant. They definitely don't want to contract a disease. By building on our research about what goes into their decisions, we have crafted an application that will help them avoid these negative outcomes," she said.
Seventeen Days — in both the video and mobile app form — is the result of a five-year, $7.4 million grant from the U.S. Department of Health and Human Services to update Downs' earlier interactive video, "What Could You Do?" that was shown to increase abstinence among teenage girls.
Preliminary research indicates that giving young women access to the Seventeen Days film leads to better knowledge about the risks associated with different sexual behaviors and a stronger sense that they can carry out safer behaviors themselves.
In addition to CMU, the mobile app was developed with researchers at West Virginia University, the University of Pittsburgh and Nationwide Children's Hospital in Columbus, Ohio. The goal of creating the mobile app is to get the interactive tool into as many hands as possible.
"We know that teenagers are having sex, and addressing this is a very important part of their health care needs," said Dr. Pamela Murray, professor of pediatrics at the WVU School of Medicine and section chief for WVU Healthcare's Adolescent Medicine.
"The Centers for Disease Control and Prevention has highlighted teen pregnancy as a winnable public health battle. In the same way that we've reduced infectious diseases with immunization, we can reduce teen pregnancy rates and unwanted pregnancies with better communication," she said.