July 23, 2015
News Briefs
Help Center Reduces Hours Through Aug. 14
To prepare for the start of the 2015-16 academic year, the Computing Services Help Center will be operating under reduced phone and email support hours through Aug. 14. Hours of operation are as follows:
Phone and Email hours: 8 a.m. - 6 p.m. (Monday - Friday); and
Walk-in hours: 9 a.m. - 5 p.m. (Monday - Friday).
Phone and email support hours of 7 a.m. - 7 p.m. will resume Monday, Aug. 17. Please direct any questions or comments to the Computing Services Help Center at 412-268-HELP or it-help@cmu.edu.
Scott Institute To Host Regional Clean Energy Competitions
The Department of Energy's Energy Efficiency and Renewable Energy Office has selected a team led by Carnegie Mellon's Scott Institute for Energy Innovation to run one of eight university-focused clean energy technology competitions each year for the next three years.
The Scott Institute is partnering with Innovation Works, Pittsburgh's Energy Innovation Center, the Pittsburgh Technology Council, and the University of Pittsburgh's Center for Energy in hosting the events.
The objectives of the project are to foster clean energy technology startups, support novel training and educational opportunities, and create a long-term sustained and diverse community to support clean energy student entrepreneurs in the Allegheny County region and beyond.
The team winning the regional competition will receive a $50,000 prize, and compete for additional awards at the national level.
Scientists Identify Virus's Achilles' Heel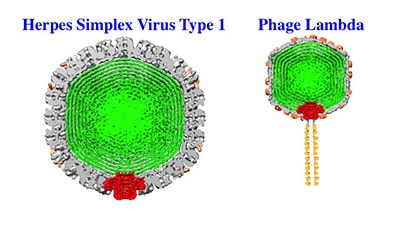 All viruses have industrial-strength shells that surround and protect the genetic material within, enabling the viral particles to remain stable, infectious and capable of spreading. Carnegie Mellon biophysicist Alex Evilevitch and colleagues have now identified that tough shell's Achilles' heel.
Published in the Journal of Virology, the top journal in the field, the findings pinpoint the weakest part of the viral shell and provide a potential new target for interfering with the viral life cycle and for developing stable gene therapy delivery vehicles.
The outer shell, called a capsid, encases a virus's genetic material. Viruses like Herpes Simplex virus type 1 (HSV-1) contain double-stranded DNA, the long strands of which are tightly packed and exert a tremendous amount of pressure, reaching tens of atmospheres, on the interior capsid wall. In previous work, Evilevitch measured for the first time this pressure in HSV-1; he also has shown that it is this pressure that propels DNA out of a small portal in the virus's capsid and into a host cell.
With his latest research, Evilevitch and physics graduate student David Bauer reveal that the portal is more than just a conduit for DNA. It also is the weakest structural part of the capsid.
"The most exciting thing here is that we've shown, for the first time, how DNA pressure affects portal stability, which ultimately determines the virus's stability over time at any temperature," said Evilevitch, associate professor of physics and a member of CMU's Center for the Mechanics and Engineering of Cellular Systems.
Power Shutdowns in Hamerschlag, Scaife and Roberts Halls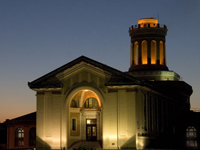 Facilities Management Services and Campus Design and Facility Development have planned two full power shutdowns affecting Hamerschlag Hall, Scaife Hall and Roberts Hall. 
The times and dates of the shutdowns have been revised and are now scheduled for:
7 p.m., Tueday, July 28 through 7 a.m., Wednesday, July 29; and
7 p.m., Tuesday, Aug. 4 through 7 a.m., Wednesday, Aug. 5.
These shutdowns are necessary to make high voltage power connections for the Scott Hall Project.
The power outages will impact all building systems not connected to the life safety generators. Therefore, during the power outage, the buildings will be closed.
If you have a special requirement that requires access into Hamerschlag Hall, Roberts Hall or Scaife Hall, you can obtain information on arranging a University Police escort by calling FMS Service Response at 412-268-2910.
CIC Drive To Close Aug. 8, 14 and 15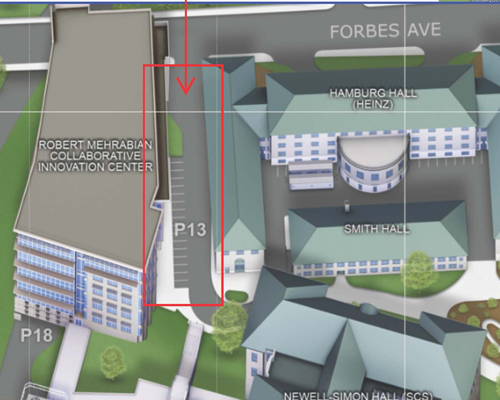 As part of the work to add chillers for campus cooling on the Robert Mehrabian Collaborative Innovation Center (CIC), several shutdowns have been scheduled for CIC Drive between the CIC and Hamburg Hall. The shutdowns will affect vehicular and pedestrian traffic, parking and access to nearby buildings.
Saturday, Aug. 8, 6 a.m. to 6 p.m.
A crane will be assembled and used to lift steel to the roof of the CIC. Access to the Gates and Hillman centers, and Smith and Newell-Simon halls will be restricted from Forbes Avenue. All vehicular traffic and parking on CIC Drive will be prohibited. The sidewalk will be closed as well.
Friday and Saturday, Aug. 14-15, 6 a.m. to 6 p.m.
A crane will be assembled and used to lift piping and the new cooling towers to the roof of the CIC. Access to the Gates and Hillman centers, and Smith and Newell-Simon halls will be restricted from Forbes Avenue both days. All vehicular traffic and parking on CIC Drive will be prohibited, and the sidewalk will be closed as well.
PSO Offers Discounts for Summer Concerts
The Pittsburgh Symphony Orchestra is offering discounts to upcoming shows at Heinz Hall. Students, faculty and staff receive a 10 percent discount off single ticket prices.
For all summer concerts in July and August, you can buy tickets to three concerts and receive 20 percent off the ticket price, or buy tickets to four or more concerts and receive 30 percent off the ticket price. Packaged ticket deals must be purchased in person at the Heinz Hall box office or by phone at 412-392-4900. Single tickets with the university discount can be purchased online.
2015-16 Wall Calendars Now Available
The 2015-16 official Carnegie Mellon wall calendars are now available in the University Store at $1.99 each. Bulk orders over 50 can be delivered on campus or sent via campus mail. For quantities under 50, please visit the Bookstore on the lower level of the Cohon University Center. Please coordinate with your department before placing an order, to determine if a bulk order is being placed.
Order requests of 50 and over should be sent to art-store@andrew.cmu.edu. Your email should include your name, department, campus address, Oracle String and phone number. Orders under 50 must be placed and picked up at the lower level of the Bookstore using an Oracle number or Tartan card.
Off-campus orders will require an additional charge for a mailing tube.
Athletics Hosts Summer Sports Camps
The Athletics Department is offering several summer sports camps for children of all ages. Camps include boys and girls soccer, boys basketball and girls volleyball.

The department also is hosting a FITT camp in which campers will participate in activities such as basketball, tennis, racquetball, badminton, soccer, ping-pong and frisbee.

Learn more about the camps.
Discounts Available to Cedar Point, Sandcastle, Idlewild and Hershey Park
Staff Council is offering discounted tickets to CMU employees for Cedar Point, Sandcastle, Idlewild and Hershey Park. For ticket prices and purchasing information, go to Benefits & Discounts on the Staff Council website and click on Summer Discounts.
If you have any questions, please contact Sharon Cavlovich at sharonw@cmu.edu or Nicole Stenger at nstenger@cs.cmu.edu.