January 12, 2015
Actor Michael Keaton Discusses His New Role at the ETC
Award-winning 
actor Michael Keaton won't be changing careers any time soon, but he will be going back to school on occasion.
As the Entertainment Technology Center's new visiting scholar, Keaton will be stopping by the ETC to talk to students about their projects and offer his insights on storytelling and the best ways to engage an audience.
Keaton, who won a Golden Globe Award for Best Actor in a Motion Picture, Musical or Comedy for his performance in "Birdman," first came to talk with students and faculty in the ETC about three years ago, at the urging of his childhood friend, Ralph Vituccio, an assistant teaching professor at the ETC.
"How fantastic is it that he has agreed to come back to the ETC whenever he can to work with the students and share his insight and wisdom with them," Vituccio said. "To have somebody as incredibly talented as Mike to meet with our students, play and critique their interactive games and provide feedback is an incredible opportunity for our students."
Keaton, who attended Montour High School with Vituccio in the Pittsburgh suburb of McKees Rocks, is perhaps best known for his roles in "Beetlejuice," "Batman" and "Batman Returns." Other notable films of his include "Night Shift," "Mr. Mom," "Clean and Sober," "Pacific Heights," "Jackie Brown" and the just-released "Birdman."
"Mike and I have been friends since junior high school. We lived in Squirrel Hill together for a few years before he split for L.A. Even with all his success and fame, Mike has always remained an honest and down-to-earth guy. That, to me, is one of his greatest strengths," Vituccio said.
The Piper caught up with Keaton to talk about his acting career, his role at the ETC and the role technology plays 
in the industry.
Q: What attracted you to the position of Visiting Scholar at the ETC, and what will your role be?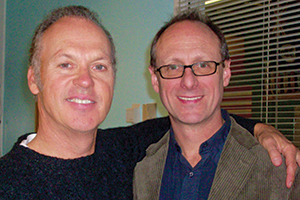 A: I spoke to Ralph's Visual Story class, met with students and faculty and checked out some of the cool projects the students were working on. These kids are incredible … amazingly smart! So, my role, as Ralph and I discussed, will be to come back to visit whenever my schedule allows. I'll meet with the students, check out their projects and interactive games and give them any kind of feedback or insight that I may have.
I hope that I can be helpful. I'm not that tech savvy, but these ETC students just blew me away. The irony to all this is I could've never, ever been admitted to CMU. No way would they have ever admitted me as a student. So, now I'm going to be a visiting scholar. Gotta 
love it!
Michael Keaton and ETC Assistant Teaching Professor Ralph Vituccio (pictured above) were friends growing up together, and both attended Montour High School in the Pittsburgh suburb of McKees Rocks.
Q: What do you hope to achieve in this role?
A: I really enjoyed seeing how these students are using new technologies in creative ways to entertain and educate. This is the future. It's where it's all 
happening. These students are working on video games to improve learning in the classroom and using interactive technologies that will change the way the entertainment industry tells stories and delivers them to an audience.
I hope my involvement with the ETC will help bring whatever insight I have into how you tell stories, or how you engage an audience in an experience, or how you capture one's attention and what ways you can keep them there, in the moment.
Q: Technology has undoubtedly 
changed the entertainment landscape in gaming, television and movies, but has it changed acting? If so, how?
A: Well, in some ways it has changed acting tremendously, but, really, in other ways, it's just you up there, and you're just hoping you remembered to put your pants on. I don't think any amount of technological effects or computer-generated imagery can cover up a bad performance. Granted, it can hide a heck of lot. It can pull the 'sleight-of-hand' tricks so you're paying way more attention to spectacle rather then content.
But, you know, bottom line, it has to be honest, whatever you're doing. If it's not, I don't think technology alone can make it better. I mean, technology will always drive the movie industry, but great storytelling will always be the more powerful part.
We humans don't relate to technology in emotional ways … or, at least, I hope we don't. What we do connect with is the human 'story.' That's what touches and moves us. And that's what it really is all about, right? Technology is a tool. What it really comes down to, what really matters, is honesty, truth. Meaningful exchanges will always be what makes great entertainment and great performances, no matter what kind of new cool technologies are used.
Q: What has been your biggest challenge as an actor?
A: The character, Riggan, I play in "Birdman" was a huge challenge. I related less to him than almost every other character I've played, in terms of the desperation. There were times in my life when I felt desperate, but it was never about this. It's a fear-based industry, and if you buy into it, you're pretty screwed. It's probably the richest and most demanding role I've ever played. You would have to go from funny to disturbing to deeply sad back to darkly funny. And because of the nature of how it was shot, you didn't have the luxury of edits, where you can do 15 takes of that one line from that angle. You had to get it all in one, and be word-perfect, and in the right place physically to accommodate the camera.
Q: Can you talk about a few of the most influential roles you played in regard to your growth as an actor? Has technology played a role, and if so, how?
A: Again, I'd have to say "Birdman." For me, it was an intense emotional and psychological roller coaster ride this character travels within any given scene. I mean, at the end of the day when I went home, I felt I had really been working … hard. I don't think I felt that way in many other films.
The other part was the technical demands in the way the director, Alejandro Iñárritu, shot the scenes. There were continuous, 10-minute long tracking shots. There was no room for errors. I mean, if you didn't hit your lines or your marks exactly, you had to do it all over again.
But, boy, was it worth it. I mean, Alejandro and Emmanuel Lubezki, the director of photography, these guys are so incredibly smart and talented. They pulled off some of the most beautiful and complex shots I've ever seen. Just technically speaking, I think this is a film that will be talked about for years 
to come.
Q: What was the most surprising or unexpected thing you found when you started working in Hollywood?
A: I spent a lot of time pounding the Hollywood pavement doing standup comedy. The going was tough initially but then I started landing small parts in TV on shows like "Maude" and "The Mary Tyler Moore Show." Then "Night Shift" and "Mr. Mom" hit, and I was doing pretty well.
In Hollywood, what you want does not always lead you to make the most intelligent choices. I was lucky to understand this at the beginning of my career. I realized that after success, the lean days would come.
It's important not to be a victim of the system, not to be enchanted by all the glitter. We are human beings. There will always be difficult, uncertain times. You have to accept that, especially we actors for whom this feeling of helplessness is magnified a thousand times.

The important thing for me, and it's what I've tried to teach my son, is when you lose your way you have to get back to base, find your camp, your tent and ask yourself, "What do I want from life?" It's a philosophy in itself that would be important for the whole of humanity, but it's an even more pressing question for anyone in show business, because unlike other professions, this one is basically founded on the fragility of a moment, on the fear of not making it, of not being up to it, of failure.
So, the question I've always asked myself is: You can focus on having a really big career and, you know, a life. Or, you can have a really good life … and a career.
I always wanted to have a life.
Q: What has been the most satisfying aspect of your career?
A: I really don't think about being famous much. I know that may sound trite, but it's true. It's just that, having a career. I think work is important for everyone. No matter what you do. Work keeps you on track; it keeps you aligned with reality.
Look, when you come from very little money and all of a sudden you can make a good living with what you love to do, you feel like a king. I am very grateful and very blessed. But I also turned down jobs that would have made me a lot of cash, too.
It's great to make your own choices, but there's a price to pay. I could've made more money or been more famous. I could be the current groovy guy. You don't want to lose your status, but I was never willing to preserve it by doing things I didn't want to do.
Q: Who have been your role models, and why?
A: I don't think I had one specific role model. I just always took notice of people who really just knocked me out, and that's been a whole lot of people. Some people who come to mind are Robert Duvall, Nicole Kidman, Glenn Close … really unbelievable, incredibly talented people. What I would glean from them is really extraordinary because their discipline, their focus, their work ethic and attention to detail was just really inspiring.
Jack Nicholson was someone I always admired, but to work with him was fantastic. His professionalism was incredible. He's so committed, and when we did "Batman" he just went right at it. Here's a guy who's played all the great roles, and he's going to play the Joker. He never made a comment about it, never was too cute about it. He totally committed to the idea.
There are so many great and talented people I've worked with, and I can honestly say I've learned and taken away something from all of them.
Q: Why do you think your career success has spanned decades while others' stars have burned out? What's your recipe for 
success?
A: I don't know about any recipe for success. I don't know if some of my choices were always the wisest thing to do, but if a project interests me then I'll go for it. So much of it depends on where I am right now in life in terms of my choices. Sometimes I look at if the story resonates and seems popular right now. Sometimes it's just a simple business decision, and other times does this make me go, "Whoa! Can I pull this one off?" That usually wakes me up. I love a challenge.
If I had to do the same kind of character or story over and over again … I'd probably go out of my mind. That's one of the reasons I wasn't interested in doing "Batman 3," that, and the script really sucked. And to be honest, I don't really want to do work that doesn't interest me. I've done stuff where I wasn't that good, and I just got tired of doing stuff I wasn't interested in. I just decided that I won't do a lot of things.
Financially, there were probably parts where I could have done quite well, and I thought that's not what I am. It's bull. I'm lying. I won't do it. And you pay a price financially. And I go, that's okay, this one's on me.
Q: You're a Pittsburgh native now living in Montana. How does Big Sky Country compare to the Steel City for you?
A: I have a house in L.A., but I spend as much time as possible on my ranch in Montana. I like to be surrounded by nature. I love horses. I used to compete, riding cutting horses. I like to fish. I love fly fishing. I have a beautiful wild stream running through my ranch. Whenever I get the chance, I'm out and about. It levels me and gives me quiet and peace.
Pittsburgh is my alter ego. I'm a Pittsburgh boy, and I really identify with the 'Burgh. This is where my roots are. My family is still all here. Some good friends are still here, and I love coming back.
What is kind of interesting is that there are similarities between Montana and Pittsburgh. I think you can make a lot of comparisons between Montana and Pittsburgh, particularly in the people. The people [in Montana] are not that much different from Pittsburgh … a really strong, blue-collar work ethic, very pragmatic, a no-bull kind of people. You just get things done, and you don't complain about it. There's an honesty and a down-to-earth quality in both places that I really cherish.
But there are a few HUGE things Montana doesn't have … the Pirates, 
the Penguins and the Steelers!