January 12, 2015
Jefferson Award Winner
Army Vet's Mom Saluted for Support of Troops
by Kelly Saavedra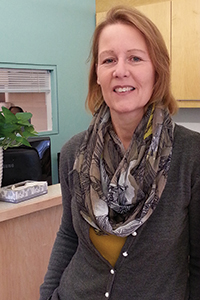 As the mother of a U.S. Army veteran, Darlene Scalese has a lot of experience preparing thoughtful care packages for a soldier overseas.
During long deployments to the deserts of Iraq and Afghanistan, items on her son's "wish list" ranged from thirst-quenching Kool-Aid pouches to milk chocolate candies.
"My son loves Sarris chocolate-covered pretzels," said Scalese, assistant to the head of Carnegie Mellon's School of Design. "Obviously, I did not ship them during the summer months, but I did send them to him at Christmas and Easter."
Driven by a deep gratitude for the sacrifices soldiers are making for her freedom, Scalese began volunteering at Operation Troop Appreciation (OTA) in West Mifflin in 2012, kicking her care package prep skills into high gear for hundreds of far away troops, who, like her son, also longed for a few comforts from home.
"I pack for them as if each one is my own son or daughter," Scalese said. "I will never meet these soldiers. They will never know who I am. But for these couple of moments, they belong to me."
One project had Scalese involved in organizing "Welcome Home" packages filled with essential household items for a group of single soldiers returning to their base in Italy after a lengthy stay in Afghanistan. Afterward, she was asked if she'd like to organize similar Welcome Home packages for a new veterans 
support program in the Pittsburgh area.
She accepted.
"It was kind of a natural transition for me," Scalese said. "The new program fills a gap by helping to defray the costs associated with establishing a new home, and our veterans deserve that kind of 
support."
With compassion, friendliness and "crazy" organizational skills, Scalese 
now manages the Welcome Home 
program, donating 30 hours per week 
to veterans facing extreme poverty or financial hardships.
Her active devotion to the military community has earned her a 2014-2015 Western Pennsylvania Jefferson Award. The Jefferson Awards program was founded in 1972 by Jacqueline Kennedy Onassis, U.S. Senator Robert Taft Jr. and Sam Beard to honor unsung heroes and is widely regarded as the Nobel Prize for volunteerism.
In 1976, former Pittsburgh Post-Gazette editor John Craig established a local Jefferson Awards program to honor volunteers in Western Pennsylvania. Fifty winners are chosen each year from among those nominated, and one of those 50 will be selected to represent Western Pennsylvania at the national Jefferson Awards ceremonies in Washington, D.C., in June.
Scalese continues to work closely with caseworkers through the VA Healthcare for Homeless Veterans program to identify veterans' needs and then coordinate the purchase of new mattresses, bedding, cookware, dishes, glasses, cleaning supplies and other useful items. She also arranges taxi service to transport veterans dealing with physical challenges or post-traumatic stress disorder to their doctor and therapy appointments.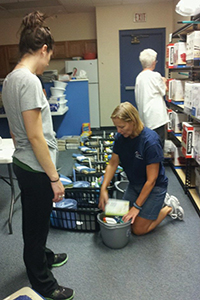 Between January and September last year, OTA's local Welcome Home program supported 144 families and 
680 individuals.
"It's such a great feeling to be able to thank the veterans in person," Scalese said. "And when you get a hand-drawn thank you card from a 4-year-old in 
appreciation for helping her family, 
well, I just have so much pride in OTA, 
I could go on and on."
Scalese still sets aside one Saturday per month to make care packages for the soldiers, sailors, airmen and marines serving overseas. Working from wish lists received by the organization, Scalese rounds up favorite cereals, soups and snacks for some. Hygiene items such as soaps, shampoos and hand sanitizers 
also are well received, as are books, DVDs and board games, which troops use to decompress after missions.
For those in more remote locations, Scalese fulfills requests for protein bars and powders, cans of tuna and baby wipes, which help soldiers without nearby shower facilities to refresh from the sand and sweat.
"Now that my son is retired, I am making noticeably fewer trips to the hair dresser to cover the gray," Scalese said with a hint of relief. "But I'm not done giving back to the soldiers who have given up so much for our freedom."
The connection she and the organization make with soldiers — and the impact it has on their morale — is evident in the flood of heartfelt thank you notes OTA receives from troops all over the world.
"The apple sauce, socks and cookies went like hot cakes," wrote one Army specialist.
"Everyone is going nuts over all 
this stuff! Thank you so much for your support!" wrote a senior airman.
One Army corporal stationed in 
Kuwait said, "It was like opening presents on Christmas day, and it is a feeling I haven't felt since I was a young man."
OTA has supported over 140,000 deployed troops since 2004. To learn more, 
visit www.operationtroopappreciation.org.

(Top photo) Darlene Scalese's active devotion to the military community has earned her a 2014-2015 Jefferson Award, which honors unsung heroes and is widely regarded as the Nobel Prize for volunteerism. (Bottom photo) 
Scalese packs household items for the Welcome Home program for veterans, which supported 144 families 
and 680 individuals in the Pittsburgh area between January and September 2014.