January 22, 2015
News Briefs
Discovering Idiosyncratic Brain Patterns in Autism

New research by scientists at Carnegie Mellon and the Weizmann Institute recently published in Nature Neuroscience, shows that the brains of individuals with autism display unique synchronization patterns, something that could impact earlier diagnosis of the disorder and future treatments.

"Identifying brain profiles that differ from the pattern observed in typically developing individuals is crucial not only in that it allows researchers to begin to understand the differences that arise in ASD (Autism Spectrum Disorder) but, in this case, it opens up the possibility that there are many altered brain profiles all of which fall under the umbrella of 'autism' or 'autisms,'" said Marlene Behrmann, the George A. and Helen Dunham Cowan Professor of Cognitive Neuroscience and co-director of the Center for the Neural Basis of Cognition.

To investigate the issue of connectivity in ASD, the researchers analyzed data obtained from functional magnetic resonance imaging (fMRI) studies conducted while the participants were at rest. Data was collected from a large number of participants at multiple sites.

"Resting-state brain studies are important because that is when patterns emerge spontaneously, allowing us to see how various brain areas naturally connect and synchronize their activity," said Avital Hahamy, a Ph.D. student in Weizmann's Neurobiology Department.
The image above shows a comparison in the extent of the voxel deviation from the typical profile of two individuals with autism. The individual with the more severe autism symptoms (right) showed greater deviations, both positive (more red) and negative (lighter blue), from the typical inter-hemispheric connectivity pattern compared to the individual with the less severe autism symptoms (left). In other words, the deviations from the control pattern was larger in the participant with the more severe symptoms.

Learn more.
CMU, Pittsburgh Cultural Trust To Launch Pittsburgh Humanities Festival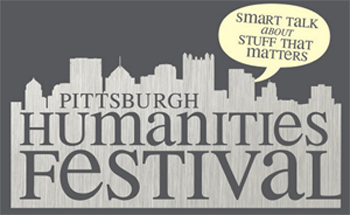 Carnegie Mellon and the Pittsburgh Cultural Trust are teaming up to bring new ideas and engaging conversation to the city with the inaugural Pittsburgh Humanities Festival, March 26-29. The festival will feature "Smart Talk About Stuff That Matters" from internationally renowned experts, artists and intellectual innovators on topics ranging from art, literature and music to science, policy and politics.
To launch the festival, CMU and the Pittsburgh Cultural Trust will outline the vision for the festival at 10 a.m., Jan. 28 with a roundtable discussion at the James R. Rohr Building at 805-807 Liberty Ave in downtown. Participants will include:
      J. Kevin McMahon, president & CEO of the Pittsburgh Cultural Trust;
      Paul Organisak, vice president of programming for the Pittsburgh Cultural Trust; and
      David Shumway, professor of English and director of the Humanities Center at Carnegie Mellon.
Preview CMU Libraries New Home Page
University Libraries invites you to take a look at its new website, which will become its new home page on Feb. 20.

Here are a few of the enhancements:
Clean design and improved navigation make it easier to find what you're looking for. Tabs expand to explore Search & Find, Using the Libraries, Research Support, Data & Publishing and more.
Searching! Access a wide spectrum of resources from the big blue box — from CMU collections to Google Scholar, WorldCat and media searches (ebooks, images, music, film & video). A powerful single search box at the top of every page.
Unique @ CMU highlights the university's archives and special collections, many of them digital.
Getting Started pages introduce library services for undergraduates, graduates, staff, faculty, alumni and more.
Library news you can use in a concise visual display "above the fold."
University Libraries asks if you find typos, or something doesn't work for you, please send email to ul-websitecomments@andrew.cmu.edu.
Dean Baybars Greets New Student Government
Dean Ilker Baybars and his wife, Çigdem, recently hosted new members of the Qatar campus student government, the Student Majlis, at a reception at their residence. The students were elected to represent their peers during the 2015 calendar year. The new Majlis members (left to right) are: Shashank Shetty, head of clubs and organizations; Vishan Popat, head of academics; Yousuf Akhlaq, head of finance; Mounir Sheikh, head of communications; Sherif Rizk, head of sports; and Mohamed Al Hor, president. Maryam Al Haddad, vice president, is not pictured.
CMU-Q Celebrates Legacy of Martin Luther King Jr.
Students at Carnegie Mellon in Qatar had an opportunity to learn more about the life and legacy of Dr. Martin Luther King Jr. through a series of campus events held on Monday. The programming included a screening of the documentary "King: Man of Peace, Time of War" and an interactive discussion board in which students shared how learning about Dr. King inspired them.
PSO Offers Discounts for CMU
The Pittsburgh Symphony Orchestra is offering discounts to CMU students, faculty and staff for their upcoming shows at Heinz Hall. Students can purchase tickets for $15 and faculty and staff tickets are available for $20.

At 7:30 p.m. on Friday, Jan. 23, and at 2:30 p.m., on Sunday, Jan. 25, the PSO presents BNY Mellon Grand Classics: Wagner's "Good Friday Spell." Young American conductor James Gaffigan makes his Heinz Hall debut with poignant pieces from Wagner and Mendelssohn, and Pianist Gabriela Montero dazzles in a jazzy concerto from Ravel. Student tickets for this weekend only are being offered for $5 using the promo code 46380 online.

At 7:30 p.m. on Friday and Saturday, Jan. 30-31, and at 2:30 p.m., Sunday, Feb. 1, the PSO presents BNY Mellon Grand Classics: "A Night in Russia." This show features the Pittsburgh premiere of Prokofiev's Russian Overture with a debut appearance by conductor Krzysztof Urbaňski. Noah Bendix-Balgley is soloist in a piece from Khachaturian filled with exotic harmonies and dance rhythms.

To purchase tickets, go to www.pittsburghsymphony.org/cmu.
CTTEC Sponsors Seminars on America Invents Act and Its Impact on University Research
The central provisions of the Leahy-Smith America Invents Act (AIA) went into effect on March 16, 2013, regarded by many to be the most significant change to the patent system in U.S. history. Of its notable changes, the switch from a 'first-to-invent' to a 'first-to-file' system has had an impact on scientific research and development. Although this change synchronizes the U.S. patent system with the rest of the world, this and other revisions introduced in the AIA have implications for university research, invention disclosures and patent strategy.
 
CMU's Center for Technology Transfer and Enterprise Creation (CTTEC) and expert attorneys will host two interactive information sessions on this topic. The Jan. 22 session also will have relevant information from the U.S. PTO's preliminary examination guidelines regarding patent eligibility after the decision in Alice Corp. v. CLS Bank (June 19, 2014).

The sessions are:
TODAY (Jan. 22) 11 a.m. at Gates Hillman 6115 (simulcast to NREC)
Speaker: Dave Oberdick, Meyer, Unkovic & Scott LLP
12:30 p.m., Jan. 29, Doherty Hall 2302
Speaker: Christine Etheridge, K&L Gates
Tepper School Seeks Alumni Award Nominations
Nominations for the Tepper School of Business Alumni Awards are due by Jan. 31.
Nominations are being accepted for the Tepper Alumni Achievement Award, recognizing the nominee's accomplishments and leadership in his or her profession; the Tepper Alumni Service Award, recognizing volunteer service to the Tepper School community or its alumni organizations; and the Tepper Recent Alumni Award for Exceptional Achievement or Service, recognizing either professional accomplishment and/or service to the Tepper School community by those who have graduated within the last 10 years.
An awards committee from the Tepper School Alumni Board will select the winners from the pool of nominations. The awards will be presented at the Tepper School Welcome and Awards Reception in August 2015.
Nominate Graduate Students for Teaching and Service
The Graduate Student Service and Teaching Award nominations are now open and will be due on Friday, Feb, 6. The award committees encourage faculty, staff and students to nominate graduate students who have excelled in teaching or service so their efforts can be recognized by the university community.

The awards will be presented Thursday, April 9, during "Innovation with Impact: Celebration of Graduate Students," which is part of Graduate Student Appreciation Week (April 6-10). Award recipients will receive an engraved tray and monetary award and have their names added to the plaque in the Cohon University Center. Awardees also will be recognized at the Celebration of Education in April.
Learn more about the Graduate Student Teaching and Service awards.
Calling All Ph.D.s: 3MT @ CMU
Three Minute Thesis (3MT®) is an internationally recognized competition that challenges Ph.D. students to present a compelling oration on their thesis and its significance in just three minutes, in language that anyone can understand. 3MT is not an exercise in trivializing or "dumbing-down" research but requires students to consolidate their ideas, crystallize their research discoveries and capture the imagination of their audience.

CMU's 2015 3MT competition begins with qualifying rounds in February and March, followed by a championship round in April. Any currently enrolled CMU Ph.D. student is eligible to compete. To participate, register online by Jan. 31.

Qualifying round winners receive iPads or the equivalent value as a research/travel grant. Championship winners receive $3,000, $2,000 and $1,000 research/travel grants.