January 12, 2015
Giving Props
Jon Ward Masters CMU's Theatrical Magic
by Kelly Saavedra

A glass slipper landed Cinderella her Prince Charming. A mask hid the true identity of The Phantom of the Opera. An oil can put the Tin Man in motion again.
In some of drama's most memorable moments, props play roles as integral to the story as the actors using them. Others have significance in their ability to lend authenticity to a scene.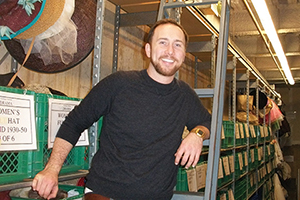 And while there's no Tony Award for Best Prop, one can make or break a live performance. Just ask Jon Ward, who, as props master in the School of Drama, has the job of pulling off whatever vision the director has in mind.
"In our production of 'Seven Guitars,' we had to kill a rooster on stage every night," Ward said. "The director, Cameron Knight, sat me down over the summer and said, 'I don't care what we do, I want this rooster to look real.'"
Jon Ward (pictured right) leads the team that creates, builds, procures and designs props for the School of Drama's annual 30+ projects and shows.
Ward handed the challenge to two drama students, who worked for weeks designing a rooster body complete with circuit board, motorized wings and plastic parts they produced using the prop shop's computer controlled cutting machine.
Then, he had to be the bearer of bad news.
"This thing was amazing," Ward said. "And as so often happens in theater … it got cut! It was too big."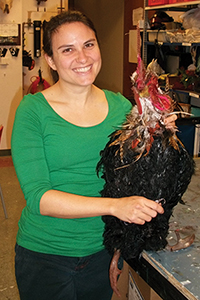 Rooster design, take two. Ward's assistant, Kristin Ward (no relation) went to work plucking plumage from feather boas. One student molded a body cavity from paper mache, while another cast the creature's wrinkled, rubbery feet.
Ward, himself, took on the task of making the rooster's "blood bladder," cleverly connecting an intravenous therapy bag to a hot water bottle that would drain out on stage in the actor's hand when held in the right position.
"I have always found that my challenges are quite different from most jobs," Ward said, grinning.
Most of his time is spent on a grand scavenger hunt. It's his job to make sure each prop — whether he purchases, borrows or manufactures it right in his office — arms the audience with the information necessary to help tell the story "as all good props should do."
Kristin Ward (pictured left) and students created the "Seven Guitars" rooster based on director Cameron Knight's vision.
"And that's where you run into challenges," Ward said. "Is it from the right time period? Will its color clash with the costumes? Would it be more affordable to build it ourselves? Thousands of questions and compromises must be made before items can be considered show-ready."
Consider CMU's upcoming production of "The Wiz," a Tony Award-winning musical from 1975 that retells L. Frank Baum's story of "The Wonderful Wizard of Oz."
Ward reinvented Toto, Dorothy's famous pup, from a pile of common junk items that would be found on a farm. Lighted lampposts carried by characters along the Yellow Brick Road are partially made of plastic soap bottles that he stumbled on in a Target store.
"It was imperative that we use all nonbreakable items when creating the lampposts, and we had the hardest time finding a plastic light bulb in the scale that we needed," Ward said. "On a routine trip to Target, I realized Method soap bottles would work just fine, and — bonus! — they came in yellow!"
A snag in the process of getting fake flowers shipped internationally led to Kristin and a team of students hand-making the more than 500 poppies needed for the field that Dorothy, Scarecrow, Tin Man and Cowardly Lion walk through on their way to Emerald City.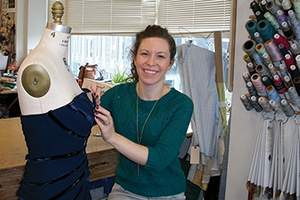 "The poppies that Kristin and the students created have far more character and story than the generic ones we could have bought," Ward said. "By making each poppy by hand, we have infused these props with the spirit of the student artist who made them. They each put their unique touch on their pieces, and they can look forward to seeing them on stage. And isn't that the real pay-off? Pride, a sense of accomplishment and a job well done."
Lindsey Slaugh, draper, (pictured right) puts finishing touches on a costume for "The Wiz."
Other day-to-day challenges include coordinating their efforts with the School of Drama's costume department and balancing the total amount of projects the team has running concurrently versus the immense number of items that each production requires.
"It's an exquisite ballet of materials flowing in and out of the Purnell Center," Ward said. "With the possibility of four or five productions happening at the same time, it takes a keen sense of space management to keep our hallways from not filling up with junk. "Fortunately, I have been blessed with a very skilled crew. Things can be tight at times, but we always seem to keep things moving forward while managing to offer the audience a few thrills along the way."
"The Wiz" is showing February 
19-28 in Philip Chosky Theater. 
For tickets, call the box office at 
412-268-2407.