January 12, 2015
At the Helm
Gerry Balbier Named Executive Director 
of BrainHubSM
by Michael Yeomans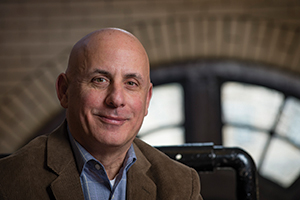 Gerry Balbier is new to Carnegie 
Mellon, but CMU is hardly new to him.
Balbier, tapped recently to be the executive director of the university's BrainHubSM initiative, first became familiar with the university when he joined the Heinz Endowments.
Balbier had been a legislative assistant to Sen. John Heinz until his death in 1991. It was soon thereafter that he was invited to Pittsburgh to help manage the foundation's education programming. In this role he became fascinated with the cross-disciplinary research at CMU in cognitive psychology, machine learning, robotics and human-computer interaction that serves as the underpinnings of CMU's Simon Initiative focused on the science of learning.
"[Heinz Endowments] was the first foundation to invest in the technology transfer of the work of John Anderson," he said, referring to the pioneering CMU professor who developed some of the earliest computer models of human learning, building on the work of 
Herbert Simon.
Balbier said that what instantly caught his eye about CMU was the ease with which faculty from different departments and disciplines coalesced around problems, each bringing their own strengths and perspectives to discover new approaches and solutions.
"Many institutions aspire to this kind of multidisciplinary approach. CMU has achieved it," he said.
Balbier, who had earned a master's 
degree in public management at the Heinz College, transitioned to the private sector for several years with Pittsburgh-based Apangea Learning, now Think Through Learning, a 
fast-growing provider of "blended" math curricula that combines intelligent tutors and one-to-one interaction with human teachers to millions of students across the country.
He then took a role at the Jewish Healthcare Foundation to launch a 
learning platform for health care 
professionals.
When he was approached about the role at Carnegie Mellon to shepherd BrainHub, the university's initiative to accelerate research for developing new tools, methods and theories for understanding brain function and behavior, he was instantly intrigued.
Now that he is in the role, he is encouraged by the commitment the university is putting behind the initiative by advertising for seven new tenure-track faculty positions spanning the disciplines within the BrainHub domain.
"This recruitment effort builds on existing faculty strength and shows our commitment to moving our research in this domain to a new level," he said.
Much has been written about humans understanding more about the infinite universe than about the inner-workings of their own minds. Balbier said he is excited about the brain-related research at CMU and the potential for greater collaboration between faculty across the colleges, including many individuals who were not involved in brain research in the past.
In addition to his duties in working with faculty to attract increased research funding and visibility for CMU brain research, Balbier says he views one of his primary roles as creating opportunities for faculty interaction that can lead to new collaborations.
Balbier, who grew up inside a record store owned by his father that served as a social hub for audiophiles and musicians, compared these kinds of interactions to members of a band "riffing" on melody and collaboratively developing it into a complete song.
In his first several weeks in his 
new role, he has already convened the first of what he hopes to be regular "BrainHub Exchange" gatherings of BrainHub-related faculty from across 
the colleges and departments included 
in the initiative.
The initial session in which faculty shared their research interests in an 
informal atmosphere has already yielded three potential joint research proposals, Balbier said.
"We have the talent and we have great ideas," he said. "We need to catalyze new connections on campus and with partners like Pitt, as we have successfully done with the Center for 
the Neural Basis of Cognition, to accelerate our progress," he said.
Coming from the Heinz Endowments, Balbier has a natural appreciation for the significant role that local foundations play in seeding exciting new research opportunities. He is quick to point out the vital role played by the 
Hillman Foundation in providing support to launch BrainHub earlier this year.
"Our foundations are of tremendous importance in supporting novel research that upon further development can leverage broader support from national funding sources, like the NSF or NIH," he said. "I can't overstate the value our local foundations bring to our research enterprise."
Gerry Balbier (pictured above) says he was instantly impressed with CMU's interdisciplinary approach to solving problems.