January 12, 2015
Barkin Leaves Powerful, Healthy Legacy Behind
by Bruce Gerson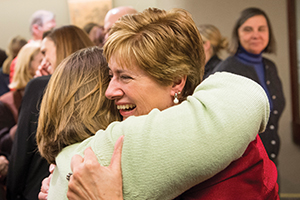 You could call Anita Barkin the Florence Nightingale of Carnegie Mellon. But then you might be selling her short.
After all, she once diagnosed Vice President for Campus Affairs Michael Murphy with a collapsed lung from across the table during a meeting in Warner Hall — without an exam and so much as a stethoscope.
"Every clinician knows the most critical way you diagnose illness is to be listening carefully to the patient, what they're feeling, what they're experiencing. And then you plug in the demographics. From that point on, I was golden," Barkin said laughing.
But, she was really golden from day one.

Anita Barkin (pictured above) hugs one of the many friends and colleagues who attended her farewell tribute in mid-December. After 28 years as CMU's director of University Health Services, Barkin has moved to Georgia to be closer to family.
Taking the helm with just two nurses, a secretary and a physician for a few hours in the afternoons, Barkin developed the university's health care operation into a fully accredited model for colleges and universities around the world.
Once providing the bare minimum of primary care service, today the 24 staff members of University Health Services offer immunizations, health care screenings, treatment of illness and injury, contraceptive services, wellness exams, nutrition counseling, smoking cessation programs, allergy injections, massage therapy and more.
"I always tell people we're like your family doctor and a little bit more," Barkin said reflecting on her 28-year CMU tenure just days before leaving the university to be closer to family in Georgia. "We're almost like an urgent care center. None of these things were here when I came."
In addition to the tremendous growth on the clinical side, Barkin developed health education and outreach programs to promote healthy habits and well-being across campus. She was instrumental in starting the Healthy Campus Task Force in 2005, initially a student-focused effort that has expanded to include faculty and staff, and in helping to host the "Exploring Health, Discovering Wellness" program in February 2014.
She also authored and managed CMU's highly popular student insurance program, an Affordable Care Act-compliant, benefit-rich, cost-effective program in which more than 7,000 students are enrolled today.
Barkin has made her mark nationally as well as a pioneering pandemic planner for colleges and universities in the American College Health Association (ACHA). When cases of the Avian Flu, or bird flu, were reported on campus in 2006, Barkin and Environmental Health & Safety Director Madelyn Miller went to work creating an emergency response plan.
"Watching what was happening across the country in the ACHA, I saw that colleagues were discussing this on the list-serve. I approached the ACHA president. I said we did some work at CMU and I'm happy to share what we know and what we're learning. So I became head of the pandemic planning task force for the ACHA, which became the Emerging Public Health Threats and Emergency Response Coalition," Barkin recalled.
Following the Avian Flu came outbreaks of SARS, the Swine Flu, various neuroviruses and most recently, Ebola.
"If you have a good emergency response plan for a pandemic, you can pretty much tweak it to apply to any infectious disease process," said Barkin, who has held various high-level positions in the ACHA, including president from 2011 to 2012.
As ACHA chair of the Affordable Care Act Transitional Issues Task Force from 2012 to 2014, Barkin had the opportunity to co-author new regulations relating to student health insurance plans.
"Having an opportunity to interact with Health & Human Services and provide testimony to the Senate in D.C. and New York was really an interesting journey," she said.
A year ago she was invited to attend and present at a Japanese University Health Association Conference to share some of her expertise and experiences and her thoughts on the future 
of health care in higher education.
Undoubtedly, Barkin, who plans 
to continue to work in health care in Georgia, has served CMU and the ACHA well with her astute knowledge and expertise. However, it's her personal touch that has seemed to make the biggest impression among her 
colleagues, faculty, staff and students.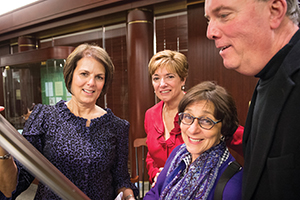 At a farewell gathering for Barkin, Deborah Mathis, women's health administrative chief at the University of Pennsylvania, called her a gifted leader and mentor. Marian Vanek, director of Student Health Services at Pitt, praised her for her great ability to create synergies, alliances and collaborations.
Dick Tucker, the Paul Mellon University Professor of Applied Linguistics, recalled Barkin's compassion in caring for a seriously ill Ph.D. student of his from 2001-2003. He said she was always there to assist as a surrogate mother in a 24/7 mode. Tucker named Barkin an honorary member of the Modern Languages Department.
Diane Dawson (left), interim director of University Health Services, presented Anita Barkin (center) with a framed photo collage at her farewell party. Also in the photo are Environmental Health & Safety 
Director Madelyn Miller and CMU Police Lt. Joseph Meyers.
Dean of Student Affairs Gina Casalegno called her a friend, mentor, confidant, incident commander, public health guru and personal health consultant.
"She's an exemplar of the best of CMU; she's compassionate, a real-world problem solver, innovative and collaborative. She's a role model 
to me and so many others."
Diane Dawson, who is succeeding Barkin as interim director of University Health Services until newly hired Beth Kotarski comes on board in March, said her heart was broken. "You worked so hard to mold us as better human beings," she said. Dawson said Barkin challenged her staff to live the words of philosopher Cornel West: "Don't be successful, be great."
Michael Murphy praised Barkin for having a transformative impact on the health and welfare of the university community. "This is a very different place since when you arrived and you deserve a tremendous amount of credit for that."
Murphy said her impact has not just been in better immediate care for students, but in the focus on living a healthy lifestyle. "Anita has created a powerful legacy that will continue beyond her time here."
Barkin, whose daughters Jennifer (DC'97) and Rebecca (DC'01) traveled to Pittsburgh for the reception, said, "CMU will always be in the fabric of my being.
"I feel like I'm the luckiest person on the planet … I have been blessed in this community. Even when we didn't always agree, I knew that there was a mutual respect and affection. You are all such wonderful people," she said.