February 17, 2015
U.S. & Cuba
Hispanic Studies Professor Optimistic About Renewed Relations
By Kelly Saavedra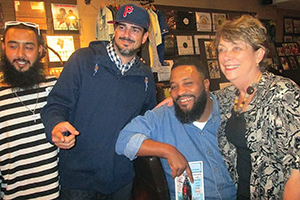 Change doesn't happen overnight, especially if you're talking about two neighbors who haven't spoken to each other in more than 50 years.
But Cuban-born Kenya Dworkin, 
a professor of Hispanic Studies at Carnegie Mellon, is optimistic about the possibilities between Cuba and the U.S., now that President Barack Obama has begun to re-establish diplomatic relations with the island nation.
The relationship turned cold in 1959, when Fidel Castro and his rebels ousted President Fulgencio Batista, replacing his government with a socialist state.
"I tell my students that you have to know a little bit of history to fully understand the momentous nature of these announcements," said Dworkin, who moved from Cuba to New York when she was 8 months old. "I'm all for it, but change takes time. It is yet to be seen who will benefit from these decisions and how."
Americans traveling to Cuba as tourists will benefit by no longer having to apply for a license from the Treasury Department. But Dworkin said an increase in American tourism is unlikely to benefit Cubans.
"America is not going to come in like a knight on a white horse. Cuba has had a lot of foreign tourists, and they still make miserable wages and live in dire circumstances," she said.
Cuba's workforce is highly educated — education is free in Cuba — but good jobs pay little. She said many doctors and engineers in Cuba are driving taxis because they can make more money that way.
It's in business where Dworkin sees the biggest benefit for both countries. She believes Cubans and Americans could become great partners in agriculture.
"Cuba has to import its rice from China, but they could be importing it from Louisiana, which would get [the rice] there overnight and result in far lower shipping costs," she said.
So far, talks between the two nations have not gone smoothly — they've already had a falling out over immigration policy — but they are talking, something they refused to do before.
She recalled Cuba's expertise in hurricane relief and its offer to help America in the aftermath of Hurricane Katrina.
"Given how unable we were to deal with Katrina, Cuba offered to send up 50 hurricane relief experts," she said. "And we didn't even bother to say, 'No, thank you.' We said nothing. And people died."
Dworkin noted that Cuba's advances in biomedicine also could benefit Americans. For example, she said a medication used in Cuba to treat brain tumors has far fewer side effects than the U.S. version of the medication.
"There's a lot to be gained here, just as Cuba has things to gain from us," she said.
While the two neighbors work at mending fences, Dworkin will continue to work at dismantling popular myths about Cuban culture, one of the most widespread being what it's like to live 
in a socialist society.
"I think Americans misunderstand it. There is this vision of Big Brother watching you in Cuba," Dworkin said. "If you are politically active or openly against the government in Cuba, then yes, the government will watch you every day, and even punish you. But if you are a law-abiding citizen who goes about his or her business every day in Cuba, you are not disturbed by the government."
Through her insightful teaching of the country's vibrant culture and unique history, she hopes students will see past Cuba's rum and Salsa music and discover a country historically known for its brilliant writers and painters, an extraordinary national ballet school, sports and diversity.
"We talk about diversity here," she said, "but we don't live it the same way people live it there."
Cuban rapper and hip-hop artist David D. Omni, local rapper BZE Ojeda and local entrepreneur Nate DJNateDaPhatBarberMitchell pose for a picture with Hispanic Studies Professor Kenya Dworkin (above, l. to rt.)during a recent event she co-organized for Cuban civil rights activists.