February 17, 2015
Uplifting
Hrabowski Puts Focus on Student Support
By Bruce Gerson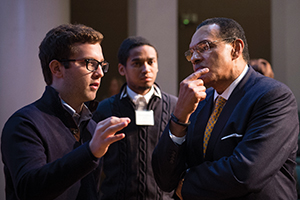 Behind every dream fulfilled is someone who has helped along the way.
Enter the dynamic Freeman Hrabowski, who is helping many minority students reach their full potential, and working to make Martin Luther King Jr.'s dream of equal opportunity come true for all students in higher education.
Hrabowski, president of the University of Maryland, Baltimore County, is nationally recognized for his work in transforming UMBC into a research institution with a culture of innovation and record of high achievement among African-American students.
Today, with the help of hands-on learning activities, technology, effective learning strategies, and a robust student support program, UMBC has produced more African-American graduates who have gone on to earn Ph.D.s or joint master's degrees and Ph.D.s in the science, technology, engineering and mathematics fields (STEM) than any other predominately white university in the United States.
In a talk at Carnegie Mellon last month, titled "Dr. King's Dream and the American University Today" — which doubled as a MLK Jr. keynote address and a Simon Initiative Distinguished Lecture — Hrabowski spoke about the importance of producing graduates in the STEM fields "if we are going to be as competitive as possible as a nation."
He cautioned against allowing students to fail. He said teachers are sometimes too quick to direct students away from the STEM fields after a poor test score or experiment, rather than help them succeed.
"We need to empower students to believe they can change the world. It's our moral responsibility. Are we doing all we can to be helpful?" he asked.
"[At UMBC] we build community among students, helping students of all races to work in groups. We're creating a culture in that students learn to say they need help and then to get help early," he explained.
Hrabowski recalled the reaction of a UMBC student when she received her first "A" in genetics. He said it was a "transformational experience" for her.
"The joy only comes after the struggle," he said.
Psychology Professor Marsha Lovett, director of the Eberly Center for Teaching Excellence and Educational Innovation, said like UMBC, CMU is leveraging data and research to improve practices in teaching and learning.
"Through the Simon Initiative, we seek to apply learning science research along with educational technology to measurably improve learner outcomes — for our own students and beyond.
"One of the themes that struck me during Dr. Hrabowski's visit to CMU was the power of beliefs. As we know from research on learning, an individual's mindset — one's beliefs about learning and the ability to succeed — can make a huge difference," Lovett said.
Like UMBC, CMU has several 
rich student support programs. In fact, 
it starts with high school students.
Carnegie Mellon's Summer Academy for Math and Science (SAMS) is 
a pre-college program that attracts and enrolls students from diverse backgrounds who are interested in pursuing STEM courses of study.
Since its inception in 2001, SAMS has prepared more than 1,100 high-achieving minority students for admission to some of the nation's most selective institutions. Twelve percent of SAMS graduates have enrolled at CMU.
Once students enroll at CMU they can receive academic support from several programs, including Academic Development and the Carnegie Mellon Advising Resource Center (CMARC).
"Academic Development enhances student learning and increases student retention by offering high quality support programs," Linda Hooper said.
Under Hooper's direction, Aca-demic Development offers Supplemental Instruction review sessions, collaborative study groups, Peer Tutoring and Academic Counseling for study strategies.
Last fall, Supplemental Instruction supported seven courses (1,132 students) and conducted 286 review sessions. The collaborative study groups supported 12 courses (1,760 students) and have grown by 1,600 percent since 2008.
During the 2013-14 academic year, the Peer Tutoring program, which is largely centered around STEM courses, had 5,383 student contacts for the walk-in program and 3,447 student contact hours for the weekly standing appointments.
Academic Development earned the 2014 Tutoring Excellence Award from the National Tutoring Association. Also last year, Charles Swanson, a recent computer science graduate, received one of two Outstanding Supplemental Instruction Leader awards from the International Center for Supplemental Instruction.
CMARC advances the university's commitment to diversity by providing a variety of student success opportunities for under-represented minority students.
"Our services enrich students' overall academic experience by providing academic coaching, community building and leadership opportunities," said CMARC Director Ty Walton. "Our ultimate goal is for students to feel engaged and connected to the fabric of the university as engagement is a critical part of the persistence equation."
Hrabowski closed his talk with admiration and a challenge.
"You are one of the most prestigious places in the world. You produce some of the best leaders in the world.
"You have an enormous opportunity to take your brand, and your goodwill, and your brain power and your wonderful emphasis on science and learning, and use it to figure out … this challenge of race and poverty and excellence. You can become a leader in the world of producing students from under-represented groups who will then transform the world.
"Carnegie Mellon you are so 
special, and you can be even better," 
he said.
Watch Hrabowski's lecture online at https://www.youtube.com/watch?v=P1vwNmqtYQ0
Student Body President Ian Glasner (above, left) talks with Freeman Hrabowski after his keynote address.