February 17, 2015
Survey Says
What Would You Do in a Self-Driving Car?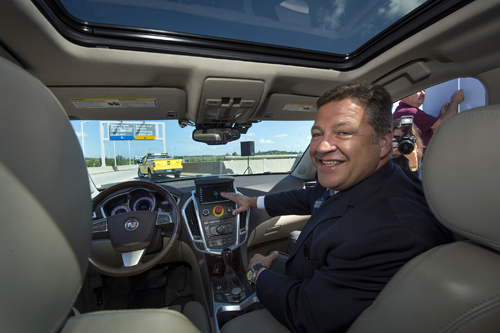 Stuck in traffic, again.
Your mind wanders thinking of the many things that you could be doing if you weren't behind the wheel.
A similar thought has been on 
the minds of College of Engineering researchers who are working to create and bring self-driving vehicles to a new car showroom near you.
So, they asked 1,000 people, 
"What would you do if you weren't 
tied to the steering wheel?"
Their top 10 responses were:
Use mobile devices
Eat lunch
Read a book
Watch movies
Do work
Pay bills
Play video games
Put on makeup
Plan a trip
Take and post photos or selfies
The top two responses were very similar among males and females with 59 percent and 59.2 percent, respectively, preferring to use mobile devices. Eating lunch also was a favorite 
pick among the sexes with 53.3 
percent of males and 51.3 percent 
of females choosing to get a bite on the road.
The survey also asked respondents, "What new design possibilities would you ideally like self-driving cars to provide?"
The top answer (71.8 percent) was being able to digitally connect to their home. The second most popular answer was having design features making your self-driving vehicle a mobile office (32.1 percent).
Designers take note. A mobile 
home office in which you can work, use your mobile device, eat, read and watch movies while on the road is what consumers want most from their self-driving vehicle.
But, in the meantime, keep your eyes on the road and your hands on 
the wheel.
Safety First
CMU researchers also polled 1,000 people on the top safety features they'd like to see in a self-driving vehicle.
The top five scenarios in which respondents said they'd like the 
vehicle to help them were:
Night driving
Unfamiliar areas and roads
Congested roads
Bad snowstorms
Merging traffic situations
Would you pay more for a self-driving vehicle? Seventy percent said they would not if it cost 30 percent more than a comparable car without self-driving technologies, and 30 percent said they would.
Millennials were the most willing to pay a premium price. Twenty-nine percent of men and 28 percent of women born between the 1980s and 2000s were willing to spend more for an autonomous car.