February 17, 2015
Super Staff
College of Engineering Pays Tribute to Exceptional Employees
By Nichole Dwyer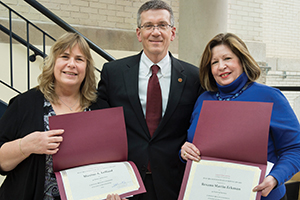 The College of Engineering held its annual Staff Awards ceremony in January, 
honoring six individuals for job performance, continuing education, enthusiasm, 
inspiration, innovation and leadership.
This year's recipients were:
Rookie Award: Chad Dougherty, principal research programmer, CyLab;
Burritt Education Award: Andrea Rooney, director of Undergraduate Programs, Civil & Environmental Engineering;
Spirit Award: Treci Bonime, director for Undergraduate Studies, Dean's Office;
Innovation Award: Kelly McQuoid, senior director of strategic programs and 
special projects, Dean's Office;
Continuous Excellence Award: Bobbi Kostyak, buyer, Mechanical 
Engineering; and
Inspirational Leadership Award: Larry Hayhurst, foreman, Collaborative 
Machining Center, Chemical Engineering.
Thirty-one College of Engineering staff members received years of service 
certificates honoring their five to 30 years at CMU.
Honored for 30 years were Roxann Martin of Materials Science and 
Engineering and Maxine Leffard of Civil & Environmental Engineering.
Honored for 25 years were Jason Wolf of Materials Science and Engineering, Donna Marano of the Dean's Office, and Judith Ann Bandola and Stephen 
Hoffman of Electrical and Computer Engineering.
Receiving 20-year certificates were Mary Christine Zeise of the Silicon Valley Campus, Rhonda Moyer of the Institute for Complex Engineered Systems and 
Karen Kietzke of Engineering and Public Policy.
Maxine Leffard (above, left) and Roxann Martin were presented with 
certificates honoring their 30 years of service at CMU. Presenting the awards was College of Engineering Dean James Garrett Jr.