February 17, 2015
CMU Names New VP for 
Marketing & Communications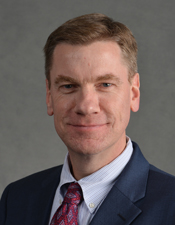 Following a national search, Carnegie Mellon has named Steve Kloehn, associate vice president for news and public affairs at the University of Chicago since 2009, to the newly created position of vice president for Marketing and Communications.
He will take his new post on April 7.
Kloehn is charged with leading the 
university's efforts to expand its global 
visibility and to strategically highlight its role in transforming lives and impacting the world through innovative world-class academics and world-renowned research.
"Steve brings to this role extensive 
experience in spearheading strategic integrated communications and marketing campaigns that have raised national and global visibility," said President Subra Suresh in an email announcement to faculty and staff.
"His reputation as a hands-on, innovative leader and communicator make him a perfect fit for this new role and CMU."
Kloehn will oversee CMU's Marketing and Communications Division, which includes media relations, internal communications, publications, integrated marketing, digital strategy and creative services.
Kloehn said he was excited to make the move to CMU.
"CMU has a long history of innovation that changes lives and enriches the world," Kloehn said. "As a communicator, I am 
excited to have the opportunity to tell the 
CMU story.
"I look forward to working in partnership with CMU's scholars, students and alumni around the globe to shine a light on their outstanding and far-reaching work. I am honored, too, to join CMU's outstanding leadership team and its talented staff," he said.
Prior to becoming an associate vice president at Chicago, Kloehn was director of the university's News Office from 2008-2009.  Previously, he was a journalist and editor at the Chicago Tribune from 1996-2008.
Before moving to Chicago, Kloehn was 
a columnist and reporter for newspapers in Massachusetts and Maine.
Kloehn earned a bachelor's degree in English at Princeton University.