February 17, 2015
New Vice Provost Envisions Borderless CMU
By Michael Yeomans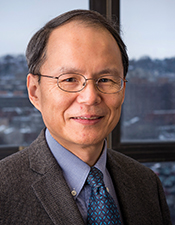 Jimmy Hsia has only been at Carnegie Mellon for a month, but he is already beginning to think about what the university may look like 20-30 years from now.
As Vice Provost for International Programs and Strategy, Hsia believes that strengthening and expanding CMU's international programs is not a luxury.
"To remain at the top of the list of elite universities, we have to be global," he said, drawing an analogy to commerce, where most of the world's top companies have adopted global strategies to compete in an increasingly borderless marketplace for goods, services and human capital.
"Society's needs are now global, so we must produce a product that has global experiences and global perspectives," he said.
Hsia said Carnegie Mellon has been a trendsetter among U.S. universities in establishing an international network of campuses, programs and partnerships.
"CMU is one of the very few American universities that has a presence in numerous countries, and likely the only one with degree-granting campuses and programs on five continents," he said.
In keeping with the bottom-up CMU innovation culture, the university's international programs have been established over the past two decades primarily at the grass roots level with the departments and colleges.
"My role is to support and help coordinate these programs at the university level with the goal to enhance and ensure the high quality of education, research and student experiences for all international programs on all campuses," he said. "Importantly, our international programs and partnerships must help strategically position CMU as a top university in the world. To achieve these goals, active involvement of faculty, 
students and staff in international 
programs and strategy is critical."
Hsia is joining CMU at a fortuitous moment for strategy development, as the university is in the midst of rewriting its strategic plan to guide CMU's evolution over the next five to 10 years and beyond. He is leading the planning process for fleshing out the university's international strategy, and plans to solicit input from faculty and students from all of CMU's campuses.
In his first months on the job, Hsia said he will be immersing himself in learning about Carnegie Mellon's international footprint, which includes a campus in Qatar and programs in Australia, Rwanda and Portugal, and partnerships in China, the U.K., India and Ireland, among others. These programs may benefit from sharing best practices, collaborating with the Pittsburgh campus and seizing opportunities for shared course content leveraging CMU's unique technology-enhanced learning platforms.
Hsia said he will be an advocate for enriching international experiences for all CMU students. His own experience is a testament to the value of a global background.
After earning his undergraduate and master's degrees in engineering in China, Hsia earned his Ph.D. at MIT, where 
he first became acquainted with CMU President Subra Suresh, who had taken 
a similar route from India to MIT.
Although most of his career since earning his doctorate has been spent at the University of Illinois at Urbana-Champaign, Hsia has been very active in international collaborations. He spent his sabbatical leaves as a visiting professor at several international institutions, such as the Max Planck Institute in Germany and the Nagoya University in Japan. He also holds a visiting Chair Professorship at his alma mater, Tsinghua University, and a Guest Professorship at Zhejiang University in his native China.
At the University of Illinois, Hsia helped develop and establish several international educational programs, such as a Joint Institute with Zhejiang University and the so-called 3+2 programs with Tsinghua University, whereby students earn a bachelor's degree from the home university and a master's degree from the University of Illinois.
"This turned out to be a very successful model and has been expanded 
to several other universities in China, 
as well as to universities in other 
countries," Hsia said.
Hsia's work at the University of Illinois included helping establish a number of interdisciplinary research and educational centers, including an Integrative Graduate Education and Research Traineeship (IGERT) supported by the National Science Foundation (NSF), and an NSF Science and Technology Center (STC) in collaboration with MIT and Georgia Tech focused on creating cellular machines.
At CMU, Hsia will continue to be involved in research with faculty appointments in the Biomedical Engineering and Mechanical Engineering departments. He is trained in applied mechanics and has studied failure mechanism of nanoscale materials and mechanics of living cells.
For two years he served at the NSF as director of the Nano and Bio-Mechanics program. He is also the director of the Global Enterprise for MicroMechanics and Molecular Medicine, or GEM4, which was founded by President Suresh to carry out interdisciplinary research and education at the interface of engineering, biological sciences and medicine. A GEM4 Summer Institute focused on mechanobiology of the brain will be held this summer at CMU from June 22-July 3.
If that's not enough, Hsia is also the co-editor-in-chief of a new academic journal, Extreme Mechanics Letters, published by Elsevier.
Hsia is married with three children, ages 11, 16 and 25. He enjoys hiking, skiing and reading. He relaxes by playing the piano, which he took up when his oldest son began taking lessons.
"I have four pieces of furniture in my Pittsburgh apartment — a bed, a sofa, a dining table and a grand piano," he said.

Do you have thoughts about how Carnegie Mellon should approach international expansion or partnerships? 
Send them to the strategic planning working group at strategic-plan@andrew.cmu.edu.